Global expression profiling of theophylline response genes in macrophages: evidence of airway anti-inflammatory regulation
Respiratory Research
2005
6:89
Received: 08 April 2005
Accepted: 08 August 2005
Published: 08 August 2005
Abstract
Background
Theophylline has been used widely as a bronchodilator for the treatment of bronchial asthma and has been suggested to modulate immune response. While the importance of macrophages in asthma has been reappraised and emphasized, their significance has not been well investigated. We conducted a genome-wide profiling of the gene expressions of macrophages in response to theophylline.
Methods
Microarray technology was used to profile the gene expression patterns of macrophages modulated by theophylline. Northern blot and real-time quantitative RT-PCR were also used to validate the microarray data, while Western blot and ELISA were used to measure the levels of IL-13 and LTC4.
Results
We identified dozens of genes in macrophages that were dose-dependently down- or up-regulated by theophylline. These included genes related to inflammation, cytokines, signaling transduction, cell adhesion and motility, cell cycle regulators, and metabolism. We observed that IL-13, a central mediator of airway inflammation, was dramatically suppressed by theophylline. Real-time quantitative RT-PCR and ELISA analyses also confirmed these results, without respect to PMA-treated THP-1 cells or isolated human alveolar macrophages. Theophylline, rolipram, etazolate, db-cAMP and forskolin suppressed both IL-13 mRNA expression (~25%, 2.73%, 8.12%, 5.28%, and 18.41%, respectively) and protein secretion (<10% production) in macrophages. These agents also effectively suppressed LTC4 expression.
Conclusion
Our results suggest that the suppression of IL-13 by theophylline may be through cAMP mediation and may decrease LTC4 production. This study supports the role of theophylline as a signal regulator of inflammation, and that down regulation of IL-13 by theophylline may have beneficial effects in inflammatory airway diseases.
Keywords
TheophyllineAlveolar MacrophageAirway InflammationRolipramAirway Smooth Muscle Cell
Introduction
Asthma is a highly prevalent health problem worldwide that may cause significant morbidity and mortality [1, 2]. The mechanisms of airflow obstruction in asthma are various, including broncho-constriction with the contraction of the airway's smooth muscle, increased secretion of mucus, mucosal edema with vascular leakage, and the infiltration of inflammatory cells [3]. The pathogenesis of asthma and its susceptibility involve a complex interplay of various genetic and environmental factors, which may modulate airway inflammation and the remodeling processes that are not only present even in mild asthma but also govern the appearance and severity of airway hyper-responsiveness [4].
The inflammatory cells involved include the infiltration of airway T cells, T helper cells, mast cells, basophils, eosinophils, and macrophages [5]. Macrophages are the predominant immune effector in the alveolar spaces and airway, and are believed to play a pivotal role in various pulmonary inflammatory disorders [6, 7]. Recently, their importance in the pathogenesis of asthma has been reappraised and emphasized [8]. Although their role in asthmatic inflammation is still incompletely understood, it is clear that macrophages may participate in airway inflammation though multiple mechanisms. Furthermore, macrophages have been reported to release lukotriene B4 (LTB4), lukotriene C4 (LTC4), prostaglandin D2 (PGD2), superoxide anion, and lysosomal enzymes in response to immunoglobulin E (Ig E) [5, 9, 10]. They also produce inflammatory mediators, such as platelet-activating factor, interleukin 1 beta (IL1β), IL-6, IL-8, and tumor necrosis factor- alpha (TNF-α) [11–14]. These mediators may play important roles in producing broncho-constriction or causing inflammatory changes.
Theophylline is a weak and non-selective inhibitor of phosphodiesterase (PDE) in airway smooth muscle cells. In high doses, theophylline may lead to an increase in intracellular cAMP and cGMP, and mediate the relaxation of airway smooth muscles and suppress airway inflammation [15]. In chronic obstructive pulmonary disease (COPD) patients, theophylline can reduce the total number and proportion of neutrophils, the production of interleukin-8, and neutrophil chemotatic responses, further suggesting its anti-inflammatory effects [15, 16]. Several studies have also demonstrated that theophylline has a steroid-sparing effect [17, 18]. Theophylline inhibits the degranulation and release of mediators, including platelet-activating factor, LTC4, cationic proteins, and superoxide anion, from eosinophils, granulocytes, and alveolar macrophages in vitro [19, 20]. However, the effects of theophylline on gene expressions in macrophages has not been well studied.
In this study, we analyzed the expression profiles of inflammation-related genes of macrophages in response to theophylline, using a human cDNA microarray [21, 22]. We also identified differentially expressed genes in macrophages after incubating with theophylline. Our study confirmed the diverse roles of theophylline as an immune modulator, which may be helpful in improving its use in the treatment of airway inflammatory disorders.
Discussion
Macrophages are key inflammatory cells that have been documented to play a critical role in various airway disorders [8]. In this study, we analyzed the gene expression profiles of macrophages in response to theophylline. A panel of inflammation related genes was identified, as well as genes associated with angiogenesis, cell adhesion, cell motility, signal transduction, and cell proliferation that are dose-dependently down- or up-regulated by theophylline. Our results revealed that 45 genes were up-regulated and 30 genes were down-regulated by theophylline (supplemental Tables 1 and 2). We also found that theophylline can down-regulate IL-13 expression in macrophages through cAMP mediation, which further leads to decreased LTC4 production. Our results provide positive evidence supporting the role of theophylline as a regulator of inflammation.
In this report, interferon regulatory factor 7 (IRF-7) and CD36 were both suppressed by theophylline in macrophages, especially in high dosages (Figures 1 and 2A, and Supplemental Table 2). IRF-7 has been studied extensively in viral infection [27] and can induce the gene expressions of interferon and cytokine [28]. Interestingly, an over-expression of IRF-7 can trigger monocyte differentiation towards macrophages and induce cell cycle arrest, suggesting a different function for IRF-7 in innate immunity [28]. Furthermore, CD36 is a multi-functional receptor that may play important roles in monocyte/macrophage biology, especially in atherogenic and inflammatory processes [29, 30].
Airway inflammation in asthma is regulated by a complex network of cytokines. We found that the expressions of several cytokines were altered within the period of theophylline stimulation (Figure 2B and supplemental Tables 1 and 2). Theophylline can suppress IL-5 and IL-13 production by stimulating peripheral blood nuclear cells (PBMC) [31]. Decreased expression of immuno-regulatory cytokines, including IL-12, IL-18, or interferon gamma, can strengthen the inflammatory process and play regulatory roles in asthma by modifying Th2 lymphocyte responses [32]. Using a mouse model of allergic inflammation, it has been shown that GMCSF significantly contributes to the development of allergic airway inflammation, and that dexamethasone can completely inhibit GMCSF release [33]. Our findings reveal similar results in the suppression of IL-5, IL-18, and GMCSF in macrophages with theophylline (Figure 2B).
IL-13 is an immuno-regulatory cytokine secreted predominantly by activated Th2 cells [34], and induces dramatically different patterns of gene expression in primary cultures of airway epithelial cells, airway smooth muscle cells, and lung fibroblasts [35]. IL-13 expression is not only in T cells and mast cells but also in both normal alveolar macrophages and those from subjects with pulmonary fibrosis [36]. Some reports demonstrate that IL-13 is overproduced in asthma and have implicated IL13 in pathogenesis of inflammation and airway remodeling responses [37–39]. Although the contribution of macrophage derived IL-13 to disease is still not clear, it has been considered for therapy target because of its ability to stimulate inflammatory and airway hyperreactivity responses. In this study, there is strong evidence supporting that IL-13 expression is down-regulated by theophylline in a dose-dependent manner (Figures 3 and 4). We also further confirmed the mRNA expression and protein secretion of IL-13 with RTQ-RT-PCR and ELISA.
In macrophages (PMA-treated THP-1 cells), IL-13Rα1 mRNA expression was inhibited by theophylline, whereas IL-13Rα2 mRNA expression increased (Figure 2B). IL-13 modifies cell behavior by activating the signal transducer and activator of transcription 6 (STAT-6). Consequently, not only IL-13 concentration but also the density of IL-13Rα1 expression may determine the role of IL-13 in the regulation of inflammatory responses in affected tissues. However, not all responses to IL-13 on monocytes and macrophages are dependent on signaling via IL-13Rα1 and significant STAT6 activation [40]. Leukotrienes, the products of lipoxygenases, are thought to be important mediators of IL-13-induced asthma phenotype [41]. LTC4 stimulates eotaxin production by IL-13 treated fibroblasts, thereby indirectly inducing eosinophil sequestration [42]. Recently, some studies demonstrated that the regulation of cAMP level by inhibiting PDE activity appears to be involved in the regulation IL-13 release [43, 44]. The type IV PDE inhibitors have the potential to exert an anti-inflammatory effect by inhibiting IL-13 production in lymphocyte and peripheral blood mononuclear cells [43, 44].
In this study, we also investigated the influence of cAMP pathway on IL-13 and LTC4 expression in macrophage. We found that etazolate and rolipram, which are PDE type IV inhibitors, can significantly inhibit IL-13 and LTC4 production in mRNA and protein level. Similar suppressions are shown in treatment with PKA activator (forskolin and dibutyryl-cAMP). The results indicate that the inhibition of IL-13 and LTC4 might through cAMP and PKA mediation in macrophage. However, the role of PKA in anti-inflammatory effects through cAMP mediation is less established. Although most of the cAMP exerted its downstream effects though the PKA dependent pathway, some actions of cAMP have been reported to be independent of PKA, including the activation of small GTPase Rap1 [45].
In addition, several lines of evidence support that cAMP may act at transcription, post-transcription, or translation levels. For example, cAMP elevating agents can repress NF-kappaB dependent transcription by a variety of mechanism [46], and NF-kappaB is also known to be involved in the induction of TNF-alpha, IL-3, and IL-13 in human mast cells [47]. Although the mechanism involved in the regulation of cAMP and IL-13 is still unclear, this study suggests that a possible pathway of the suppressive effects of theophylline on IL-13 expression may be through a cAMP mediated regulation.
As shown in Figure
7
, we summarized a model for the possible gene regulation in macrophages (PMA-treated THP-1 cells) stimulated by theophylline. Our results suggested that the suppression of IL-13 by theophylline may be through the cAMP pathway and further inhibits the expression of LTC4 and LTD4.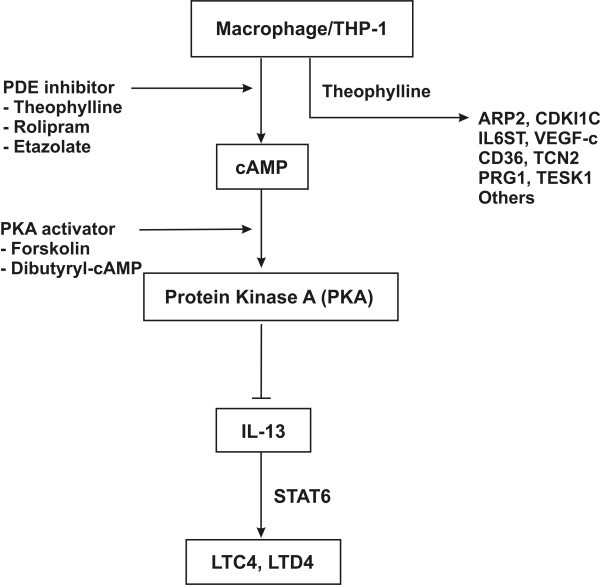 Conclusion
These data may facilitate the understanding of the diverse anti-inflammatory effects of theophylline, as well as the potential contributing role of macrophages in the pathogenesis of asthma. The importance of theophylline as a signal regulator of inflammation should be re-emphasized. Our results suggest that theophylline could down-regulate IL-13 expression in macrophages through cAMP mediation, and further lead to a decrease in LTC4 production, which may have beneficial effects on the therapeutic use of theophylline in pulmonary inflammatory diseases.
Declarations
Acknowledgements
This work was supported by the National Science Council of the Republic of China through the National Research Program for Genomic Medicine grants (NSC 91-3112-P-002-017-Y and NSC 93-3112-B-002-026-Y). The authors wish to thank the Microarray Core Facility for Genomic Medicine (supported by the National Research Program for Genomic Medicine, NSC) for microarray analysis and technical support.
Authors' Affiliations
(1)
Department of Internal Medicine, National Taiwan University Hospital, Taipei, Taiwan
(2)
NTU Center for Genomic Medicine, National Taiwan University College of Medicine, Taipei, Taiwan
(3)
Institutes of Biomedical Sciences and Molecular Biology, National Chung-Hsing University, Taichung, Taiwan
Copyright
© Yao et al. 2005
This article is published under license to BioMed Central Ltd. This is an Open Access article distributed under the terms of the Creative Commons Attribution License (http://creativecommons.org/licenses/by/2.0), which permits unrestricted use, distribution, and reproduction in any medium, provided the original work is properly cited.