Oxygen-sensing mechanisms and the regulation of redox-responsive transcription factors in development and pathophysiology
Respiratory Research
2002
3:25
Received: 25 February 2002
Accepted: 15 July 2002
Published: 22 November 2002
How do organisms sense the amount of oxygen in the environment and respond appropriately when the level of oxygen decreases? Oxygen sensing and the molecular stratagems underlying the process have been the focus of an endless number of investigations trying to find an answer to the question: "What is the identity of the oxygen sensor?" Dynamic changes in pO2 constitute a potential signaling mechanism for the regulation of the expression and activation of reduction-oxidation (redox)-sensitive and oxygen-responsive transcription factors, apoptosis-signaling molecules and inflammatory cytokines. The transition from placental to lung-based respiration causes a relatively hyperoxic shift or oxidative stress, which the perinatal, developing lung experiences during birth. This variation in ΔpO2, in particular, differentially regulates the compartmentalization and functioning of the transcription factors hypoxia-inducible factor-1α (HIF-1α) and nuclear factor-κB (NF-κB). In addition, oxygen-evoked regulation of HIF-1α and NF-κB is closely coupled with the intracellular redox state, such that modulating redox equilibrium affects their responsiveness at the molecular level (expression/transactivation). The differential regulation of HIF-1α and NF-κB in vitro is paralleled by oxygen-sensitive and redox-dependent pathways governing the regulation of these factors during the transition from placental to lung-based respiration ex utero. The birth transition period in vivo and ex utero also regulates apoptosis signaling pathways in a redox-dependent manner, consistent with NF-κB being transcriptionally regulated in order to play an anti-apoptotic function. An association is established between oxidative stress conditions and the augmentation of an inflammatory state in pathophysiology, regulated by the oxygen- and redox-sensitive pleiotropic cytokines.
apoptosis
cytokine
development
glutathione
HIF-1α
immunopharmacology
NF-κB
oxygen sensing
pathophysiology
redox equilibrium
Living aerobic organisms, from prokaryotes to complex eukaryotes, have developed elaborate sequences of adaptive mechanisms to maintain oxygen homeostasis and equilibrium [1–3]. In mammals, for instance, the development of the respiratory and cardiovascular systems allows the acquisition and appropriate distribution of oxygen as a substrate for oxidative phosphorylation, the major biochemical reaction for the derivation of ATP (the vital biological currency necessary to maintain cell survival) [3, 4]. As the terminal electron acceptor for oxidative phosphorylation, molecular oxygen occupies an essential role in many of the metabolic processes associated with aerobic existence [1–4]. The process of breathing is the initial step of respiration, which includes both the movement of oxygen from the lungs to the tissues and the process of cellular respiration that generates ATP [4].
The role of the lung in adult life is essentially one of gas exchange. This is an organ responsible for providing a moist epithelial barrier for the transport of atmospheric oxygen into the blood via a network of fine capillaries enveloping the alveolar sacs, while concomitantly removing from the body the accumulating waste, CO2[5–7]. The cone-shaped lungs are divided into lobes, each of which is subdivided into lobules having bronchioles that serve many alveoli. Each alveolar sac is made up of simple squamous epithelium surrounded by blood capillaries, thereby allowing for efficient and rapid gas exchange across this barrier [5–8]. The development of a mature lung, therefore, is crucial for survival; within the context of an integral physiological system, tightly regulating the partial pressure of oxygen (pO2) is important in the face of a continuously changing environment [4–10].
The airway epithelium, in particular, is not only an inert barrier but also a major participant in signaling mechanisms during development and under pathophysiological conditions [5–7, 11–15]. Therefore, any damage caused to the airway epithelium can adversely affect its normal physiology and regulatory processes [6, 7]. The major functions of the airway epithelium include the following: i) it is a dynamic physiological barrier to diffusion and osmotic processes; ii) it provides an integral metabolic function by synthesizing and degrading chemical components either endogenously produced or exogenously introduced; and iii) it possesses a secretory property in that the epithelium has an inherent capacity to produce mucus, cytokines and chemokines, hormones, growth factors and enzymes [6, 7, 11–15]. This underlines the significance of a physiologically competent epithelium, because metabolic failure or noxious damage would lead to abnormalities in the normal development and functioning of the lung [11–15].
The transition from placental to lung-based respiration causes a relatively hyperoxic shift or oxidative stress, which the perinatal, developing lung experiences during birth [5, 10, 12–14]. Dynamic changes in pO2, therefore, constitute a potential signaling mechanism for the regulation of the expression and activation of redox-sensitive transcription factors, apoptosis signaling and proinflammatory cytokines [13, 14, 16–18]. This review is primarily concerned with discussing the recent understanding of redox signaling and gene regulation, the role of oxygenation in determining cell fate (apoptosis) and the downstream, protracted inflammatory state.
The development of the human lung begins on approximately the 26th day of gestation (4 weeks after conception). Lung maturation continues postnatally and is not completed until late childhood (up to 8 years), although postnatal development generally consists of an increase in the number of mature alveoli [5, 8]. The major stages of lung development, going from a glandular structure to an alveolar structure capable of efficient gaseous exchange with the capillary network, begin at the eighth week of gestation and continue to term (40 weeks) and postnatally [5]. The 32 weeks of gestational development are classified into stages in accordance with the visual appearance of lung tissue: embryonic, pseudoglandular, canalicular, saccular, and alveolar.
Embryonic stage
The embryonic stage of lung development (26 days ≈ 6 weeks) begins when the respiratory diverticulum, or lung bud, appears as an outgrowth from the ventral wall of the foregut. This stage is followed by the separation of the lung bud from the foregut, thus forming the trachea (windpipe) and bronchial buds, which successively enlarge at the beginning of the fifth week to form the main bronchi. The embryonic stage is marked by the formation of the lobular and segmental sections of the respiratory tree as columnar-epithelium-lined tubes evident by the end of the fifth or sixth week [5].
Pseudoglandular stage
The pseudoglandular stage roughly begins at the fifth/sixth week of gestation and lasts up until 16th/17th week. What marks this period are the histological appearance of the fetal lungs as an exocrine gland and the completion of the proliferation of the primitive airways. At this stage, cartilage is formed around the larger airways and smooth muscles begin to envelop airways and blood vessels. Upon completion of this stage, acinar outlines first begin to appear as epithelial tubes continue to grow and branch. The undifferentiated columnar epithelial cells lining the tubular glandular structures are destined to evolve into the many cell types that populate the airways, including serous, goblet, ciliated, Clara and alveolar cells [5, 6, 8].
Canalicular stage
The canalicular development stage comprises the period commencing on the 16th/17th week and continuing to the 25th-27th weeks of gestation. The enlargement of the lumina of bronchi and terminal bronchioles characterizes the canalicular stage, in addition to the formation of capillaries at the site of the future air space and the appearance of surfactant, representing the major developments that are absolutely crucial to extra-uterine life. During this stage, in addition, the acini subdivisions are formed, and the epithelial lining begins to differentiate into alveolar type I (ATI) and II (ATII) cells [5, 6].
Saccular stage
The saccular stage, or terminal sac stage (28th-35th week of gestation), represents the development of terminal air sacs from alveolar ducts, refinement of gas exchange sites, a decrease in the thickness of the interstitium, thinning of the epithelium and separation of the terminal air units. This stage also marks the terminal differentiation stages of alveolar ATI and ATII epithelial cells.
Alveolar stage
The final 5 weeks of fetal lung development, termed the alveolar period, encompass the alveolar stage in which millions of alveoli are formed, with the surface area increased by thinning of the septal walls and attenuation of the cuboidal epithelium. The terminal subsaccules are now separated by loose connective tissue and cellular maturation continues specifically with ATII cells developing a greater density of lamellar bodies [5, 6].
Differentiation of ATI and ATII cells
Concomitant with the development of various lung structures is the cellular differentiation of ATI and ATII cells occurring as the alveolar epithelium matures. During the first four months of gestation the epithelial lining is more or less columnar to cuboidal [5–7]. By six months, ATI and ATII cells can be relatively distinguished in the more localized differentiated zones of pseudo-cuboidal cells.
ATI cells
ATI cells are thin, flat, squamous epithelia conspicuous because of the cells' small perinuclear body and long cytoplasmic extrusions; they are developed from the cuboidal cells that line bronchioles and cover most of the alveolar wall at later stages of development. ATI cells are characterized by having a low compliment of organelles, indicating low metabolic activity, thus reflecting the quiescent nature of these cells. The morphology of ATI cells, however, is suitably convenient to provide a large surface area with a small volume, ideal for rapid and efficient gas exchange.
ATII cells
ATII cells are identifiable owing to their granular and cuboidal appearance, as a result of the dense packing of cytoplasmic organelles (indicating metabolically active cells) and lamellar bodies, which are densely layered organelles that synthesize and store pulmonary surfactants [5–8]. The major function of a surfactant, which is a mixture of proteins and the lipid disaturated dipalmitoyl phosphatidylcholine, is to reduce the surface tension, thus facilitating lung expansion during inhalation. Although ATII cells are small in diameter (≈ 400 μm3 in rat and ≈ 900 μm3 in human), they are essential for proper gas exchange. Situated at the corners of the alveolar sacs, ATII cells represent little obstruction to gaseous diffusion and are fed by a capillary network. Intracellularly, these cells are richly endowed with cytoplasmic organelles associated with the biosynthesis of surfactant phospholipid and related proteins. In summary, ATII cells function to serve as thin, gas-permeable entities for diffusion and act as a protective barrier against water and electrolyte leakage [5–7].
The fetal lung develops as a fluid-filled organ and is continuously situated in an environment that is relatively hypoxic (≤ 3% O2), which is the potential oxygen-carrying capacity of the umbilical vein [5, 8, 10, 13]. When ex utero respiration commences, most of the lung fluid is reabsorbed into blood and lymph capillaries, allowing the newborn to breathe normally. Postnatal lung development continues and the ≈ 50 million alveoli at birth, which have a surface area of 3–4 m2, represent ≈ 15–20% of the 300 million alveoli present in the adult lung (surface area ≈ 75–100 m2) [5]. At birth, the lung undergoes a dramatic change from a fluid-filled to a gas-filled organ, thereby subjecting the neonate's lung to a transition from a relatively hypoxic environment to one that is hyperoxic (10–15% O2) [5, 8, 10, 19, 20].
The transition from placental to lung-based respiration is perceived as normal in fully mature babies; in contrast, preterm infants may suffer tremendously as the lungs may be insufficiently developed, and may be incapable of sustaining normal breathing [8, 10, 13, 15]. The preterm neonate can suffer from a variety of clinical illnesses and may develop chronic lung diseases caused by the supplementation of exogenous oxygen [5, 8, 10, 15]. The transition from placental to lung-based respiration, therefore, constitutes a potential signaling mechanism for the continuation of lung development and maturation while the lung experiences dramatic and dynamic variations in pO2[5, 8, 10, 15, 20].
During normal breathing, the incomplete reduction of inhaled oxygen may lead to accumulation of toxic reactive oxygen species (ROS) that may contribute to capillary injury and lung tissue perturbations [8, 21–25]. All forms of aerobic life are thus faced with the threat of oxidation from atmospheric molecular oxygen and have developed elaborate mechanisms of antioxidant defenses to cope with this potential problem [2, 3, 16–18, 22, 26]. Any deviation from homeostasis, or physiological changes in pO2, is recognized as an exposure to oxidative stress [1–3, 16–18, 27–31]. In particular, key developmental changes in the late-gestation (preterm) lung have evolved to allow production of surfactants and enzymatic and non-enzymatic antioxidants in preparation for the first breaths at birth [5, 8, 10, 21, 32]. Moreover, the maturation chronology of the lung antioxidant system parallels that of the prenatal maturation of the surfactant system, highlighting the stages developing fetuses undergo in order to prepare for birth into an oxygen-rich environment [5, 8, 10, 20]. Apparently, any perturbations in maintaining homeostatic mechanisms in response to changes in oxygen levels are critical in determining cellular characteristic integrity. The clinical, biochemical and histologic responses of the lungs to such variations consequently characterize the efficiency and specificity of the antioxidant system in combating stress [5, 8, 10, 16–18]. For example, in certain lung pathophysiological conditions, oxygenation of terminal airways becomes uneven, such that this temporal and spatial variance in oxygen abundance essentially determines the survival of the lung cells via oxygen-dependent activation of cell regulators and genes critical to defending their structural/functional characteristics [5, 8, 10, 13, 14, 16–18, 21–23, 26, 27].
How do organisms sense the amount of oxygen in the environment and respond appropriately when the amount of oxygen decreases (a condition called hypoxia)? The expression of genes is predominantly determined by conditions of the cellular microenvironment [2, 3, 16–20, 27, 28, 34, 51, 58]. Prime examples of such regulation are found in embryonic development of all multicellular organisms. The naturally occurring regulating agents, for example, interact with specific receptors, which subsequently transduce a signal into the nucleus for the regulation of gene expression and activation. The putative oxygen sensor responds to dynamic variation in pO2 such as those occurring during the birth transition period [1–3, 16–20, 19, 20, 59, 61, 70–79]. Upon ligand binding, this presumably membrane-bound receptor transduces intracellular chemical/redox signals that relay messages for the regulation of gene expression, a phenomenon mainly involving the activation of transcription factors [2, 13, 14, 16–18, 26, 34, 51, 70].
Oxygen homeostasis and HIF-1α regulation
In order to maintain oxygen homeostasis, a process that is, of course, essential for survival, pO2 delivery to the mitochondrial electron transport chain must be tightly maintained within a narrow physiological range [2, 3, 28, 34, 70]. This system may fail with subsequent induction of hypoxia, resulting either in a failure to generate sufficient ATP to sustain metabolic activities or in a hyperoxic condition that contributes to the generation of ROS, which, in excess, could be cytotoxic and often cytocidal [5, 8, 22, 34]. Adaptive responses to hypoxia involve the regulation of gene expression by HIF-1α, the expression, stability and transcriptional activity of which increase exponentially on lowering pO2[52, 53, 56, 80, 81].
HIF-1α is a mammalian transcription factor expressed uniquely in response to physiologically relevant hypoxic conditions [52, 53, 56, 64, 67, 70–81]. Studies of the EPO gene led to the identification of a cis-acting hypoxia-response element (HRE) in its 3'-flanking region [52, 53, 67, 80, 81] and HIF-1 was identified through its hypoxia-inducible HRE-binding activity [56]. The HIF-1 binding site was subsequently used for purification of the HIF-1α and HIF-1β subunits by DNA affinity chromatography. Both HIF-1 subunits are basic helix-loop-helix PAS (an acronym for the first three family members, namely Per/ARNT/Sim) proteins: HIF-1α is a novel protein; HIF-1β is identical to the aryl hydrocarbon receptor nuclear translocator protein. HIF-1α DNA-binding activity and HIF-1α protein expression are rapidly induced by hypoxia and the magnitude of the response is inversely related to pO2[52, 53, 56, 64, 67, 70–83].
In hypoxia, multiple systemic responses are induced, including angiogenesis, erythropoiesis and glycolysis [52, 53, 56, 71–73]. HREs containing functionally essential HIF-1-binding sites are identified in genes encoding VEGF, glucose transporter 1, and the glycolytic enzymes aldolase A, enolase 1, lactate dehydrogenase A and phosphoglycerate kinase 1 [51–53, 64, 65, 72, 73]. HIF-1α is an important mediator for increasing the efficiency of oxygen delivery through EPO and VEGF [52, 53]. A well-controlled process of adaptation to hypoxia enables oxygen to be delivered more efficiently, through upregulation of EPO and VEGF and the expression and activation of glucose transporters and glycolytic enzymes [52, 53, 64, 65]. EPO is responsible for increasing blood oxygen-carrying capacity by stimulating erythropoiesis; VEGF is a transcriptional regulator of vascularization; and glucose transporters and glycolytic enzymes increase the efficiency of anaerobic generation of ATP [51–53].
HIF-1α has also been shown to activate transcription of genes encoding inducible nitric oxide synthase and heme oxygenase-1 (which are responsible for the synthesis of the vasoactive molecules NO and CO, respectively), as well as the gene encoding transferrin (which, like EPO, is essential for erythropoiesis) [
52
,
53
]. Each of these genes contains an HRE sequence of <100 base pairs that includes one or more HIF-1-binding sites containing the core sequence 5'-RCGTG-3' [
51
–
53
]. It is expected that any reduction of tissue oxygenation
in vivo
and
in vitro
would therefore provide a mechanistic stimulus for a graded and adaptive response mediated by HIF-1α. Hypoxia signal transduction is schematized in Fig.
3
and the array of proteins encoded by genes directly controlled by HIF-1α is given in Table
1
.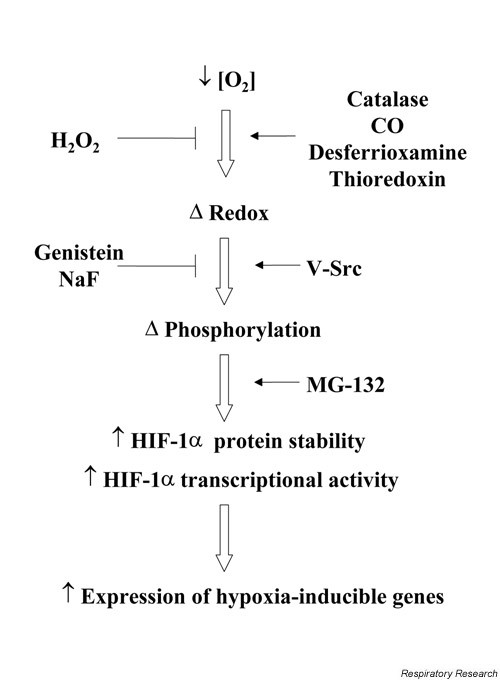 Table 1
Proteins encoded by genes directly targeted by HIF-1α
| Role | Protein |
| --- | --- |
| Glucose/energy metabolism Cell proliferation/viability | Adenylate kinase 3 |
| | Aldolase a |
| | Aldolase c |
| | Enolase-1 |
| | Glucose transporter 1 |
| | Glucose transporter 3 |
| | Glyceraldehyde-3-phosphate dehydrogenase |
| | Hexokinase 1 |
| | Hexokinase 2 |
| | Insulin-like growth factor (IGF)-2 |
| | IGF-binding protein (IGFBP)-1 |
| | IGFBP-3 |
| | Lactate dehydrogenase a |
| | Phosphoglycerate kinase 1 |
| | Pyruvate kinase m |
| | p21 |
| | Transforming growth factor |
| Erythropoiesis Iron metabolism | Ceruloplasmin |
| | Erythropoietin |
| | Transferring |
| | Transferrin receptor |
| Vascular development/remodelling Vasomotor tone | Adrenergic receptor |
| | Adrenomedullin |
| | Endothelin-1 |
| | Heme oxygenase-1 |
| | Nitric oxide synthase 2 |
| | Plasminogen activator inhibitor 1 |
| | Vascular endothelial growth factor (VEGF) |
| | VEGF receptor FLT-1 |
The von Hippel-Lindau tumor-suppressor protein
Several major molecular mechanisms that regulate HIF-1 have recently emerged to shed a thorough light on the role of this transcription factor in oxygen sensing [
83
,
84
]. The von Hippel-Lindau tumor-suppressor protein (pVHL) has emerged as a key factor in cellular responses to oxygen availability, being required for the oxygen-dependent proteolysis of the α subunits of HIF (Fig.
4
) [
83
–
87
]. Mutations in
VHL
cause a hereditary cancer syndrome associated with dysregulated angiogenesis and upregulation of hypoxia inducible genes [
84
].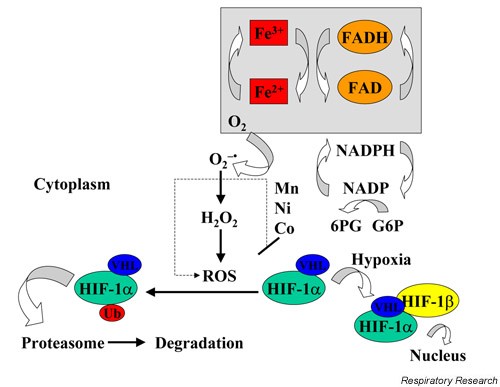 Recently, Ratcliffe and colleagues unequivocally elaborated on the mechanisms underlying these processes and showed that extracts from VHL-deficient renal carcinoma cells have a defect in HIF-1α ubiquitination activity, which was complemented by exogenous pVHL [81–84]. This defect was specific for HIF-1α among a range of substrates tested. Furthermore, HIF-1α subunits were the only pVHL-associated proteasomal substrates identified by comparison of metabolically labeled anti-pVHL immunoprecipitates from proteosomally inhibited cells and normal cells.
Analysis of pVHL/HIF-1α interactions defined short sequences of conserved residues within the internal transactivation domains of HIF-1α molecules sufficient for recognition by pVHL. In contrast, while full-length pVHL and the p19 variant interact with HIF-1α, the association was abrogated by further N-terminal and C-terminal truncations. The interaction was also disrupted by tumor-associated mutations in the β-domain of pVHL and loss of interaction was associated with defective HIF-1α ubiquitination and regulation, defining a mechanism by which these mutations generate a constitutively hypoxic pattern of gene expression promoting angiogenesis [84–87]. These findings clearly indicate that pVHL regulates HIF-1α proteolysis by acting as the recognition component of a ubiquitin ligase complex and support a model in which its β-domain interacts with short recognition sequences in the α subunits. Moreover, in oxygenated and iron-replete cells, HIF-1α subunits were rapidly destroyed by a mechanism that involved ubiquitination by the pVHL E3 ligase complex (pVHLE3) [88]. This process was suppressed by hypoxia and iron chelation, allowing transcriptional activation.
HIF-α proline hydroxylation
Jaakkola and colleagues [
88
] recently indicated that the interaction between human pVHL and a specific domain of the HIF-1α subunit is regulated through hydroxylation of a proline residue (HIF-1α Pro564) by an enzyme termed by the authors HIF-α prolyl-hydroxylase (HIF-PH). An absolute requirement for oxygen as a cosubstrate and iron as a cofactor suggested that HIF-PH functions directly as a cellular oxygen sensor. Furthermore, Masson
et al.
[
89
] recently identified two independent regions within the HIF-α oxygen-dependent degradation domain, which are targeted for ubiquitination by pVHLE3 in a manner dependent upon prolyl hydroxylation (Fig.
5
). In a series of
in vitro
and
in vivo
assays, Masson and colleagues demonstrated the independent and nonredundant operation of each site in regulation of the HIF system. Both sites contain a common core motif, but differ both in overall sequence and in the conditions under which they bind to the pVHLE3 ligase complex [
89
]. The definition of two independent destruction domains implicated a more complex system of pVHL-HIF-α interactions, but reinforced the role of prolyl hydroxylation as an oxygen-dependent destruction signal.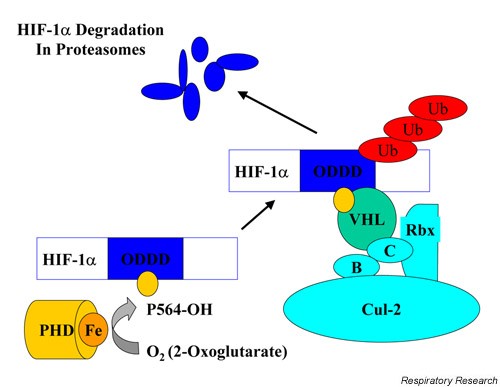 These mechanisms were also reported in lower invertebrates as potential pathways for HIF oxygen sensing. For instance, Epstein and colleagues [90] defined a conserved HIF-pVHL-prolyl hydroxylase pathway in Caenorhabditis elegans and used a genetic approach to identify EGL-9 as a dioxygenase that regulates HIF by prolyl hydroxylation. In mammalian cells, it was shown that the HIF-prolyl hydroxylases were represented by a series of isoforms bearing a conserved 2-histidine-1-carboxylate-iron coordination motif at the catalytic site. Direct modulation of recombinant enzyme activity by graded hypoxia, iron chelation and cobaltous ions mirrored the characteristics of HIF induction in vivo, thereby fulfilling requirements for these HIF-prolyl hydroxylases to be oxygen sensors that regulate this transcription factor [91–94].
Bruick and McKnight [95] reported that the inappropriate accumulation of HIF caused by forced expression of the HIF-1α subunit under normoxic conditions was attenuated by co-expression of HIF-PH. Suppression of HIF-PH in cultured Drosophila melanogaster cells by RNA interference resulted in elevated expression of a hypoxia-inducible gene (encoding lactate dehydrogenase) under normoxic conditions, indicating that HIF-PH is an essential component of the pathway through which cells sense oxygen. In complement with the aforementioned observations, Lando and colleagues [96] demonstrated that the hypoxic induction of the C-terminal transactivation domain (CAD) of HIF occurs through abrogation of hydroxylation of a conserved asparagine in the CAD. Inhibitors of Fe2+- and 2-oxoglutarate-dependent dioxygenases prevented hydroxylation of the asparagine, thus allowing the CAD to interact with the p300 transcription co-activator. Replacement of the conserved asparagine by alanine resulted in constitutive p300 interaction and strong transcriptional activity. The full induction of HIF, therefore, might rely on the abrogation of both proline and asparagine hydroxylation. During normoxia, hydroxylation of these residues occurs at the oxygen-dependent degradation domain and CAD, respectively.
HIF-2α and HIF-3α
Recently, two oxygen-sensitive cousins of HIF-1 have been identified, characterized and cloned. HIF-2 and HIF-3 are two closely related protein complexes that are oxygen-responsive. The cDNAs of three HIF α-subunits were cloned from RNA of primary rat hepatocytes by reverse transcriptase PCR [97]. All three cDNAs encoded functionally active proteins, of 825, 874 and 662 amino acids, respectively. After transfection, they were able to activate luciferase activity of a luciferase gene construct containing three HIF-responsive elements. The mRNAs of the rat HIF α-subunits were expressed predominantly in the perivenous zone of rat liver tissue; the nuclear HIF-α proteins, however, did not appear to be zonated [97]. Furthermore, HIFs locate to HIF-binding sites (HBSs) within the HREs of oxygen-regulated genes [98, 99]. Whereas HIF-1α is generally expressed ubiquitously, HIF-2α (EPAS) is found primarily in the endothelium, similar to endothelin-1 (ET-1) and fms-like tyrosine kinase-1 (Flt-1), the expression of which is controlled by HREs.
Camenisch and colleagues [100] identified a unique sequence alteration in both ET-1 and Flt-1 HBSs not found in other HIF-1 target genes, implying that these HBSs might cause binding of HIF-2 rather than HIF-1. Electrophoretic mobility shift assays showed HIF-1 and HIF-2 DNA complex formation with the unique ET-1 HBS to be about equal. Both DNA-binding and hypoxic activation of reporter genes using the ET-1 HBS was decreased compared with those for transferrin and erythropoietin HBSs. The Flt-1 HBS, in addition, was nonfunctional when assayed in isolation, suggesting that additional factors are required for hypoxic upregulation via the reported Flt-1 HRE [100]. Interestingly, HIF-1 activity could be restored fully by point-mutating the ET-1 (but not the Flt-1) HBS, suggesting that the wild-type ET-1 HBS attenuates the full hypoxic response known from other oxygen-regulated genes [100–102].
Oxygen homeostasis and NF-κB regulation
NF-κB is an important and widely investigated dimeric transcription factor that is a major participant in signaling pathways governing cellular responses to environmental stresses [13, 14, 19, 54, 55, 58, 103, 104]. NF-κB is involved in the regulation of a large number of genes that control various aspects of the immune and inflammatory response. It is activated by a variety of stimuli ranging from cytokines, to various forms of radiation, to oxidative stress (such as exposure to H2O2). Recent studies have advanced our understanding of the signal transduction pathway leading to NF-κB activation by cytokines and will provide insights for the mechanism by which NF-κB is regulated by oxidative stress. An important question that is yet to be answered is whether ROS play a physiological role in NF-κB activation.
First identified as a factor which regulates the expression of the immunoglobulin κ light chains in B lymphocytes [
57
] NF-κB is also recognized as a sequence-specific transcription factor involved in the activation of an exceptionally large number of genes in response to inflammation, viral and bacterial infections, and other stressful situations requiring rapid reprogramming of gene expression, such as oxidative challenge [
54
,
55
]. In unstimulated cells under resting conditions (inactive state), NF-κB exists as homodimers or heterodimers of members of the Rel family [
55
,
56
,
103
,
104
]. The dimers of NF-κB are sequestered in the cytosol through noncovalent interactions with inhibitory proteins termed IκBs [
54
,
55
,
103
,
104
]. The translocation and activation of NF-κB in response to various stimuli, such as cytokines (IL-1 and TNF-α), microbial agents (lipopolysaccharide-endotoxin), oxidative challenge (ROS) and irradiation (UV and γ-rays), are sequentially organized at the molecular level [
54
,
55
,
104
]. NF-κB activation occurs through the signal-induced phosphorylation of a multisubunit upstream kinase, termed IκB kinase, by NF-κB inducing kinase [
103
–
105
]. Stimulation leads to rapid phosphorylation of IκB, thereby marking it for ubiquitinylation and ultimately proteolytic degradation. IκB degradation exposes the nuclear localization signal on NF-κB, thus allowing the nuclear translocation of the subunit and activation of the transcription of its target genes (Fig.
6
) [
54
,
55
]. The array of proteins encoded by genes directly controlled by NF-κB is given in Table
2
.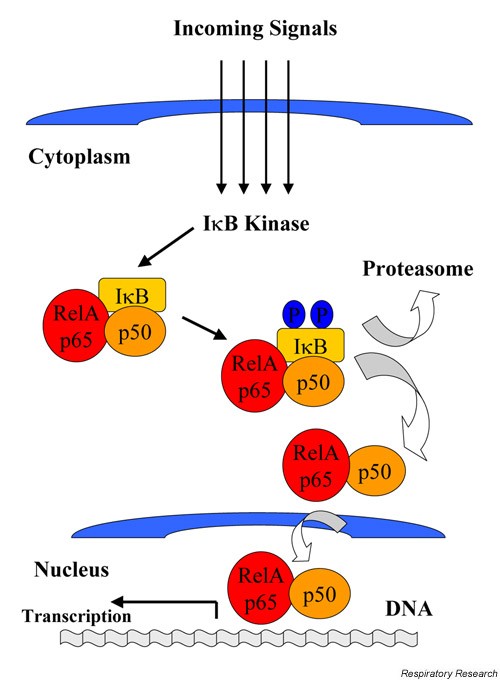 Table 2
The array of proteins encoded by genes directly controlled by NF-κB
| Protein type | Protein |
| --- | --- |
| Cytokines/growth factors | IL-1α |
| | IL-1β |
| | IL-2 |
| | IL-3 |
| | IL-6 |
| | IL-8 |
| | IL-12 |
| | TNF-α |
| | Lymphotoxin-α |
| | Interferon-β |
| | Granulocyte Colony-Stimulating |
| | Factor |
| | Macrophage Colony-Stimulating |
| | Factor |
| | Granulocyte-Macrophage Colony- |
| | Stimulating Factor |
| Cytokine receptors | IL-2 receptor α chain |
| Stress proteins | Serum amyloid A protein |
| | Complement factors B, C3 and C4 |
| | α1-acid glycoprotein |
| Adhesion molecules | Intracellular adhesion molecule-1 |
| | Vascular cell adhesion molecule-1 |
| | Mucosal addressin cell adhesion molecule-1 |
| | E-selectin |
| Immunoregulatory molecules | Immunoglobulin κ light chain |
| | MHC class I and II |
| | T-cell receptor α and β |
| | β2-Microglobulin |
| | Invariant chain |
| | Transporter associated with antigen processing |
| | Proteasome subunit |
| | Inducible nitric oxide synthase |
| | Inhibitory κB |
| | p53 |
IκB-independent pathways, however, have recently been recognized as alternative factors that regulate the activation of NF-κB. As an example, direct phosphorylation of RelA (p65), the major transactivating member of the κB family [
14
,
19
,
54
,
55
,
103
] has been shown to regulate NF-κB activation in one of two of its transactivation domains [
106
]. A further mechanism was revealed for NF-κB regulation with the discovery of transcription factor-IIB/D (TF-IIB/D) and TATA-binding protein (TBP), recognized as two important regulators of NF-κB transcriptional activity. The dominant-negative form of the mitogen-activated protein kinase (MAPKp38) expression vector abrogated the interaction of TF-IID/TBP with a co-transfected His-p65 fusion protein, and selective inhibition of MAPKp38 by SB-203580 down-regulated TF-IID/TBP
in vitro
[
106
]. Finally, modulation of intracellular redox equilibrium constitutes a potential mechanism that can manipulate and dictate the localization and activation of NF-κB [
2
,
3
,
13
,
14
,
26
,
54
,
55
,
103
–
106
]. Hyperoxia and other stress conditions mediating signal-transduction pathways involving NF-κB are depicted in a schematized model shown in Fig.
7
.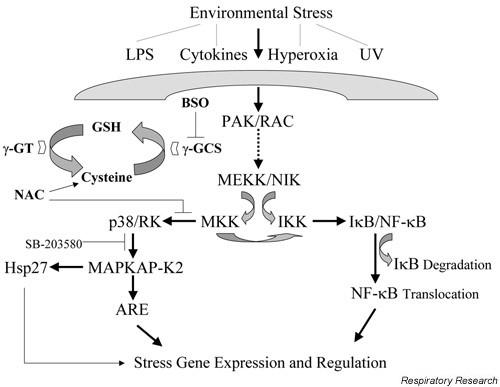 The major determinant of the redox status in mammalian cells is glutathione (L-γ-glutamyl-L-cysteinyl-glycine), a tripeptide thiol [14, 18, 47–50, 107]. This ubiquitous non-essential sulfhydryl amino acid plays a major role in maintaining intracellular redox equilibrium and in regulating cellular defenses augmented by oxidative stress. Synthesized by the action of the rate-limiting enzyme γ-glutamylcysteine synthetase [47–50, 107, 108] glutathione uniquely provides a functional cysteinyl moiety that is responsible for many of its diverse properties.
Glutathione participation in the physiology of cellular metabolism reflects the importance of this molecule in intracellular functions. First, glutathione is involved in the detoxification of highly reactive peroxides (ROOH) by conjugation of electrophiles and metals through the glutathione-peroxidase coupled reaction, thus acting as an antioxidant (Fig. 1). For example, endogenously produced radicals such as H2O2 are effectively reduced by the selenium-dependent glutathione peroxidase in the presence of glutathione as a substrate. During this reaction, glutathione is converted into oxidized disulfide glutathione (GSSG), which is recycled back to two molecules of glutathione by GSSG reductase at the expense of NADPH/H+, thus forming what is known a redox cycle (Fig. 1). Second, glutathione participates in the maintenance of intracellular protein integrity by reducing their disulfide linkages and regulating their synthesis, thereby acting as an important regulator of cellular sulfhydryl status and redox equilibrium. Third, glutathione governs signaling pathways as an immunopharmacological reducing thiol; it also facilitates membrane trafficking of reactive chemicals and, in some cases, augments the formation of essential biological mediators. Fourth, glutathione regulates the expression and activation of redox-sensitive transcription factors, whose upregulation is a key component of the cellular pathways activated in stress-evoked responses. The restitution of redox equilibrium in the face of an oxidative challenge, therefore, requires an adaptive cross-talk between signaling pathways sensing variations in pO2 and genetically regulated transcription factors [2, 3, 16–18, 26, 51]. As such, glutathione-associated metabolism is crucial for providing an equilibrium interface between oxidative stress and adaptive responses of cytoprotection [13, 14, 19, 47–50, 107].
Redox regulation of HIF-1α
Antioxidant/pro-oxidant equilibrium is likely to regulate HIF-1α redox sensitivity [13, 14, 51, 73, 109–111]. For instance, the cysteine residue in the CAD has been shown to be redox-sensitive, thereby affecting its interaction with CREB-binding protein/p300 co-activators. This interaction is directly regulated by redox factor-1 and thioredoxin [109, 110]. HIF-1α ubiquitination and degradation by the proteasome system under normoxic conditions are also regulated by redox modifications of the protein [52, 53, 82, 111]. Furthermore, selective inhibition of γ-glutamylcysteine synthetase (which results in glutathione depletion) in the alveolar perinatal epithelium abrogated hypoxia-induced nuclear localization, stabilization and activation of HIF-1α [13, 14]. It appears, therefore, that maintenance of glutathione equilibrium (and by inference, the shuttling between reduction and oxidation states) is a prerequisite for HIF-1α stabilization [82, 109].
This assumption is reinforced by the observation that N-acetyl-L-cysteine (NAC, an antioxidant thiol and a precursor for L-cysteine, the rate-limiting amino acid in the biosynthesis of glutathione [
14
,
17
,
112
]) imposes a reducing environment, thereby protracting HIF-1α stability in the cytosol and subsequently favoring its translocation and activation [
13
,
14
,
53
,
54
,
82
,
111
]. On the other hand, imposing an oxidizing environment through the rapid accumulation of GSSG in the nucleus adversely affects HIF-1α activation [
13
,
14
]. PDTC is a nonthiol antioxidant that affects redox potential by scavenging radical species (a reduction property) and directly oxidizing glutathione and related thiols (an oxidation property) [
14
,
79
,
113
]. PDTC favors a GSSG/glutathione equilibrium and subsequent stabilization of HIF-1α protein, but fails to induce its activation. This effect is ostensibly due to the generation of thiyl radicals and thiuram disulfides resulting from PDTC antioxidant reactions, thus leading to oxidation of glutathione [
13
,
14
,
111
]. It is very likely, therefore, that HIF-1α's oxygen responsiveness resides over a permissive range of antioxidant buffering capacities, with the demonstration that the antioxidant/pro-oxidant equilibrium effectively uncouples HIF-1α activity from the normal pattern observed in response to variations in
p
O
2
in the alveolar epithelium [
13
,
14
,
82
]. Redox-mediated pathways regulating HIF-1α transduction mechanisms are shown in Fig.
8
.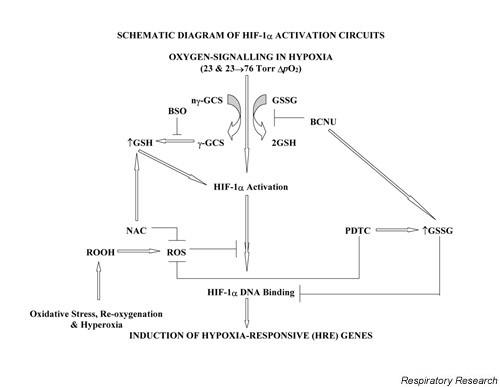 Redox regulation of NF-κB
Redox regulation of NF-κB seems to be compartmentalized [13, 14, 19, 54, 55, 62, 113, 114]. Whereas an oxidizing signal is required for the stabilization and translocation of NF-κB subunits, intriguingly, a reduced environment is critical for an optimum DNA-binding activity and transactivity [14, 54, 55, 113, 114]. Recent evidence suggests that NF-κB plays a critical role in the early events controlling the molecular response to ROS [54, 55, 58, 103]. It has been shown, for example, that the activation of NF-κB by a variety of agents can be blocked by NAC, suggesting that the production of ROS may act as a common pathway for a diverse range of stimuli [13, 14, 54, 55, 58, 62, 101, 103, 114–116]. In addition, the inhibitory effects of PDTC suggest post-translational instability and interference with the capacity of NF-κB to bind DNA [54, 55, 62, 103, 104]. This is further supported by the observation that phosphorylation of IκB at specific serine residues can be inhibited by dithiocarbamates, pointing to the possibility that NF-κB translocation and subsequent activation is mediated by ROS, which might induce a cytosolic kinase activity [54, 55, 103, 104].
There is another assumption that GSSG-mediated inhibition of NF-κB implicates the formation of an inactive NF-κB/disulfide complex, thereby inhibiting DNA binding activity [
14
,
16
–
18
,
54
,
55
,
62
,
114
–
116
]. Although oxidizing conditions are necessary in the cytosol, to allow optimum translocation and dissociation of NF-κB from inhibitory IκB (resulting in activation of NF-κB), NF-κB must be maintained in a reduced state in the nucleus for activation to occur [
13
,
14
,
16
–
19
,
54
,
55
,
58
,
62
,
103
,
104
,
114
–
116
]. Redox-mediated pathways regulating NF-κB transduction mechanisms are shown in Fig.
9
.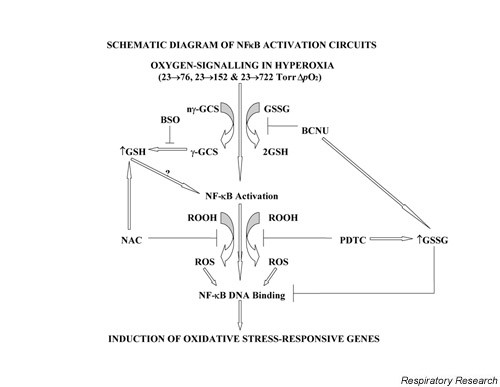 In the past few decades since the term apoptosis was coined [117, 118] a vast quantity of work has been performed in search of the cause of the phenomenon to which it originally alluded. It became certain that some cells were genetically programmed, or destined, for death during the normal development of multicellular organisms [118–126]. Thus the general model is one of intercellular signaling molecules playing on intracellular effector systems that balance the individual cell's progress to either life (survival) or death (apoptosis) [119–126]. Apoptosis, first identified as "shrinkage necrosis" [117] was originally observed in mature human/vertebrate tissues as a stochastic loss of cells that showed distinctive histopathic morphology and induced a minor inflammatory response [118–126]. Simply, it was argued that the key tenets of this model state that there is a universal genetic program that governs cell death at different stages of development, that a variety of stimuli can elicit or activate this program, and that, even though many transduction mechanisms are involved, eventually apoptosis requires activation of a downstream convergent, final pathway [119–126].
Accumulating evidence has linked the pathogenesis of a variety of diseases to oxidative stress [8, 12, 22, 27, 33, 37, 40, 41, 142, 145, 162]. ROS, in particular, may contribute to alveolar capillary membrane perturbations and development of lung injury [22, 142–161]. Oxidative injury involves the modification of cellular macromolecules by toxic byproducts of oxygen metabolism. This condition often leads to cell death and/or the necrotic lysis of sensitive cells, resulting in the microvascular and alveolar injury typical of pulmonary oxygen toxicity [22, 37, 146]. Thus, dynamic variation in alveolar pO2 and its effect on cellular redox state may impose a direct role in modulating the pattern of gene expression and, thus, could be crucial in determining cellular fate and the inflammatory process regulated by cytokines [36–46, 166, 164].
Regulation of cytokines by ROS
ROS play a crucial role in the initiation and progression of pathophysiological conditions. The signaling mediators involved in stress-induced lung injury are regulated, at least in part, by ROS that upregulate their secretion as part of antioxidant and immune defense mechanisms [
154
–
164
]. ROS-mediated pathways regulating cytokines are schematized in
12A
For example, bronchial epithelial cells produce soluble mediators on exposure to ROS, which stimulate the release of glycoconjugates
in vitro
[
165
–
167
]. In addition, ROS can induce the production of IL-6 and IL-8 in bronchial and alveolar epithelial cells [
36
–
46
,
168
]. Furthermore, ROS can be released in response to a variety of stimuli, such as TNF-α and lipopolysaccharide [
36
–
46
,
169
] and they serve as intracellular signals for the activation of redox-sensitive transcription factors [
2
,
3
,
16
–
18
,
26
,
27
,
36
–
46
,
164
–
170
].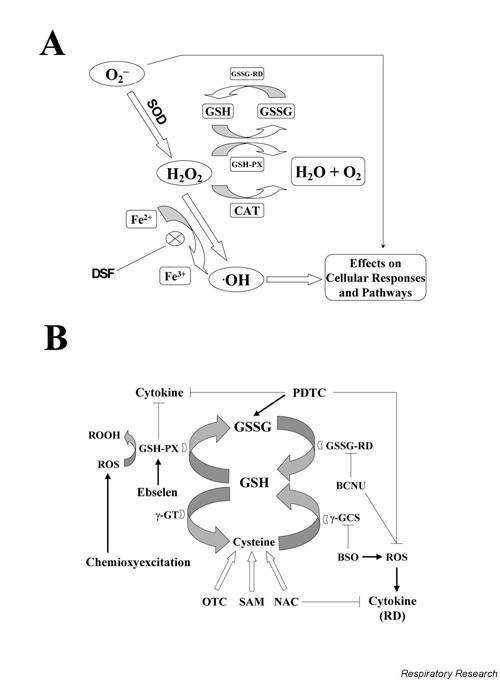 Among the mediators of oxidative stress, cytokines are of particular interest as they serve as signaling cofactors [37–45]. IL-1β, for instance, is a pleiotropic cytokine produced in response to various stimuli. It acts as a modulator of redox equilibrium [36–46]; moreover, there is substantial evidence suggesting that, among other regulatory cytokines, IL-1β participates in transduction signals in oxidative injury via ROS and has stimulatory effects on regulatory transcription factors mediating apoptosis [163–170]. IL-6 is responsive to inflammatory stimuli and oxidative stress [36–46]. TNF-α, a stress-induced cytokine and a mediator of oxidative injury, has been implicated in the pathogenesis of respiratory distress [36–46, 164–170]. Cytokines have also been shown to induce oxidative stress in several cell models [36–46].
Regulation of cytokines by redox equilibrium
The 'biomarkers' of oxidative stress, such as antioxidant inefficiency, redox disequilibrium and derivation of oxidant radicals, may arise from conditions other than hyperoxia (oxidizing signals) per se, such as hypoxia/re-oxygenation and cytokine-dependent processes [2, 3, 14, 16–18, 26, 27]. In physiological conditions, the intracellular redox status of thiols is highly reductive. Glutathione, for example, is present in high concentrations in lung epithelial lining fluid and has been reported to maintain the integrity of the airspace epithelium [171]. Glutathione depletion has been linked to the pathophysiology of idiopathic pulmonary fibrosis [171] adult respiratory distress syndrome [162, 172] bronchopulmonary dysplasia [173] and cystic fibrosis [174].
Agents that induce the formation of ROS can affect redox homeostasis by upregulating antioxidant enzymes, particularly glutathione peroxidase and enzymes involved in glutathione recycling and biosynthesis [12, 16, 21, 22, 37–41, 115, 116, 164, 169, 170, 175–177]. Furthermore, ROS signaling could be mediated by cytokines, whose participation in cellular pathways is modulated by redox status [35–46, 169–177]. Redox-mediated pathways regulating cytokines are schematized in Fig. 12B. Conversely, cytokines, which themselves are mediators of oxidative stress, have the potential to alter redox equilibrium, thereby affecting glutathione/GSSG shuttling and recycling [35–46, 169–177].
The immunopharmacological potential assigned to glutathione stems from established observations. IL-1-induced responses, for instance, occur through modulating the redox dynamic equilibrium [178]. In addition, ROS signaling regulating the transcription of IL-4 [179] IL-6, IL-8 [180] and TNF-α [181, 182] is regulated by a thiol-dependent mechanism. Interestingly, antioxidants and glutathione precursors have been shown to downregulate cytokine synthesis, activation and downstream processes [35–46, 169–178]. Among the many agents that are used for repletion and depletion of glutathione, NAC and L-buthionine-(S,R)-sulfoximine are, respectively, of particular importance as they exhibit antagonistic effects on a pro-inflammatory signal. NAC, an antioxidant and a glutathione precursor [13, 14, 19, 40, 41, 111] has the ability to abrogate cytokine biosynthesis and ROS-mediated lung injury [35–46]. In contrast, L-buthionine-(S,R)-sulfoximine, which depletes glutathione by irreversibly inhibiting γ-glutamylcysteine synthetase (the rate-limiting enzyme in the biosynthesis of glutathione [39, 41, 48, 103, 104]), has the potential to enhance cytokine secretion by upregulating ROS [35–46, 181, 183]. It has been reasoned that a differential manipulation of glutathione homeostasis and shuttling antagonistically affects a proinflammatory signal. This has potential consequences for the treatment of respiratory distresses, where cytokines are recognized as major participants in pathophysiology.
The molecular response to oxidative stress is regulated, in part, by redox-sensitive transcription factors [184–188]. The abrupt change in pO2, which accompanies the transition from placental to lung-based respiration, constitutes a mechanism that allows specific genetic regulation. Two transcription factors that form an integral part of the pathways augmented during this transition period are HIF-1α and NF-κB, both of which are sufficiently tuned to govern a specific response in hypoxia and a relatively hyperoxic shift [184–191]. The perinatal epithelium responds to dynamic variations in pO2 by regulating their expression and activation with a unique responsiveness associated with upregulating glutathione biosynthesis, as a major intracellular thiol bearing an antioxidant potential. Modulating the antioxidant/pro-oxidant equilibrium by altering the glutathione/GSSG redox potential evokes a genetic switch between HIF-1α and NF-κB, an effect uncoupled from the normal pattern that is followed with a prevailing pO2.
Analysis of the apoptotic potential prevailing under various ΔpO2s reveals a novel differential expression of pro-apoptotic and anti-apoptotic proto-oncogenes, a phenomenon that is redox-dependent and NF-κB-sensitive. Evidence has also been provided linking oxidative stress to a proinflammatory state, regulated by oxygen- and redox-sensitive cytokines [183–192]. Thus, dynamic variation in pO2 and redox equilibrium regulates gene expression, apoptosis signaling and the inflammatory process. This regulation bears potential consequences for screening emerging targets for therapeutic intervention and manipulation under conditions of oxidative stress that mimic those seen in clinical oxygen therapy.
ATI/II:

alveolar type I/II
CAD:

C-terminal transactivation domain
CO:

carbon monoxide
EPO:

erythropoietin
GSSG:

glutathione oxidized disulfide
H2O2 :

hydrogen peroxide
HBS:

HIF-binding site
HIF-α:

hypoxia-inducible factor-1α
HIF-PH:

HIF-α prolyl-hydroxylase
HRE:

hypoxia responsive element
IκB:

inhibitory κB
ICE:

IL-1β-converting enzyme
IL:

interleukin
NAC:

N-Acetyl-L-cysteine; NF-κ
B:

nuclear factor-κB
NO:

nitric oxide
O2 -•:

superoxide anion
PDTC:

pyrrolidine dithiocarbamate
pVHL:

von Hippel-Lindau tumor suppressor protein
redox:

reduction-oxidation
ROS:

reactive oxygen species
SOD:

superoxide dismutase
TNF-α:

tumor necrosis factor-α
VEGF:

vascular endothelial growth factor
Acknowledgements
The author's own publications therein cited are, in part, financially supported by the Anonymous Trust (Scotland), the National Institute for Biological Standards and Control (England), the Tenovus Trust (Scotland), the UK Medical Research Council (MRC, London), the Wellcome Trust (London) (Dr. Stephen C. Land, Department of Child Health, University of Dundee, Scotland, UK) and the National Institutes of Health (NIH; Bethesda, USA) (Professor Philip E. Bickler, Department of Anesthesia and Perioperative Care, University of California, San Francisco, California, USA). The work of the author was performed at the University of Dundee, Scotland, UK. This review was written at UCSF, California, USA. Dr John J. Haddad held the Georges John Livanos prize (London, UK) under the supervision of Dr. Stephen C. Land and the NIH award fellowship (California, USA) under the supervision of Professor Philip E. Bickler. The author also appreciatively thanks Jennifer Schuyler (Department of Anesthesia and Perioperative Care) for her excellent editing and reviewing of this manuscript. I also thank my colleagues at UCSF (San Francisco, California, USA) and the American University of Beirut (AUB, Beirut, Lebanon) who have criticised the work for enhancement and constructive purposes.
(1)
Severinghaus-Radiometer Research Laboratories, Molecular Neuroscience Research Division, Department of Anesthesia and Perioperative Care, University of California at San Francisco, School of Medicine, Medical Sciences Building S-261, 513 Parnassus Avenue, 94143-0542 San Francisco, California, USA