Diagnostic value of plasma and bronchoalveolar lavage samples in acute lung allograft rejection: differential cytology
Respiratory Research
2016
17:74
Received: 3 March 2016
Accepted: 13 June 2016
Published: 21 June 2016
Abstract
Diagnosis of acute lung allograft rejection is currently based on transbronchial lung biopsies. Additional methods to detect acute allograft dysfunction derived from plasma and bronchoalveolar lavage samples might facilitate diagnosis and ultimately improve allograft survival. This review article gives an overview of the cell profiles of bronchoalveolar lavage and plasma samples during acute lung allograft rejection. The value of these cells and changes within the pattern of differential cytology to support the diagnosis of acute lung allograft rejection is discussed. Current findings on the topic are highlighted and trends for future research are identified.
Keywords
BloodBronchoalveolar lavageCytologyDiagnosisGraft rejectionLung transplantationPlasma
Background
Lung transplantation is an established treatment option for selected patients with advanced lung disease [1, 2]. However, despite improvement in surgical, postoperative and immunosuppressive management, the overall survival after lung transplantation remains lower than for recipients of other solid organ transplants [2, 3]. This is mainly due to development of chronic lung allograft dysfunction (CLAD), of which bronchiolitis obliterans syndrome (BOS) is the most common phenotype, being observed in more than 75 % of lung transplant recipients after 10 years [4, 5].
A major risk factor for the development of CLAD is the occurrence of repeated episodes of higher grade acute lung allograft rejection (AR) [6–8]. Acute lung AR, together with infections that by itself might trigger AR, is one of the most common complications occurring early after lung transplantation and affects more than 30 % of adult lung transplant recipients within the first year post transplantation [2].
Acute lung AR is suggested by a decline of lung function that is not explained by other reasons such as infection, left-sided heart failure or weight gain. The gold standard for AR diagnosis is the analysis of serial transbronchial lung biopsies (TBB) [9]. This method, however, is invasive and carries the risk of pulmonary bleeding and pneumothorax [10, 11]. Moreover, interobserver variability and sampling error limit the reliability of this method [12, 13].
Various attempts have been undertaken to validate alternative diagnostic methods, including clinical and/or radiological criteria. However, these patterns only allow delayed and retrospective diagnosis [14] and are of limited sensitivity [14, 15]. Moreover, cough, dyspnoea, low-grade fever, perihilar infiltrates and deterioration of pulmonary function may appear in other common conditions after transplantation and do not distinguish AR from infection [14, 16].
Alternatively, alterations in bronchoalveolar lavage (BAL) and plasma samples have been examined for specific changes during acute lung AR. Sampling cells by BAL bronchoscopy is less invasive than TBB and allows for repetitive harvesting. Although rare, complications of BAL have been observed and include fever, wheezing or bleeding [17]. Being able to diagnose acute lung AR in peripheral blood would be desirable for various reasons. Peripheral blood is easily accessible and complications are rare. However, peripheral blood may not reliably reflect processes in the lung and might thus not reach high specificity. The lung allograft rejection gene expression observational study (LARGO) is currently analysing new non-invasive techniques to assess biomarkers in peripheral blood. The study has shown encouraging results but further research is needed [18].
Since both BAL and plasma samples have the advantage of being fast and less invasive in comparison with TBB, we reviewed here the evidence for the use of BAL and plasma samples for detection of acute lung AR in lung transplant recipients. This article aims to provide answers to the question whether changes in cell count or percentage of cellularity appear to be specific for acute lung AR and whether they precede clinical symptoms and decline in lung function. An illustrative algorithm for the likelihood of acute AR depending on BAL and plasma cellularity is provided in Fig.
1
.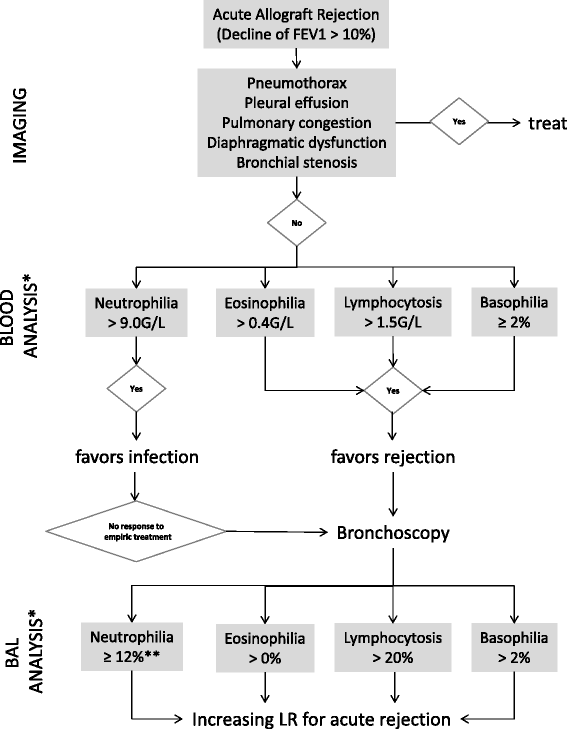 More specifically, this review summarises the experimental and clinical evidence on the differential cellularity profiles in BAL and plasma samples during acute lung AR. Current findings on this topic are discussed and areas for future research are identified.
Methods
We searched the electronic databases Medline (Bethesda, MD, USA: U.S. National Library of Medicine), EMBASE (Amsterdam, NL: Elsevier B.V.) and Web of Science Core Collection (New York, NY, USA: Thomson Reuters). Medical subject heading (MeSH) terms included "bronchoalveolar lavage fluid/cytology" in combination with "graft rejection" and "lung transplantation" for BAL and "blood/cytology" or "plasma/cytology" in combination with "graft rejection" and "lung transplantation" for data on plasma samples. Publications were eligible if they provided information on cytological changes in BAL or peripheral blood during acute lung AR. We considered articles published in English until June 1, 2015. This included experimental studies, prospective and retrospective clinical studies, review articles and case reports. No other restrictions were applied. We then selected those articles that fulfilled our inclusion criteria. Additionally, we scanned the references of all selected articles to find additional literature that was related to our research question. Finally, 54 papers were eligible to be included in our review. An ordered list of the type and number of articles included is provided in Table
1
.
Table 1
Types and number of references included in this review article
Content

Study design

Number of studies included

Total number of patients

Cytology

Experimental

22

Prospective

8

392

Retrospective

19

1561

Review article

3

Case report

2
We then evaluated the selected articles and compiled an extensive table, listing every cell type, the reference that mentioned these parameters as well as the observed data. While writing the review article more papers were drawn on for background information. Each author reviewed the entire document and provided input before the final manuscript was completed.
Conclusions
Specific changes in differential cytology of BAL and plasma samples during acute lung AR have been identified. Data from blood analysis remain weak with only few studies assessing cytological changes in peripheral blood during acute AR.
The illustrative algorithm in Fig. 1 summarizes the most important findings of this review and assesses the likelihood of acute AR depending on blood and BAL analysis. A decline of FEV1 > 10 % should prompt imaging to exclude confounding factors such as pneumothorax or bronchial stenosis. Differential cellularity profile in BAL and, of lesser value, in blood samples might raise suspicion for the presence of acute AR. In detail, lymphocytosis > 20 %, neutrophilia ≥ 12 % without microbiological evidence for infection as well as the presence of eosinophils and basophils in BAL might provide hints for the presence of acute AR. The definite diagnosis of acute AR, however, still relies on lung biopsy.
BAL differential cytology might be more powerful in the context of CLAD than of AR since the presence of distinct cells (e.g. eosinophils) was found to be associated with worse outcome and shorter CLAD-free survival. Future research should, among others, focus on a composite score that includes several inflammatory cells in order to enhance the diagnostic value of BAL cell composition.
In conclusion, when used within the clinical context, BAL and serum samples might be useful to assist in decision-making and alter the likelihood for the presence or absence of acute lung AR. Of note, BAL and serum samples are no substitutes for transbronchial biopsies in the evaluation of lung function decline in lung transplant recipients.
Abbreviations
AM, alveolar macrophages; AMR, antibody-mediated rejection; AR, allograft rejection; B cells, B lymphocytes; BAL, bronchoalveolar lavage; BOS, bronchiolitis obliterans syndrome; CLAD, chronic lung allograft dysfunction; IFN-γ, interferon gamma; IL, interleukin; IQR, interquartile range; MHC, major histocompatibility complex; NK cells, natural killer cells; NPV, negative predictive value; NRAD, neutrophilic reversible allograft dysfunction; PPV, positive predictive value; T cells, T lymphocytes; TBB, transbronchial lung biopsy; TNF-α, tumour necrosis factor alpha; PPV, positive predictive value; T cells, T lymphocytes; TBB, transbronchial lung biopsy; TNF-α, tumour necrosis factor alpha
Declarations
Acknowledgements
The authors thank Bart Vrugt, MD, Institute of Surgical Pathology, University Hospital Zurich, for providing the cover pictures (acute lung allograft rejection) and all the reviewers for their helpful and stimulating comments.The authors are deeply saddened by the unexpected death of our teacher and friend Rudolf Speich, one of the pioneers of Zurich's Lung Transplant Program.
Authors' contributions
NES performed literature search and drafted and revised the manuscript. MMS reviewed all versions of the manuscript and assisted to write the final version. CM reviewed all versions of the manuscript and assisted to write the final version. CB reviewed all versions of the manuscript and assisted to write the final version. LCH designed the project of this article, supervised NES, assisted to write all drafts and revisions and wrote the final version. All authors read and approved the final manuscript.
Competing interests
The authors declare that they have no competing interests.
Open AccessThis article is distributed under the terms of the Creative Commons Attribution 4.0 International License (http://creativecommons.org/licenses/by/4.0/), which permits unrestricted use, distribution, and reproduction in any medium, provided you give appropriate credit to the original author(s) and the source, provide a link to the Creative Commons license, and indicate if changes were made. The Creative Commons Public Domain Dedication waiver (http://creativecommons.org/publicdomain/zero/1.0/) applies to the data made available in this article, unless otherwise stated.
Authors' Affiliations
(1)
Division of Pulmonology, University Hospital Zurich, Zurich, Switzerland