Models of chronic obstructive pulmonary disease
Respiratory Research
2004
5:18
Received: 28 July 2004
Accepted: 02 November 2004
Published: 02 November 2004
Chronic obstructive pulmonary disease (COPD) is a major global health problem and is predicted to become the third most common cause of death by 2020. Apart from the important preventive steps of smoking cessation, there are no other specific treatments for COPD that are as effective in reversing the condition, and therefore there is a need to understand the pathophysiological mechanisms that could lead to new therapeutic strategies. The development of experimental models will help to dissect these mechanisms at the cellular and molecular level. COPD is a disease characterized by progressive airflow obstruction of the peripheral airways, associated with lung inflammation, emphysema and mucus hypersecretion. Different approaches to mimic COPD have been developed but are limited in comparison to models of allergic asthma. COPD models usually do not mimic the major features of human COPD and are commonly based on the induction of COPD-like lesions in the lungs and airways using noxious inhalants such as tobacco smoke, nitrogen dioxide, or sulfur dioxide. Depending on the duration and intensity of exposure, these noxious stimuli induce signs of chronic inflammation and airway remodelling. Emphysema can be achieved by combining such exposure with instillation of tissue-degrading enzymes. Other approaches are based on genetically-targeted mice which develop COPD-like lesions with emphysema, and such mice provide deep insights into pathophysiological mechanisms. Future approaches should aim to mimic irreversible airflow obstruction, associated with cough and sputum production, with the possibility of inducing exacerbations.
Chronic obstructive pulmonary disease
COPD
asthma
animal
mice
rat
guinea pig
tobacco smoke
nitrogen dioxide
sulfur dioxide
The global burden of disease studies point to an alarming increase in the prevalence of chronic obstructive pulmonary disease (COPD) [1] which is predicted to be one of the major global causes of disability and death in the next decade [2]. COPD is characterized by a range of pathologies from chronic inflammation to tissue proteolysis and there are no drugs specifically developed for COPD so far. Cessation of cigarette smoking is accompanied by a reduction in decline in lung function [3] and is a most important aspect of COPD management. The mainstay medication consists of beta-adrenergic and anticholinergic bronchodilators; addition of topical corticosteroid therapy in patients with more severe COPD provides may enhance bronchodilator responses and reduce exacerbations [4].
In contrast to the large amount of experimental studies on allergic asthma and the detailed knowledge that exists on mediators of allergic airway inflammation [
5
,
6
], much less has been conducted for COPD. More effort and resources have been directed into asthma research in comparison to COPD. The available insights into the pathogenesis and pathophysiology of asthma may help to improve research in COPD [
7
]. Many research centres that previously focused on asthma now also investigate mechanisms of COPD. Using molecular and genetic approaches, an increasing range of molecules has been identified that could underlie the pathogenic inflammation of chronic allergic airway inflammation [
8
]. Based on these findings and on new ways of administering drugs to the lungs [
9
], a new image of overwhelming complexity of the underlying pathophysiology of COPD has emerged (Figure
1
). The current challenge in COPD research is to identify the role of the various mediators and molecular mechanisms that may be involved in its pathophysiology, and obtain new treatments. In addition, it is incumbent to understand the effect of smoking cessation on the pathogenetic process.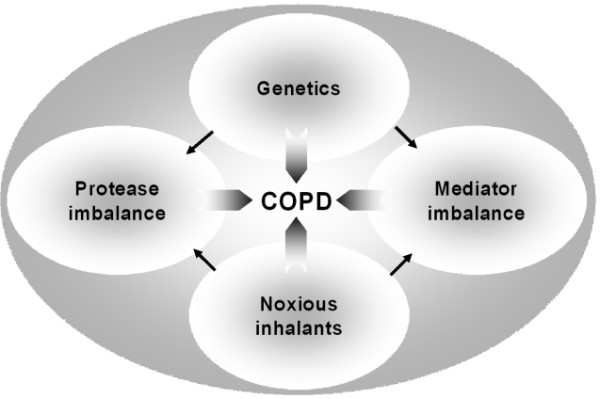 Studying the molecular pathways in human subjects is restricted to the use of morphological and molecular assessment of lung tissues obtained at surgery or performing limited in vitro studies at one single point in time [10]. There is a need for in vivo animal models to examine more closely pathogenesis, functional changes and the effects of new compounds or treatments. However, animal models have limitations since there is no spontaneous model, and models do not necessarily mimic the entire COPD phenotype. The best model remains chronic exposure to cigarette smoke, since this is the environmental toxic substance(s) that cause COPD in man. However, other substances are also implicated such as environmental pollution due to car exhaust fumes. The present review draws attention to specific aspects of functional and structural features of COPD that need to be realized when interpreting molecular mechanisms identified in animal models of COPD. It identifies important issues related to the ongoing experimental COPD research which may in the future provide optimized COPD diagnosis and treatment.
Experimental models of COPD
There are three major experimental approaches to mimic COPD encompassing inhalation of noxious stimuli, tracheal instillation of tissue-degrading enzymes to induce emphysema-like lesions and gene-modifying techniques leading to a COPD-like phenotype (Figure
2
). These approaches may also be combined. Ideally a number of potential indicators for COPD which have been proposed by the GOLD guidelines should be present in animal models of COPD (Table
3
). Since COPD definition still rests heavily on lung function measures (airflow limitation and transfer factor), it would be ideal to have lung function measurements in experimental models [
15
]. The challenge is in the measurement of lung function in very small mammals such as mice and since the use of the enhanced pause (Penh) in conscious mice as an indicator of airflow obstruction is not ideal [
98
], invasive methods remain the gold standard and these should be correlated with inflammatory markers and cellular remodelling.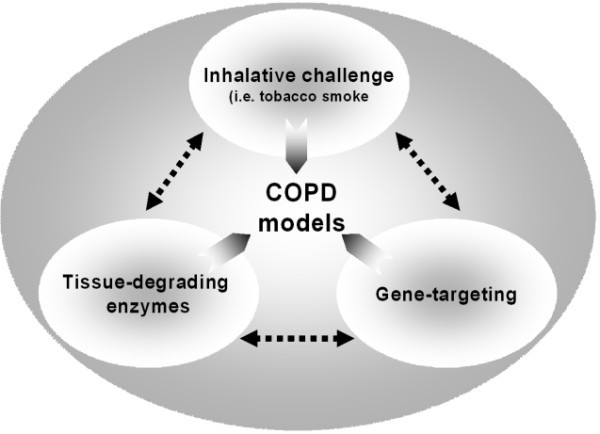 Table 3
Indicators for COPD. These indicators are related to the presence of COPD and should ideally be present in animal models and available for analysis.
Indicator

Human features

Experimental approach

History of exposure to risk factors

Tobacco smoke.

Occupational dusts and chemicals.

Indoor / outdoor air pollution

Exposure-based experimental protocol

Airflow obstruction

Decrease in FEV1

Lung function tests

Hypersecretion

Chronic sputum production

Functional and morphological assessment of hypersecretion

Cough

Chronic intermittent or persistent cough

Cough assessment

Dyspnea

Progressive / Persistent / worse on exercise / worse during respiratory infections

Assessment of hypoxemia

Emphysema

Progressive impairment of lung function

Morphological analysis of airspace enlargement
In contrast to the variable pathology and different stages of severity in human COPD, currently available animal models are restricted to mimicking a limited amount of characteristic features of COPD. Animal models need to be precisely evaluated based on whether they agree with features of human COPD in order to advance the understanding of mechanisms in human COPD.
Based on inhalative exposure to noxious stimuli such as cigarette smoke, the administration of tissue-degrading enzymes or gene-targeting techniques, a number of experimental approaches to mimic acute and chronic features of COPD have been established in the past years. Due to the complexity of the disease, and species-specific differences they are all limited concerning their clinical significance.
While the induction of the COPD lesions by tissue-degrading enzymes may appear artificial in many cases, it does not mean that these models are not valuable because they can be used to study many aspects of pulmonary pathophysiology of end-stage emphysema. Cellular mechanisms can be studied efficiently and underlying molecular mechanisms and potential therapeutic approaches can be revealed if the data is extrapolated cautiously.
Combined models of inhalative exposure, proteinase-based tissue degradation to produce emphysema and gene-targeting techniques may provide models of COPD which encompass more features of the disease. However, one cannot assume that reproducing COPD with a high degree of fidelity in the animal necessarily means that the model simulates the human condition. In fact, a model that only produces a single pathologic COPD feature may be more useful as long as it produces this feature via a relevant mechanism that allows exploratory research. By contrast, a model producing all kinds of COPD features via irrelevant mechanisms may be less useful. In this respect, validation of models as being relevant is an extremely important issue in the early steps of model development. Animal models should not only assess histopathological features but also attempt to focus on functional features of human COPD such as airflow limitation, mucus hypersecretion, chronic cough and exacerbations, and also on pharmacological features such as corticosteroid resistance or diminished β-adrenergic bronchodilator responses. In conclusion, there are many benefits that can accrue from the development of animal models of COPD, most important of which is understanding of mechanisms and development of specific drugs for COPD.
(1)
Pneumology and Immunology Otto-Heubner-Centre, Charité School of Medicine, Free University and Humboldt-University, Berlin, Germany
(2)
Thoracic Medicine, National Heart & Lung Institute, Imperial College, London, UK
© The Author(s) 2004
This article is published under license to BioMed Central Ltd. This is an Open Access article distributed under the terms of the Creative Commons Attribution License (http://creativecommons.org/licenses/by/2.0), which permits unrestricted use, distribution, and reproduction in any medium, provided the original work is properly cited.