Regulation of human airway smooth muscle cell migration and relevance to asthma
Respiratory Research
2017
18:156
Received: 29 June 2017
Accepted: 10 August 2017
Published: 16 August 2017
Abstract
Airway remodelling is an important feature of asthma pathogenesis. A key structural change inherent in airway remodelling is increased airway smooth muscle mass. There is emerging evidence to suggest that the migration of airway smooth muscle cells may contribute to cellular hyperplasia, and thus increased airway smooth muscle mass. The precise source of these cells remains unknown. Increased airway smooth muscle mass may be collectively due to airway infiltration of myofibroblasts, neighbouring airway smooth muscle cells in the bundle, or circulating hemopoietic progenitor cells. However, the relative contribution of each cell type is not well understood. In addition, although many studies have identified pro and anti-migratory agents of airway smooth muscle cells, whether these agents can impact airway remodelling in the context of human asthma, remains to be elucidated. As such, further research is required to determine the exact mechanism behind airway smooth muscle cell migration within the airways, how much this contributes to airway smooth muscle mass in asthma, and whether attenuating this migration may provide a therapeutic avenue for asthma. In this review article, we will discuss the current evidence with respect to the regulation of airway smooth muscle cell migration in asthma.
Keywords
Airway smooth muscleMigrationAsthmaCytokinesRemodelling
Background
Asthma is a chronic airway disease, characterized by variable bronchoconstriction, airway hyperresponsiveness (AHR), airway inflammation, and airway remodelling. Airway remodelling is a multifaceted process that encompasses several structural changes in the airway wall, including epithelial changes, basement membrane thickening, up-regulation of the extracellular matrix deposition (ECM), an increased number of sub-epithelial myofibroblasts, and increased airway smooth muscle cell (ASMC) mass. Of the aforementioned structural changes, increased ASMC mass is one of the processes with the potential to contribute substantially to the functional consequences of airway remodelling in asthma.
Numerous studies have reported increased ASM mass in fatal [1–10] and non-fatal asthma [11, 12]. However, there is much debate with respect to the exact mechanism responsible for this evident excess accumulation of airway smooth muscle (ASM) mass in asthma. The prevalent view has been that increased ASM mass stems from a combination of hyperplasia and hypertrophy, which is associated with asthma severity and decline in lung function [13–15]. Over the years research has predominantly focused on the contribution of ASMC hyperplasia to increased ASM mass. Although there is no substantial evidence to show that ASMC migration occurs in vivo within the airways, it is possible that ASMC migration is, in part, responsible for the pathogenesis of ASMC hyperplasia and remodelling in asthma.
In particular, it has been proposed that the migration of ASMCs, from the interstitial compartment or from peripheral circulating hemopoetic stem cell populations, could be a possible mechanism to explain increased smooth muscle mass in the airways of asthmatics [16, 17]. The exact source of migrating ASMCs in vivo remains unknown. Gizycki et al., reported that within 24 h of airway allergen challenge, myofibroblasts accumulated in the submucosal compartment of asthmatic lung biopsies. Given that this response occurred more rapidly than the cell cycle duration for fibroblasts, they proposed that the migration of ASMCs to submucosal compartments of the airway wall is a possible mechanism contributing to myofibroblast accumulation [18]. Furthermore, Kaminska et al., demonstrated that in patients with more severe asthma and airflow obstruction, the luminal border of the ASM was closer to the epithelium, compared to those patients who has less severe obstruction, suggesting that these cells contribute to airway remodelling and obstruction [14]. A more recent analysis of intrapulmonary airways has not confirmed this, but has rather shown the opposite suggesting that the remodeling of ASM adjacent to carinae may differ from that at a distance from the carinae [19]. In addition to the local ASMC migration, recent studies have shown that hemopoietic CD34+ progenitor cell migrate into ASM bundles from the peripheral circulation, leading us to consider the possibility of bone marrow-derived circulating hemopoietic CD34+ progenitor cells, to be another source of excess ASM mass [20]. Despite an increasing interest in the role of ASMCs in asthma, it remains unknown as to how much of the increased ASM mass is due to proliferation or due to airway infiltration of myofibroblasts, neighbouring ASMCs in the bundle, or hemopoietic progenitor cells from the circulation. As such, further research is required to determine the exact mechanism behind ASMC migration within the airways, how much this contributes to ASMC mass in asthma, and whether attenuating this migration may provide a therapeutic avenue for asthma. In this review article, we will discuss the current evidence with respect to the regulation of ASMC migration in asthma.
Mechanisms of airway smooth muscle cell migration
Cell migration requires highly conserved molecular machinery to coordinate protrusion of the cell anterior and contraction of the posterior, in turn, driving either directed migration (chemotaxis) or non-directed migration (chemokinesis). Cells have extracellular signals that either promote or impede cell movement through interaction with signal transduction pathways of cellular machinery.
For cellular migration to occur, the distinct steps of cell polarization, protrusion, adhesion, traction, and contraction must materialize in a synchronized fashion to ensure controlled migration. A migrating cell must direct filopodia and lamellipodia protrusions, primarily dependent on actin polymerization, and form contacts from the cell to the extracellular environment (ECE) so that the cell may extend, cling to the ECE, and protrude in the required direction while simultaneously contracting the cell posterior.
Essential to migration is the polarization of cells by designating an anterior and posterior of the cell by the localization of proteins. In eukaryotic cells, Cdc42 is a master regulator of cell polarization, active towards the anterior of the cell [21]. Cdc42 regulates location of lamellipodia formation [22], and positions both the microtubule organizing center (MTOC) and Golgi apparatus in front of the nucleus towards the leading edge, facilitating delivery of membrane and associated proteins needed for protrusion [23, 24]. Migrating cells are able to respond to low chemo-attractant gradients through the accumulation of phosphatidylinositol-3 kinase (PI3K) at the leading edge, and phosphatase and tensin homolog (PTEN) along the sides and posterior of the cell [25, 26]. PI3K amplifies chemotactic signals and generates PIP3/Pi(3,4)P2, which are subsequently removed by PTEN along the sides and cell posterior.
Local Rac activation initiates and maintains cellular protrusions. PI3K products activate several Rac exchange factors along the leading edge of the cell [14] and promotes activation of actin polymerization machinery initiating protrusion. Rho family proteins are the foremost regulators of protrusion, regulating lamellipodia, filopodia actin polymerization, and organization of adhesion. Rac, Cdc42, and RhoG are members of the Rho GTPase family that are required for lamellipodia and filopodia protrusion. Although filopodia and lamellapodia are both actin projections, their formation is regulated by different mechanisms. Actin polymerization proteins are regulated by Ca2+, PIP2, small G-proteins, and the coordination of several signalling cascades. Directional protrusions are maintained through several feedback loops, including Rac recruiting and activating PI3Ks [22], stabilization of microtubules [23], and recruitment and clustering of integrins at the leading edge [24]. The cell anterior is defined by restriction of PIP3, active Cdc42 and Rac, while the cell posterior is not as well defined beyond PTEN [25]. Actin must also depolymerize, which is mediated by cellular concentration of Ca2+. An increase of Ca2+ activates gelsolin, leading to interaction between actin and cofilin, which limits actin filament length and allows for an increased turnover of actin [26].
As the cell extends, focal contacts form between the cell membrane and the ECM to stabilize the cell in its new environment. Integrins act as the ECM protein receptors, forming the linkage between cells and the ECM. Cytoskeletal proteins, vinculin, talin, and a-actinin mediate these linkages [27]. The dynamic turnover of integrins is controlled by tyrosine kinases: focal adhesion kinase (FAK) and Src [28]. In addition, microtubules are an essential part of cell migration, playing a role in protrusion through their growth and dynamic instability, but may also contribute to the decomposition of focal contacts [29].
Once a cell protrusion has been stabilized by focal contacts, tractional forces move the posterior portion of the cell forward. Integrins serve as both traction sites and mechanoreceptors, transmitting information regarding the ECM to the cell allowing it to make necessary changes to the dynamics of the cytoplasm [30–33]. The mechanism is based on the balance of actin polymerization, as well as myosin II activity, resulting in stress fiber formation and contraction of the cell posterior [25]. As tension is generated by the moving cell, the physical link between the actin cytoskeleton and integrin breaks, thereby leaving the integrin attached to the ECM [30]. Adhesion regulators, including FAK and Src, work in the rear of the cell, as well as intracellular calcium levels at the cell posterior deconstructing adhesions [25]. Integrins that remain on the cell surface are endocytosed and reused at the cell anterior to continue the migration process [34].
Recent studies by Cleary et al., have shown that ASMC adhesion induced cortactin phosphorylation at Tyr-421, indicating cortactin activation [35]. Phosphorylated cortactin and Pfn-1 were identified on the leading cell edge. β1-intergin was found to be required for recruitment of c-Abl to the cell edge, and that inhibition of actin dynamics impaired spatial distribution of c-Abl. As such, the targeting of c-Abl may pose as a novel target to inhibit ASMC migration.
The specific mechanisms and external signals that govern ASMC migration must also be recognized in order to gain a holistic view of how ASMCs migrate, and subsequently contribute to airway remodelling in asthma pathogenesis. Figure
1
illustrates the current, simplified understanding of ASMC migration signalling mechanisms. ASMCs must adapt to continuous mechanical stress brought on by the breathing motions of the lungs by maintaining the plasticity of the cytoskeleton, and accommodate stresses and strains imposed. Unfortunately, there is little known about the specific external mediators and their signalling pathways involved in human ASMC migration, and more specifically in the context of asthma pathogenesis, thus continued research is required to further elucidate this.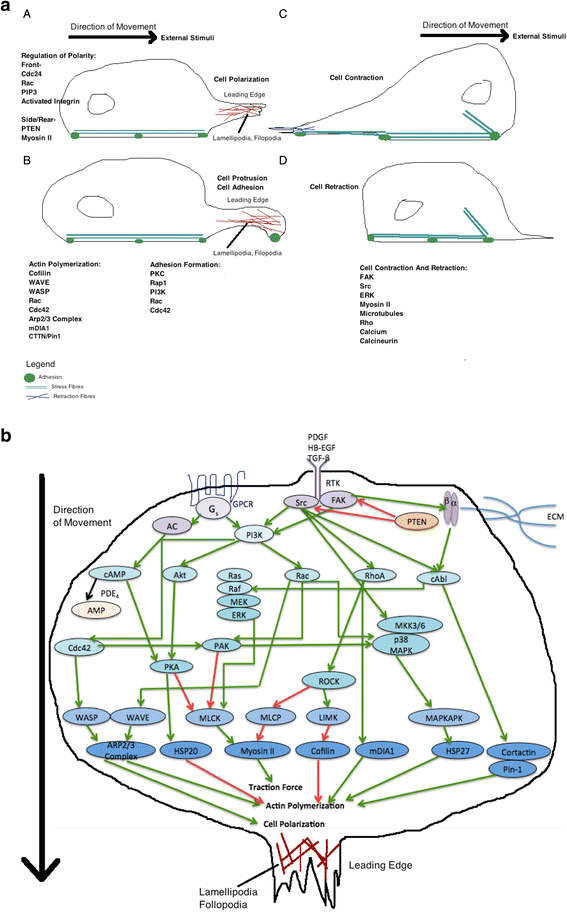 Promoters of airway smooth muscle cell migration
Therapeutic targets and inhibitors of airway smooth muscle cell migration
The emerging hypothesis that ASMC migration is a contributing factor to airway remodelling and subsequent pathogenesis in asthma, justifies the need to develop therapeutic agents to attenuate ASMC migration. Various agents have shown an inhibitory effect on ASMC migration, which may provide useful in the treatment of asthma. Traditional asthma medications, such as beta-agonists and corticosteroids have been shown to reduce ASMC migration in vitro. This raises the question of whether current asthma medication reduces symptoms, in part, by chronically inhibiting ASMC migration.
Putting this in clinical perspective
Currently, other than bronchodilators (beta adrenergic receptor agonists and muscarinic receptor antagonists), there are no approved effective therapies specifically directed at ASM contraction, relaxation or proliferation. The only therapy that may have an effect in decreasing ASM mass is bronchial thermoplasty, which involves the delivery of radiofrequency energy to the airway wall through a bronchoscope [124]. The mechanisms are not known and it is not entirely clear if the effects observed are specifically due to an inhibitory effect on ASM or if they are an indirect effect through other mechanisms such as neuronal injury, epithelial reprogramming, etc. [124]. However, evidence that ASM mass is decreased in both treated and non-treated airways [125] and that the clinical benefits are sustained for as long as 5 years after the procedure [126], suggest that the therapy may indeed be modulating ASM biology. If the cell migratory processes that we have described in this review are relevant, it is not immediately apparent why the airway physiology and symptoms do not worsen over time with gradual accumulation of new myocytes after the local ASM mass is attenuated. It would be critical to do studies in patients who have achieved sustained improvement in AHR and symptoms, particularly to reassess airway myofibroblasts and the migratory properties of mature and immature myocytes and fibromyocytes after an inflammatory stimuli such as an allergen provocation or a controlled respiratory virus infection.
Conclusion
A better understanding of the pathophysiology of asthmatic airway remodelling is crucial to identify new therapeutic avenues for asthma. Emerging evidence has implicated ASMC migration as an important contributing feature to excessive ASM mass in asthmatic airways. Various studies of ASMC migration have defined multiple physiological regulators of cell migration, as well as identified various pharmacological agents with anti-migratory effects (outlined in Fig.
2
, Tables
1
and
2
). Many of these pharmacological agents act on intracellular signalling pathways and effector proteins that regulate ASMC migration, which may be valuable targets in asthma. Defining the relative contribution of the migration of resident ASMCs versus circulating HPCs to excess ASM mass in asthmatic airways will be important to ascertain in order to develop new targets for asthma treatment. In the future, currently identified targets will need to be evaluated by means of clinical trials to determine the efficacy of these agents in reducing airway remodelling and subsequent symptom reduction in asthma.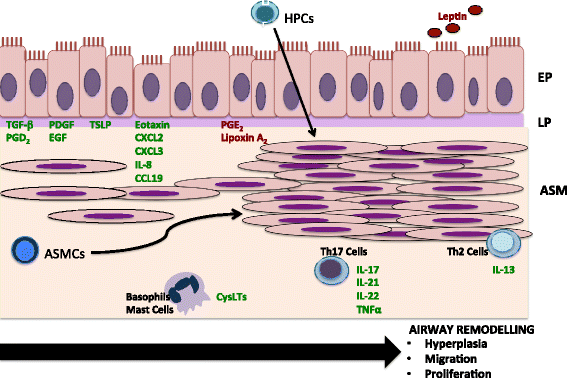 Table 1
Promoters and Inhibitors of ASMC Migration
| Promoters | Inhibitors |
| --- | --- |
| | Lipoxin A2 [16] |
| | PGE2 [17] |
| | |
| PGD2 [16] | |
| | |
| | Leptin [97] |
| IL-8 [52] | Retinoic Acid [101] |
| CXCL2 [52] | |
| CXCL3 [52] | |
| IL-13 [56] | |
| TNF-α [56] | |
| Th-17 [58] | |
| | PTEN Agonists [120] |
| | Inverse Agonism of S1P1 [100] |
| HRV-16 [84–87] | |
| LTE4 [16] | |
| | |
| TSLP [61] | |
Table 2
Potential Pharmacological Therapies to Reduce ASMC Migration
Therapies

Summary of findings

• Fluticasone

• Dexamethasone

• Budenoside

• Fluticasone and Dexamethasone shown to inhibit PDGF-stimulated ASMC migration in vitro [17]; promote inhibitory effect of Salmeterol on PDGF-stimulated ASMC migration in vitro [17]

• Treatment of asthmatics with combined Budenoside and Formoterol reduced myofibrolasts in airway submucosa [88]

• Salmeterol

• Formoterol

• Inhibition of PDGF-stimulated ASMC migration in vitro [17]

• Treatment of asthmatics with combined Budenoside and Formoterol reduced myofibrolasts in airway submucosa [88]

Adenylyl Cyclase Analogue [17]

• Forkskolin

• Inhibition of PDF-induced ASMC migration in vitro [17]

PDE4 Inhibitor [87]

• Cilomolast

• Inhibition of non-PDGF stimulated ASMC migration in vitro [87]

CysLT Receptor Antagonist [16]

• Montelukast

• Priming effect of LTE4 on PDGF-induced ASMC migration was inhibited following treatment with Montelukast in vitro [16]

DP2/CRTH2 Receptor Antagonist [16]

• BWA868C

• Inhibition of PGD2-stimulated ASMC migration in vitro [16]

PPAR Agonist [110]

• Ciglitazone

• 15-deoxy-D12, 14-prostaglandin J2

• WY-14643

• Inhibition of PDF-induced ASMC migration in vitro [110]
Abbreviations
AC:

Adenylyl cyclase
AHR:

Airway hyperresponsiveness
ALX:

Lipoxin-A4 cognate receptor
ASM:

Airway smooth muscle
ASMCs:

Airway smooth muscle cells
ATRA:

All-trans retinoic acid
cAMP:

Cyclic adenosine monophosphate
CysLTR:

Cysteinyl leukotriene receptor
ECE:

Extracellular environment
ECM:

Extracellular matrix
EP1 and EP2:

E-prostanoid 1 and 2
FAK:

Focal adhesion kinase
GAP:

Guanosine triphosphate-ase activating protein activating protein
GtP:

Guanosine triphosphate
HBE:

Human bronchial epithelial cells
HB-EGF:

Heparin-binding epidermal growth factor
HRV:

Human rhinovirus
LXR:

Liver X receptor
MMPs:

Matrix metalloproteinases
MTOC:

Microtubule organizing center
PDE4 :

Phosphodiesterase
PDGF:

Platelet-derived growth factor
PG:

Prostaglandin
PI3K:

Phosphatidylinositol-3 kinase
PIP2:

Phosphatidylinositol biphosphate
PKA:

Protein kinase A
PPAR:

Peroxisome proliferator-activated receptor
PTEN:

Phosphatase and tensin homolog
RAR:

Retinoic acid receptor
RTK:

Receptor tyrosine kinase
RXR:

Retinoid X receptors
S1P:

Sphingosine-1-phosphate
SrcK:

Src kinase
TGF:

Transforming growth factor
TIMPs:

Tissue inhibitors of metalloproteinase
TSLP:

Thymic stromal lymphopoietin
uPAR:

Urokinase-type plasminogen activator
Declarations
Acknowledgements
Professor Nair is supported by a Frederick E. Hargreave Teva Innovation Chair in Airway Diseases.
Funding
No funding to report, not applicable
Availability of data and materials
Not applicable
Authors' contributions
BS and CP conducted the literature review and wrote the body of the manuscript. KR, JM, and PN provided assistance in the writing of the manuscript, lent expert advice on the manuscript topic and played a role in the editing process. All authors read and approved the final manuscript.
Ethics approval and consent to participate
Not applicable
Consent for publication
Not applicable
Competing interests
The authors declare that they have no competing interests.
Publisher's Note
Springer Nature remains neutral with regard to jurisdictional claims in published maps and institutional affiliations.
Open AccessThis article is distributed under the terms of the Creative Commons Attribution 4.0 International License (http://creativecommons.org/licenses/by/4.0/), which permits unrestricted use, distribution, and reproduction in any medium, provided you give appropriate credit to the original author(s) and the source, provide a link to the Creative Commons license, and indicate if changes were made. The Creative Commons Public Domain Dedication waiver (http://creativecommons.org/publicdomain/zero/1.0/) applies to the data made available in this article, unless otherwise stated.
Authors' Affiliations
(1)
Firestone Institute for Respiratory Health, St Joseph's Healthcare and Department of Medicine, Hamilton, Canada
(2)
Meakins Christie Laboratories, McGill University, Montreal, Canada