Pulmonary hemodynamic responses to in utero ventilation in very immature fetal sheep
Respiratory Research
2010
11:111
Received: 8 April 2010
Accepted: 19 August 2010
Published: 19 August 2010
Abstract
Background
The onset of ventilation at birth decreases pulmonary vascular resistance (PVR) resulting in a large increase in pulmonary blood flow (PBF). As the large cross sectional area of the pulmonary vascular bed develops late in gestation, we have investigated whether the ventilation-induced increase in PBF is reduced in immature lungs.
Methods
Surgery was performed in fetal sheep at 105 d GA (n = 7; term ~147 d) to insert an endotracheal tube, which was connected to a neonatal ventilation circuit, and a transonic flow probe was placed around the left pulmonary artery. At 110 d GA, fetuses (n = 7) were ventilated in utero (IUV) for 12 hrs while continuous measurements of PBF were made, fetuses were allowed to develop in utero for a further 7 days following ventilation.
Results
PBF changes were highly variable between animals, increasing from 12.2 ± 6.6 mL/min to a maximum of 78.1 ± 23.1 mL/min in four fetuses after 10 minutes of ventilation. In the remaining three fetuses, little change in PBF was measured in response to IUV. The increases in PBF measured in responding fetuses were not sustained throughout the ventilation period and by 2 hrs of IUV had returned to pre-IUV control values.
Discussion and conclusion
Ventilation of very immature fetal sheep in utero increased PBF in 57% of fetuses but this increase was not sustained for more than 2 hrs, despite continuing ventilation. Immature lungs can increase PBF during ventilation, however, the present studies show these changes are transient and highly variable.
Keywords
Pulmonary Vascular ResistancePulmonary Arterial PressurePulsatility IndexFetal Heart RatePulmonary Blood Flow
Introduction
Very preterm infants (<28 weeks gestation) are born during the canalicular stage of lung development when the lungs are surfactant-deficient, have a small surface area for gas exchange, a thick air-blood gas barrier and an under-developed pulmonary capillary bed [1]. As a result, very preterm infants commonly suffer respiratory failure after birth and require respiratory support. Although the transition to pulmonary gas exchange is dependent upon major changes in pulmonary hemodynamics, little is known about these changes in infants with very immature lungs and an under-developed pulmonary vascular bed.
During fetal life, pulmonary vascular resistance (PVR) is high and pulmonary blood flow (PBF) is low with most of the blood exiting the right ventricle passing directly into the systemic circulation via the ductus arteriosus (DA). Indeed, pulmonary blood flows are as low as ~10% in fetal sheep and ~24% in human fetuses[2]. The pulmonary arteries develop in parallel with the developing airways [3] and the large cross-sectional surface area of the pulmonary micro-vasculature mainly develops during the saccular and alveolar stages when the distal airways develop [3]. This increase in cross-sectional surface area during late gestation, gradually reduces PVR [4] and is a prerequisite for the large and sustained reduction in PVR after birth at term. This is because, at birth, the pulmonary vascular bed must immediately accept the entire output of the right ventricle, allowing closure of the DA, separation of the pulmonary and systemic circulations and a reduction in pulmonary arterial pressure (PAP). Superimposed on this developmental process is an 8-10 fold reduction in PVR associated with birth, caused by the onset of gaseous ventilation [5–7], increased oxygenation [8, 9] and the release of vasodilators [10].
Previous studies on the birth-related changes in pulmonary hemodynamics have focused on the lungs of either mildly preterm or term neonates, all of which were conducted during the alveolar stage of lung development [7, 11, 12]. During this stage, the alveolar capillary bed is relatively well developed [13] and has a large cross sectional area, giving it the capacity to substantially reduce PVR as ventilation commences. In contrast, in the very immature lung during the canalicular stage, the alveolar vascular bed is still undergoing development and is likely to have a substantially reduced capacity to decrease PVR after birth. However, little is known of the changes in PBF in the very immature lung with the onset of ventilation and so this study has specifically focused on ventilation-induced changes in pulmonary hemodynamics in immature fetal sheep. The results are relevant to understanding pulmonary adaptation at birth in extremely preterm infants.
We have recently developed a technique for ventilating very immature fetal sheep in utero [14]. As the fetus remains on placental support, pulmonary ventilation and other aspects of intensive care management are not required to sustain the lamb's viability, allowing it to be ventilated at a stage (110 d gestation) when lung structure closely resembles that of a human infant at 26-28 weeks of gestation. At 110 d of gestation, fetal sheep have few immature alveoli [1] with very few differentiated type-II cells [15] and are not viable if ventilated ex utero. Thus, our aim was to examine the effect of in utero ventilation (IUV) on pulmonary hemodynamics during the late canalicular stage of lung development in fetal sheep. We hypothesized that the under-developed pulmonary vascular bed would attenuate the increase in PBF associated with the onset of pulmonary ventilation.
Materials and methods
Fetal Surgery
All experimental procedures were approved by the Monash University Animal Ethics Committee. Under general anaesthesia (1.5% halothane in O
2
), aseptic surgery was performed on seven Border-Leicester X Merino ewes at 105 days gestation (term is ~147 days) as previously described [
14
]. A tube (ID 3.2 mm, OD 6.4 mm) was inserted into the fetal trachea and connected, via a Y-piece, to two large bore, saline-filled, ventilator circuit tubes (ID 9.5 mm, OD 14.3 mm). An additional saline-filled catheter (ID 3.2 mm, OD 6.4 mm) was inserted into the fetal upper trachea and connected to a saline-filled ventilation tube to create an exteriorised tracheal loop, allowing the normal flow of liquid into and out of the lung (Figure
1
). A 4-mm ultrasonic flow transducer (Transonic Systems; Ithaca, NY) was placed around the left pulmonary artery (31), this probe directly measures blood flow to the left side of the lung (blood flowing from the right ventricle or shunting left-to-right across the ductus arteriosus). A small securing tie was then inserted into the wall of the vessel and a tapered polyvinyl catheter (BD Insyte Vialon, peripheral venous catheter, length: 48 mm, 0.03 mm ID, 0.041 mm OD, NJ USA) was inserted into the main pulmonary artery, by direct puncture. It was directed 2 cm down into the left pulmonary artery before it was secured into place using the securing tie. Polyvinyl catheters were placed in a fetal carotid artery, jugular vein and amniotic sac and exteriorised via the ewe's flank. Ewes and fetuses were allowed 5 days recovery following surgery. Fetal arterial blood PaO
2
, PaCO
2
, pH and SaO
2
were measured every second day to assess fetal wellbeing.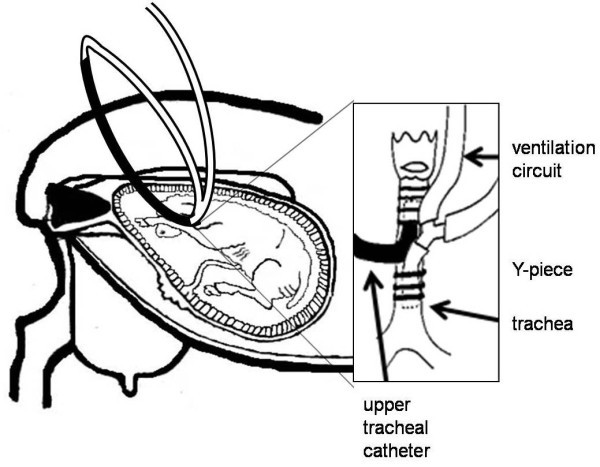 Experimental Protocol
Carotid and pulmonary arterial and amniotic sac pressures (DTX, Viggo-Spectramed, California) and blood flow through the left pulmonary artery (LPBF) were recorded digitally at 1 kHz (Powerlab, ADI: Castle Hill, Australia) for 6 hours prior to starting in utero ventilation (IUV). Mean LPBF was calculated electronically from the instantaneous LPBF signal, the LPBF flow measures right ventricular output as well as the left to right shunting through the ductus arteriosus. Prior to IUV, the upper tracheal catheter was disconnected from the ventilator circuit and the liquid within the circuit passively drained by gravity into a sterile bag before connection to a neonatal ventilator (Draeger 8000+). Fetuses were ventilated in utero at 110 d gestation for 12 hrs (n = 7) as described previously (briefly PIP of 40 cmH2O, PEEP of 4 cmH2O, flow 10 L/min and a rate 60 inflations/min; FiO2 21%); each fetus acted as its own control. However, operated age-matched control fetuses were also used for comparison of blood-gases (110 d control fetuses) and fetal weight data (117 d control fetuses). Arterial blood gases were measured hourly. Following IUV, the ventilator circuit and fetal lung were refilled with lung liquid and reconnected to the upper tracheal catheter, to restore normal lung liquid flow [14]. Carotid arterial and amniotic sac pressures as well as PBF were recorded digitally for 6 hours after the cessation of IUV and ewes and fetuses were killed 7 days later (117 d GA) for post-mortem analysis.
Pulmonary Blood Flow Waveform Analysis
Changes in the contour of the PBF waveform were measured by selecting waveforms from 10 consecutive cardiac cycles from each lamb at selected time points during experimentation[11, 16]: before IUV (pre-IUV) and then every 5 min for the first two hours of IUV and at 20 min intervals for the remaining 10 hours of IUV. Waveform parameters and calculations of pulsatility index (PI) have been described previously [11].
Statistical Analysis
PBF and PAP measurements represent an average value taken over a one minute period of recording with care being taken to avoid periods containing obvious movement artefacts caused by the ewe. Measurements of PBF, systemic arterial pressure (SAP) and PAP are expressed as mean ± SEM. Heart rate is expressed a percentage increase from the mean heart rate during the pre-IUV recording period. All values were then grouped and means and standard errors determined. Comparisons of PBF, HR, SAP, PAP and individual components of the PBF waveform were analysed using a two-way repeated measures ANOVA using the statistical package Sigma Stat (Version 3.1.1, Jandel Corporation, USA). The level of significance was p < 0.05 for all statistical analyses.
Discussion
It is known that ventilation after birth rapidly reduces PVR and increases PBF in mature fetuses at term [7], but how the very immature fetus responds to ventilation is unknown. This study has shown that mechanical ventilation of extremely immature fetal sheep in utero transiently increased PBF in a subgroup of fetuses, although even these fetuses were unable to sustain this increase for longer than 2 hours, despite continuing mechanical ventilation. In the other fetuses, PBF did not increase at any stage during the mechanical ventilation period. The cause of the large variability in pulmonary hemodynamic responses to mechanical ventilation between fetuses remains unknown, although fetal heart rate was also variable. This study is the first to demonstrate the variable PBF response to mechanical ventilation in extremely immature lambs and shows that although the PBF increase is rapid in some lambs, when present it is transient, lasting <2 hrs.
Abbreviations
DA:

Ductus arteriosus
GA:

Gestational age
IUV:

In utero ventilation
LPBF:

Left pulmonary arterial blood flow
PAP:

Pulmonary arterial pressure
PBF:

Pulmonary blood flow
PI:

Pulsatility index
PVR:

Pulmonary vascular resistance
SAP:

Systemic arterial pressure
Declarations
Acknowledgements
We are indebted to Ms Alison Moxham, Ms Valerie Zahra and Mr Alex Satragno for their expert technical assistance.
Authors' Affiliations
(1)
Dept of Physiology, Monash University, Melbourne, Australia
(2)
Neonatal Research, Royal Women's Hospital, Melbourne, Australia
(3)
School of Women's and Infants' Health, The University of Western Australia, Perth, Australia
(4)
Department of Obstetrics and Gynaecology, Monash Institute of Medical Research, Melbourne, Australia
Copyright
© The Author(s) 2010
This article is published under license to BioMed Central Ltd. This is an Open Access article distributed under the terms of the Creative Commons Attribution License (http://creativecommons.org/licenses/by/2.0), which permits unrestricted use, distribution, and reproduction in any medium, provided the original work is properly cited.