Intersectin-1s deficiency in pulmonary pathogenesis
Respiratory Research
2017
18:168
Received: 13 March 2017
Accepted: 28 August 2017
Published: 6 September 2017
Abstract
Intersectin-1s (ITSN-1s), a multidomain adaptor protein, plays a vital role in endocytosis, cytoskeleton rearrangement and cell signaling. Recent studies have demonstrated that deficiency of ITSN-1s is a crucial early event in pulmonary pathogenesis. In lung cancer, ITSN-1s deficiency impairs Eps8 ubiquitination and favors Eps8-mSos1 interaction which activates Rac1 leading to enhanced lung cancer cell proliferation, migration and metastasis. Restoring ITSN-1s deficiency in lung cancer cells facilitates cytoskeleton changes favoring mesenchymal to epithelial transformation and impairs lung cancer progression. ITSN-1s deficiency in acute lung injury leads to impaired endocytosis which leads to ubiquitination and degradation of growth factor receptors such as Alk5. This deficiency is counterbalanced by microparticles which, via paracrine effects, transfer Alk5/TGFβRII complex to non-apoptotic cells. In the presence of ITSN-1s deficiency, Alk5-restored cells signal via Erk1/2 MAPK pathway leading to restoration and repair of lung architecture. In inflammatory conditions such as pulmonary artery hypertension, ITSN-1s full length protein is cleaved by granzyme B into EHITSN and SH3A-EITSN fragments. The EHITSN fragment leads to pulmonary cell proliferation via activation of p38 MAPK and Elk-1/c-Fos signaling. In vivo, ITSN-1s deficient mice transduced with EHITSN plasmid develop pulmonary vascular obliteration and plexiform lesions consistent with pathological findings seen in severe pulmonary arterial hypertension. These novel findings have significantly contributed to understanding the mechanisms and pathogenesis involved in pulmonary pathology. As demonstrated in these studies, genetically modified ITSN-1s expression mouse models will be a valuable tool to further advance our understanding of pulmonary pathology and lead to novel targets for treating these conditions.
Keywords
Intersectin-1sPulmonary arterial hypertensionLung cancerAcute lung injuryEps8mSos1MAPKRac1
Introduction
Intersectins (ITSNs) belong to the family of adaptor proteins [1]. Adaptor proteins, also known as scaffold proteins, mediate the interaction between receptors and signal transduction pathways by functioning as platforms for the assembly of multiple protein signaling complexes [2, 3]. Adaptor proteins lead to specificity in signaling via their sequence of protein domains/motifs, subcellular localization and their proximity to binding proteins [2, 3]. Thus, adaptor proteins play a crucial role in cell signaling in a spatial and temporal fashion, and regulate many important cellular processes including proliferation, differentiation, cell cycle control, cell survival and migration [2, 3]. Aberrant expression of adaptor proteins is implicated in numerous diseases [3].
ITSNs have a unique multi-domain structure each with a distinct ligand preference [4]. ITSNs were initially only associated with the regulation of endocytosis [5]. Subsequent studies have revealed a more complex role for these proteins in the regulation of cell signaling and cytoskeleton rearrangement [1, 6–10]. Recent studies implicate ITSNs, especially the transcript intersectin-1 short (ITSN-1s), in the pathogenesis of several pulmonary diseases [11–16]. Given these novel findings, this review article will provide a comprehensive overview of ITSN-1s' regulation of biochemical pathways and its clinical implications in pulmonary pathology.
Background
The sequence and initial characterization of ITSN was first reported in Xenopus in 1998 by Yamabhai et al. [
17
]. They reported a 1270-amino acid long protein containing two Eps15 homology (EH) domains, a central coiled-coiled region, and five Src homology 3 (SH3) domains (Fig.
1
). The protein was named ITSN because of its potential to bring together EH and SH3 domain binding proteins into a macromolecular complex [
17
]. ITSN was the first protein reported with both EH and SH3 domains which interacts with asparagine-proline-phenylalanine (NPF) and proline-rich (PXXP) motifs of the binding proteins, respectively [
18
].

Shortly thereafter, human ITSN was identified by Guipponi et al. [19]. ITSN exists with a high degree of similarity in a number of higher eukaryotes [20]. There are two ITSN genes in humans, ITSN-1 and ITSN-2, located on chromosome 21 and 2 respectively [19, 21]. ITSN-1 and ITSN-2 share identical domain structure and greater than 50% sequence identity [22, 23]. The human ITSN gene produces two main ITSN transcript mRNAs, short (ITSN-s) and long (ITSN-l), due to alternative splicing; human ITSN-s is 5.3-kilobases and ITSN-l is 15-kilobases [19]. Both ITSN-s and ITSN-l contain two EH and five SH3 domains [19, 21]. In addition, ITSN-l encodes for a Dbl homology (DH), a Pleckstrin (PH) and a C2 domain [19], Fig. 1. The EH domains bind to proteins associated with endocytosis [4, 17]. SH3 domains interact with proteins implicated in cell signaling and cytoskeleton organization [6, 7, 11, 13, 24, 25]. The DH domains promote guanine-nucleotide exchange on Rho, PH domains mediate interactions with inositol phospholipid and C2 domains mediate Ca2-dependent phospholipid binding [26].
ITSNs are widely distributed in human tissues, however the expression of ITSN isoforms is tissue-dependent; ITSN-1 l is specific to the brain and is absent in lung tissue whereas ITSN-1s, ITSN-2 s and ITSN-2 l are expressed ubiquitously [19, 21, 23]. Alternative splicing plays a major role in the regulation of ITSN gene expression, function and tissue specificity [4, 27]. In addition to the major splice variants there is a number of minor splice variants of ITSN-1s protein which facilitate tissue specific interactions [4, 19, 21]. This is illustrated in the fact that ITSN-1s preferentially interacts with mSos1 and Cbl in most tissues including lung [6, 11, 13, 28]. However, in brain tissue, a splicing of microexon 20 within the SH3A domain of ITSN-1s (resulting in inclusion of 5 additional amino acids) leads to reduced binding to mSos1 and Cbl, and enhanced interaction with CdGAP [29]. This transcript was conserved in numerous other eukaryotes examined. Additional splicing events have also been reported with ITSN-1s [4].
ITSN-1s is present in all subcellular compartments [8]. At the plasma membrane it is present in caveolae and clathrin-coated pits [8, 13, 26]. Activation of receptor tyrosine kinases (RTK) relocates ITSN-1s to the plasma membrane where it forms a complex with important cell signaling proteins [28]. Throughout the cytoplasm, ITSN-1s is associated vesicles, cytoskeleton elements and Golgi-like structures, in the perinuclear region [8, 13, 26]. Recent findings in our lab also show that ITSN-1s is present in the nucleus and interacts with important nuclear proteins (unpublished). The wide subcellular distribution of ITSN-1s is consistent with its involvement of multiple important signaling pathways involved in pulmonary pathogenesis.
Conclusion
ITSN-1s is a multi-domain protein with numerous binding partners capable of regulating many important signaling pathways. Studies to date implicate ITSN-1s deficiency in the pathogenesis of several pulmonary diseases (Fig.
2
). In lung cancer, ITSN-1s deficiency shifts the balance in favor of greater Eps8-Sos1 interaction and less Eps8-Cbl interaction leading to activation of Rac1 and increased expression of Eps8 respectively. As a result of this and other potential interactions, ITSN-1s plays a crucial role in lung cancer development and progression: proliferation, anchorage-independent growth, cytoskeleton modification, migration and metastasis. As a pro-survival protein, ITSN-1s deficiency is a crucial early event in development of acute lung injury. ITSN-1s deficiency impairs normal endothelial structures and their function which leads to endocytosis of Alk5 receptors via alternative endocytic pathways resulting in Alk5 ubiquitination and degradation. Downregulation of Alk5 expression in acute lung injury is counterbalanced by circulating microparticles which, via paracrine effects, interact and transfer Alk5/TGFβRII complex to remaining non-apoptotic cells. These receptors, in a cellular context characterized by ITSN-1s deficiency and aberrant endocytosis, signal via Erk1/2 MAPK pathway, instead of the usual Smad 2/3 pathway, regardless leading to restoration and repair of lung architecture. In the setting of PAH, full-length ITSN-1s is cleaved by granzyme B released by inflammatory cells. The cleavage results in EH
ITSN
and SH3A-E
ITSN
fragments. The EH
ITSN
fragment leads to EC proliferation via activation of p38 MAPK and Elk-1/c-Fos signaling. The SH3A-E
ITSN
fragment impairs Ras/Erk1/2 MAPK signaling. However, the concurrent expression of both fragments results in high p38/Erk1/2 MAPK activity favoring pulmonary cell proliferation. In vivo, ITSN-1s deficient mouse transduced with EH
ITSN
plasmid leads to EC and smooth muscle proliferation resulting in pulmonary vascular obliteration and plexiform lesions consistent with pathological findings seen in severe PAH. As shown in these studies related to pulmonary diseases and others, ITSN-1s regulates multiple signaling pathways simultaneously in a tissue, concentration and subcellular distribution specific manner. Given the numerous protein-protein interactions between the multiple domains of ITSN-1s, it is highly likely that additional regulatory pathways remain to be identified. Further studies will shed light into novel mechanisms of regulation of protein, genetics and epigenetics by ITSN-1s in pulmonary diseases. Future studies should also explore the role of other ITSN transcripts and potential compensatory role in pulmonary pathogenesis. Studies of ITSN-1s involvement in acute lung injury and PAH are limited and its role in the pathophysiology of these diseases is less established. The KD
ITSN
and K0
ITSN+/−
mouse models of lung injury as well as the EH
ITSN
-transduced K0
ITSN+/−
mouse model of plexogenic PAH that recapitulate many of the pathological events associated with the human disease are valuable tools to further advance our understanding of ITSN-1s involvement in pulmonary pathology, and provide novel targets for treating these severe human conditions.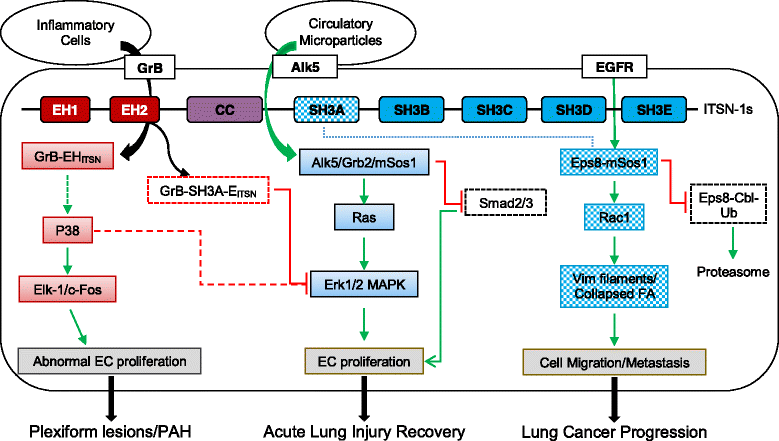 Abbreviations
ARDS:

Acute respiratory distress syndrome
DH:

Dbl homology
EC:

Endothelial cells
EGFR:

Epidermal growth factor receptor
EH:

Eps15 homology
EHITSN and SH3A-EITSN :

N-terminal fragment and C-terminal fragment
GAPs:

GTPase activating or accelerating proteins
GEF:

Guanine nucleotide exchange factor
ITSN-1s:

Intersectin-1s
ITSNs:

Intersectins
K0ITSN+/− :

ITSN knockout/heterozygous
KDITSN :

ITSN-1s knockdown
NPF:

Asparagine-proline-phenylalanine
PAH:

Pulmonary arterial hypertension
PH:

a Pleckstrin
SH3:

Src homology 3
Declarations
Acknowledgements
None.
Funding
Supported by Rush Executive Committee of Research Grant (to NJ) and R01HL089462 (to SP).
Availability of data and materials
Not applicable as no data were generated or analyzed.
Authors' contributions
NJ drafted the article and prepared for submission. DP and SP edited the final article. All authors approved the final version of the manuscript.
Ethics approval and consent to participate
Not applicable.
Consent for publication
Not applicable.
Competing interests
The authors declare that they have no competing interest.
Publisher's Note
Springer Nature remains neutral with regard to jurisdictional claims in published maps and institutional affiliations.
Open AccessThis article is distributed under the terms of the Creative Commons Attribution 4.0 International License (http://creativecommons.org/licenses/by/4.0/), which permits unrestricted use, distribution, and reproduction in any medium, provided you give appropriate credit to the original author(s) and the source, provide a link to the Creative Commons license, and indicate if changes were made. The Creative Commons Public Domain Dedication waiver (http://creativecommons.org/publicdomain/zero/1.0/) applies to the data made available in this article, unless otherwise stated.
Authors' Affiliations
(1)
Rush University Medical Center, Chicago, USA
(2)
Department of Pharmacology and Division of Pulmonary and Critical Care Medicine, Rush University, Chicago, USA
(3)
Department of Pharmacology and Division of Pulmonary and Critical Care Medicine, Rush University Medical Center and Rush Medical College, Chicago, USA