Using omics approaches to understand pulmonary diseases
Respiratory Research
2017
18:149
Received: 1 May 2017
Accepted: 26 July 2017
Published: 3 August 2017
Abstract
Omics approaches are high-throughput unbiased technologies that provide snapshots of various aspects of biological systems and include: 1) genomics, the measure of DNA variation; 2) transcriptomics, the measure of RNA expression; 3) epigenomics, the measure of DNA alterations not involving sequence variation that influence RNA expression; 4) proteomics, the measure of protein expression or its chemical modifications; and 5) metabolomics, the measure of metabolite levels. Our understanding of pulmonary diseases has increased as a result of applying these omics approaches to characterize patients, uncover mechanisms underlying drug responsiveness, and identify effects of environmental exposures and interventions. As more tissue- and cell-specific omics data is analyzed and integrated for diverse patients under various conditions, there will be increased identification of key mechanisms that underlie pulmonary biological processes, disease endotypes, and novel therapeutics that are efficacious in select individuals. We provide a synopsis of how omics approaches have advanced our understanding of asthma, chronic obstructive pulmonary disease (COPD), acute respiratory distress syndrome (ARDS), idiopathic pulmonary fibrosis (IPF), and pulmonary arterial hypertension (PAH), and we highlight ongoing work that will facilitate pulmonary disease precision medicine.
Keywords
Pulmonary diseasesGenomicsTranscriptomicsEpigenomicsProteomicsMetabolomics
Background
The commoditization of high-throughput biotechnologies has enabled the collection of an unprecedentedly large number of so-called
omics
datasets by biomedical researchers. Starting with DNA microarrays in the 1990s and expanding to next-generation sequencing (NGS) in the 2000s, omics approaches now capture a wide variety of biological measurements, spanning DNA variation to chemical modifications of proteins [Fig.
1
] [
1
–
3
]. As the repertoire of available omics approaches continues to expand with the development of methods that combine existing assays and new technologies, an unbiased characterization of biological systems at ever-increasing resolutions is possible [
4
,
5
]. Early successes in the use of omics technologies to understand disease and enable drug development [
6
,
7
] have resulted in optimism that many more effective diagnostic tests and treatments tailored to individuals' genetic, environmental and lifestyle factors will be developed. The commonplace use of such tests and diagnostics is often referred to as
personalized medicine
, or more recently,
precision medicine
[
8
,
9
].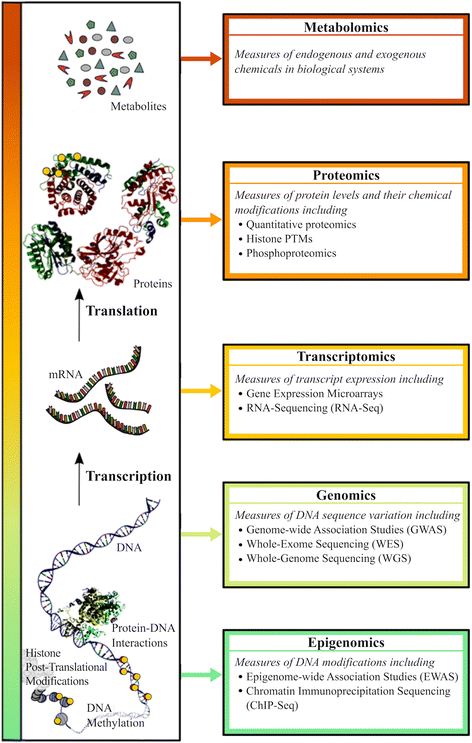 Decision-making in medical care for decades has often relied on a "one-size-fits-all" approach that applies mean-effect-size results from studies to individual patients [10]. The goal of precision medicine, in contrast, is to allow for more accurate treatment and prevention decisions based on matching a patient's exposure, lifestyle and biological profile to that of similar patients with measured outcomes. The goal of many omics studies thus far has been to build a knowledgebase of omic variation using single-technology approaches that will help enable precision medicine by providing reference data to identify groups of individuals who share various attributes. In addition to collecting omics data, the application of sophisticated algorithms and use of extensive computational resources to integrate datasets are required to fully characterize diverse patients [11, 12].
Here, we provide a broad overview of how omics approaches have been used to understand five complex pulmonary diseases that stand to benefit from personalized diagnostics and treatment:
Some of the main findings obtained by applying omics approaches to these diseases are summarized in Table
1
. As our goal is to offer an extensive multi-level omics review, readers interested in learning more about specific techniques or their application to disease are encouraged to read the papers in Table
1
and other in-depth resources.
Table 1
Summary of main findings for various omics approaches applied to the study of pulmonary diseases
Disease

Main findings

Genomics

 Genome-wide/Exome-wide microarray

  Asthma

Prominent asthma-associated loci are 17q21 locus (including ORMDL3, GSDMB), IL33, IL1RL1, TSLP [32]

Rare, potentially functional variants within GRASP, GSDMB, and MTHFR are associated differently with asthma in subjects of Latino and African ancestry [56]

Severe asthma-associated loci are CDHR3, GSDMB, IL33 and IL1RL1 [43]

  IgE levels

FCER1A and HLA-DQB1 are associated with IgE levels, the latter in asthma patients only [47]

  Asthma drug response

SPATS2L is associated with bronchodilator response in asthma patients [54]

GLCCI1 is associated with lung function in patients treated with inhaled glucocorticoids [55]

  COPD

Robust COPD-associated loci are FAM13A, CHRNA3/CHRNA5/IREB2, HHIP [33]

Rare, potentially functional variants in MOCS3, IFIT3 and SERPINA12 are associated with COPD and airflow limitation [58]

  COPD endotype

BICD1 is associated with emphysema [44]

  Lung function

FAM13A, HHIP, HTR4 are associated with both lung function (i.e. FEV1 and FEV1/FVC ratio) and COPD [48]

  IPF

  PAH

CBLN2 is associated with PAH in patients without BMPR2 mutations [65]

Whole exome sequencing

 COPD

Increased number of rare, non-silent mutations in DNAH8, ALCAM, RARS, and GBF1 are present in severe, early-onset COPD [57]

 PAH

High penetrance missense variants in KCNK3 and TOPBP1 found in familial PAH and idiopathic PAH [67, 68]

Transcriptomics

 Gene expression microarray

  Asthma

Bitter taste receptors have increased expression in severe asthma [86]

Distinct epithelial gene expression signature involving in interferon response found in severe childhood asthma [87]

Transcriptional activation of circulating CD8+ T cells but not CD4+ T cells present in severe asthma [88]

  Asthma endotype

Severe asthma subgroups defined based on transcriptomic and clinical characteristics [92–94]

  Asthma drug response

KLF15 is a glucocorticoid responsive gene in ASM cells [101]

  COPD

Distinct PBMC gene expression representing immune, inflammatory response and sphingolipid metabolism pathways, and including ASAH1, involved in COPD and emphysema [97]

Sputum gene expression changes, including IL18R1, are associated with COPD severity [98]

Increased gene expression of neutrophil proteases found in COPD patients with respiratory distress [99]

  ARDS

Blood neutrophil-related genes and pre-elafin are potential biomarkers in early sepsis-induced ARDS [106] and in acute stage of ARDS [107], respectively

Neutrophil gene expression changes in ARDS similar to those in sepsis and burns [108]

  IPF

CCNA2 and alpha-defensin genes are upregulated in lung tissue of IPF patients with acute exacerbations [109]

PBMC CD28, ICOS, LCK, and ITK are predictors of poor outcomes (transplantation, death) in IPF [110]

  PAH

Expression changes in BMP2 and BMPR2 are associated with PAH, even in tissues from patients without BMPR2 mutations [114]

RNA-Seq

 Asthma

Differential expression of SLC26A4, POSTN, and BCL2 observed in endobronchial biopsies from asthma patients [89]

 Asthma drug response

CRISPLD2 is a glucocorticoid responsive gene in ASM cells [103]

Glucocorticoid-induced genes in ASM from asthma donors include FAM129A and SYNPO2 [104]

Cytokine gene expression is modulated by vitamin D treatment in ASM [105]

 IPF

Splicing changes in lung tissue COL6A3 and POSTN are associated with IPF [111]

Epigenomics

 Methylation microarray

  Asthma

Hypomethylation of IL13, RUNX3 and TIGIT observed in PBMCs of patients with persistent atopic asthma [136]

SMAD3 methylation at birth is associated with asthma in children of mothers with asthma [140]

  IgE levels

AFPM1, ACOT7, and MND1 methylation are associated with total serum IgE levels in Hispanic children [141]

Serum IgE levels are associated with low methylated loci within/near genes encoding known eosinophil products (e.g., IL5RA, IL1RL1, GATA1) [142]

  COPD

Methylation of C10orf11, a known COPD-associated gene identified via GWAS, observed in lung of smokers who develop COPD [134]

EPAS1 identified as a key regulator of COPD by combining lung methylation and gene expression data [145]

  IPF

Methylation changes observed in CDKN2B, CAR10 and MGMT in fibroblasts from IPF patients [150]

Hypermethylation of CASZ1, and subsequent gene expression changes, are observed in lung of IPF patients [153]

ChIP-Seq

  Asthma

H3K4me2-marked enhancers in T cells are enriched for asthma-associated SNPs and Th2 cell type [154]

  Asthma drug response

Glucocorticoid receptor and p65 cooperatively regulate anti-inflammatory gene expression in airway epithelial cells [130]

Proteomics

 Asthma

Plasma protein levels of CCL5, HPGDS, NPSR are associated with childhood asthma [162]

 COPD

CTSD, DPYSL2, TGM2, and TPP1 are potential COPD biomarkers; TGM2 in induced sputum and plasma is not associated with smoking but is associated with COPD severity [165]

 ARDS

Pathways including inflammation and epithelial injury are associated with ARDS but ARDS-specific biomarkers have not yet been identified [167]

 IPF

Levels of apolipoprotein A1, hemoglobin α, hemoglobin β [168], pulmonary fibrosis mediators and eosinophil- and neutrophil-derived proteins [169] differ in IPF patients vs. controls

 PAH

TCTP is a mediator of endothelial prosurvival and growth signaling in PAH [173]

Metabolomics

 Asthma

Pathways relating to hypoxia response, oxidative stress, immunity, inflammation, lipid metabolism and the tricarboxylic acid cycle were identified as significant in at least two of 21 asthma metabolomics studies. [180]

 COPD

Sphingolipids are highly expressed in sputum of smokers with COPD than smokers without COPD [191]

 ARDS

Octane, acetaldehyde and 3-methylheptane in exhaled breath discriminate ARDS patients from other intensive care unit patients [194]

 ARDS endotype

A subgroup of ARDS patients with 235 overexpressed metabolites in pulmonary edema fluid had higher mortality rate [197]

 IPF

Distinct changes observed in IPF lung tissues vs. controls include increased lactic acid [198], and changes in adenosine triphosphate degradation, glycolysis, glutathione biosynthesis, and ornithine aminotransferase pathways [199]

 PAH

Decreased arginine and increased nitric oxide was found in PAH lung tissues vs. healthy controls [200]

Integrative Omics

 Asthma

Asthma susceptibility loci are lung eQTLs, including a 17q21 locus associated with GSDMA mRNA expression levels. Network analyses of eQTLs and GWAS results identified SOCS3 pathway as a key driver of asthma [209]

 COPD

eQTLs near previously reported COPD GWAS loci (FAM13A, CHRNA3/5, HHIP) help identify potential functional loci [210]

COPD blood pQTLs for surfactant protein D, vitamin D binding protein, and TNFRSF10C are associated with COPD phenotypes; association between eQTLs and pQTLs was low [211]

Single Cell RNA-Seq

 IPF

Coexpression of different cell-specific markers in IPF cells demonstrating "Indeterminate" states of differentiation in IPF [224]
Conclusions
A growing number of pulmonary disease omics studies have been reported over the last decade, covering an ever-increasing number of tissues and using newer technologies. Omics studies thus far have led to insights into disease mechanisms and laid a foundation for biomarker and therapeutic discovery, but our ability to generate hypotheses from omics-based studies has quickly outpaced our ability to translate hypotheses into actionable biologic insights. Genomic and transcriptomic studies of asthma, COPD, ARDS, IPF, and PAH, have identified replicable findings that are the subject of ongoing functional validation studies. Prominent genomics results include the 17q21 locus, HHIP and MUC5B genetic variants that confer risk for asthma, COPD and IPF, respectively, while prominent transcriptomic results include the differential expression of bitter taste receptor and KLF5 genes observed in asthma that may lead to novel therapeutic targets. Epigenomic studies have identified methylation patterns specific to COPD (e.g., C10orf11 in lung), asthma (e.g., IL13, RUNX3, TIGIT in PBMCs) and IPF (e.g., CASZ1 in lung), although much work remains to characterize cell-specific changes and include more ARDS and PAH samples. Relatively few proteomic and metabolomic studies have been published for pulmonary diseases, but sphingolipids are candidate biomarkers for COPD and a combination of exhaled breath condensates, including octane and acetaldehyde, show promise to become ARDS biomarkers. Studies that have identified asthma, COPD and IPF endotypes thus far show promise in our ability to reliably classify diseases using omics data, and such approaches will extend to ARDS and PAH.
As the knowledgebase derived from omics profiles of healthy, diseased and treated cells from diverse donors grows, defining subgroups of patients with distinct molecular and clinical characteristics will facilitate the development of biomarkers to accurately predict whether a patient has or will develop a specific disease type, or whether a patient is responding or will respond to a particular drug or form of therapy. Integrative analyses of omics data that combine a wide variety of data types will help prioritize mechanistic studies to understand the function of various observed relationships, as well as identify the most promising candidates for prospective biomarker trials. Ongoing and future omics studies covering a broader and diverse set of patients and data types and leveraging integrative analytic strategies will accelerate the advance of pulmonary disease precision medicine.
Abbreviations
ARDS:

Acute respiratory distress syndrome
ChIP-Seq:

Chromatin Immunoprecipitation Sequencing
COPD:

Chronic obstructive pulmonary disease
eQTL:

Expression quantitative trait loci
EWAS:

Epigenome-wide association studies
GEO:

Gene Expression Omnibus
GWAS:

Genome-wide association study
IPF:

Idiopathic pulmonary fibrosis
LC:

Liquid chromatography
MS:

Mass spectrometry
NGS:

Next-generation sequencing
NHLBI:

National Heart, Lung, and Blood Institute
PAH:

Pulmonary arterial hypertension
PBMC:

Peripheral blood mononuclear cell
pQTL:

Protein quantitative trait loci
PTM:

Post-translational modification
RNA-Seq:

RNA sequencing
scRNA-Seq:

Single-cell RNA-Seq
SNP:

single nucleotide polymorphisms
SRA:

Sequence Read Archive
WES:

Whole-exome sequencing
WGS:

Whole-genome sequencing
Declarations
Acknowledgements
We thank Samantha Zauscher for help with figure design.
Funding
This work was supported by NIH R00 HL105663 and R01 HL133433. Funders played no role in the design, collection, analysis, and interpretation of data presented in this review.
Availability of data and materials
Not applicable.
Authors' contributions
MK, MS, and BEH wrote and approved the manuscript.
Ethics approval and consent to participate
Not applicable.
Consent for publication
Not applicable.
Competing interests
The authors declare that they have no competing interests.
Publisher's Note
Springer Nature remains neutral with regard to jurisdictional claims in published maps and institutional affiliations.
Open AccessThis article is distributed under the terms of the Creative Commons Attribution 4.0 International License (http://creativecommons.org/licenses/by/4.0/), which permits unrestricted use, distribution, and reproduction in any medium, provided you give appropriate credit to the original author(s) and the source, provide a link to the Creative Commons license, and indicate if changes were made. The Creative Commons Public Domain Dedication waiver (http://creativecommons.org/publicdomain/zero/1.0/) applies to the data made available in this article, unless otherwise stated.
Authors' Affiliations
(1)
Department of Biostatistics, Epidemiology and Informatics, University of Pennsylvania, Philadelphia, USA