Optimizing bronchodilation in the prevention of COPD exacerbations
Respiratory Research
2017
18:125
Received: 4 March 2017
Accepted: 29 May 2017
Published: 20 June 2017
Abstract
The natural disease course of chronic obstructive pulmonary disease (COPD) is often punctuated by exacerbations: acute events of symptom worsening associated with significant morbidity and healthcare resource utilization; reduced quality of life; and increased risk of hospitalization and death. The Global Initiative for Chronic Obstructive Lung Disease (GOLD) recommend that patients at risk of exacerbations (GOLD Groups C and D) receive a long-acting muscarinic antagonist (LAMA) or a long-acting β2-agonist (LABA)/LAMA combination, respectively, as preferred initial treatments. The latter recommendation is based on recent trial evidence demonstrating the superior efficacy of a fixed-dose LABA/LAMA over an inhaled corticosteroid (ICS)/LABA in exacerbation prevention. ICS in combination with a LABA is also indicated for prevention of exacerbations, but the use of ICS is associated with an increased risk of adverse events such as pneumonia, and offers limited benefits beyond those provided by LABA or LAMA monotherapy. In this review, we examine evidence from a number of pivotal studies of LABAs and LAMAs, administered as monotherapy or as part of dual or triple combination therapy, with a specific focus on their effect on exacerbations. We also discuss a new proposed treatment paradigm for the management of COPD that takes into account this recent evidence and adopts a more cautious approach to the use of ICS. In alignment with GOLD 2017, we suggest that ICS should be reserved for patients with concomitant asthma or in whom exacerbations persist despite treatment with LABA/LAMA.
Keywords
Dual bronchodilationICSLABALAMATreatment guidelinesTriple therapy
Background
The natural trajectory of chronic obstructive pulmonary disease (COPD) is punctuated by exacerbations, defined as an acute worsening of symptoms that results in additional therapy [1, 2]. In many cases, exacerbations are triggered by respiratory tract infections (predominantly viral, but also bacterial) and environmental factors such as air pollution, yet in approximately one third of cases, the cause remains unknown [3].
COPD exacerbations have a marked negative effect on both the patient and underlying disease processes, and can result in hospitalization and readmission, an increased risk of death [4] and a significant reduction in health status [5, 6]. Exacerbations are also associated with long-term decline in lung function and a high socioeconomic cost [7–10]. Thus, optimizing the prevention and management of COPD exacerbations is an important clinical issue.
A key step towards meeting this goal is to identify patients at greatest risk of exacerbation. The 'frequent exacerbator' phenotype (≥2 exacerbations/year) describes patients who are particularly susceptible to exacerbations, in contrast to infrequent exacerbators [11, 12]. The exacerbator phenotype, which remains relatively stable over time [12], has a complex pathophysiology and is prevalent across all disease severities, but is more common in patients with worse lung function [12].
The Global Initiative for Chronic Obstructive Lung Disease (GOLD) provides treatment recommendations for patients who are at high risk of exacerbation: a long-acting muscarinic antagonist (LAMA) or a long-acting β2-agonist (LABA)/LAMA combination are recommended as primary choice treatment for these patients. Although the GOLD strategy document was developed with an international audience in mind, some countries and regions (e.g. Spain, UK, South America, and Canada) follow guidance outlined in their own recommendations as well [13–16].
Inhaled corticosteroids (ICS) are recommended for patients at high risk of exacerbation with concomitant asthma, or who experience further exacerbations following initial bronchodilator treatment [2]. However, there is widespread evidence of inappropriate use of ICS in patients at low risk of exacerbation [17, 18]. Considering the known risks associated with long-term ICS use, only patients carefully considered as suitable candidates should receive treatment with the appropriate ICS and associated dose, such that treatment benefit will outweigh any potential risk [19].
Strong evidence supports the favorable efficacy and safety profile of dual bronchodilators. Compared with bronchodilator monotherapy and ICS/LABA, LABA/LAMAs improve lung function [20–29] and reduce exacerbation risk [23, 24, 28, 29]. The safety profile of LABA/LAMA combinations is generally similar to that of placebo or individual monocomponents [22, 30–33]. However, LABA/LAMA use is still relatively limited and further experience with these agents is needed [34].
In this review, we will examine the efficacy of various COPD treatments in terms of exacerbation prevention, with particular focus on bronchodilators, and discuss a new proposed treatment paradigm for reducing exacerbation risk in patients with COPD.
Efficacy Of Bronchodilators In Prevention Of Exacerbations
Other Pharmacological Treatments In The Prevention Of Exacerbations
Mucolytics in the prevention of exacerbations
Mucolytics are oral medicines designed to reduce mucus and sputum viscosity, thereby making it easier for patients to cough up mucus and clear it from the airways [96]. The current GOLD recommendations recognize that regular use of mucolytics may be beneficial in patients not receiving ICS, to reduce exacerbations and improve health status [2].
The antioxidant N-acetylcysteine (NAC; 600 mg/day), is recommended by the American College of Chest Physicians and Canadian Thoracic Society for patients with moderate-to-severe COPD and a history of two or more exacerbations in the previous 2 years [97]. However, NAC 600 mg/day is currently not approved for use in the USA. In a 6-month study, the number of exacerbations was reduced by 41% with standard therapy plus NAC versus standard therapy alone, and fewer patients experienced at least one exacerbation (46 versus 63 patients, respectively) [98]. In PANTHEON (1 year), NAC (600 mg/b.i.d.) significantly reduced the annual rate of exacerbations versus placebo (1.16 versus 1.49 exacerbations per patient-year; p = 0.0011) [99]. By contrast, in BRONCUS (3 year), a randomized, placebo-controlled study, there was no difference between NAC (600 mg/day) and placebo in the number of exacerbations per year (a primary outcome, [1.25 versus 1.29; p = 0.85]), although sub-group analyses suggested that NAC might have reduced exacerbation rate in patients not receiving ICS treatment [100]. In a 2015 meta-analysis of 13 studies (N = 4155), NAC significantly reduced the relative risk of exacerbations in patients with COPD and/or chronic bronchitis. The authors concluded that a dose of 600 mg b.i.d. should be used in patients who have both chronic bronchitis and COPD, whereas the standard 600 mg/day dose should suffice for patients who have chronic bronchitis alone [101]. Accordingly, one study showed that NAC (600 mg b.i.d.) was more effective than placebo in reducing exacerbation risk and prolonging time to first exacerbation in high-risk patients (GOLD Groups C and D, according to the 2011 GOLD recommendations), but not low-risk patients [102].
Two studies have examined the effects of erdosteine on exacerbations. EQUALIFE, an 8-month, randomized, double-blind trial, demonstrated that patients taking erdosteine (300 mg b.i.d.) had significantly fewer exacerbations and spent fewer days in hospital than those on placebo [103]. More recently, Moretti et al demonstrated that 10-day treatment with erdosteine (900 mg/day) was associated with a 39% lower risk of exacerbations in the 2 months post-discharge and a significant delay in time to first exacerbation at post-discharge days 30 (p = 0.009) and 60 (p = 0.075) compared with placebo, in patients hospitalized following acute exacerbation [104]. In a 6-month, randomized trial, a significantly higher proportion of patients experienced no exacerbations when treated with continuous carbocysteine lysine salt monohydrate (SCMC-Lys; 2.7 g q.d.) compared with placebo (p < 0.001) [105]. Similarly, in PEACE (1 year), the annualized rate of exacerbations was significantly lower with carbocysteine (1500 mg/day) than with placebo, representing a 25% reduction in risk (p = 0.004) [106].
Phosphodiesterase-4 inhibitors in the prevention of exacerbations
Phosphodiesterase-4 (PDE-4) inhibitors can inactivate immune and inflammatory cells by blocking the metabolism of cyclic adenosine monophosphate (cAMP) [107]. GOLD recommends addition of the selective, long-acting PDE-4 inhibitor roflumilast to a ICS/LABA/LAMA in GOLD Group D patients who continue to experience exacerbations despite triple therapy, particularly patients with a forced expiratory volume in one second (FEV1) <50% predicted, chronic bronchitis, and ≥1 hospitalization for an exacerbation in the previous year [2].
A meta-analysis of 13 studies suggested that roflumilast (500 μg q.d.) was more effective than placebo in reducing the rate of acute exacerbations (p < 0.001) [107]. In REACT, roflumilast (500 μg q.d.) reduced the rate of moderate-to-severe exacerbations by 13.2% versus placebo in patients with severe COPD, chronic bronchitis and at risk of frequent and severe exacerbations, and receiving ICS/LABA treatment with or without tiotropium (Poisson regression analysis, p = 0.0529) [108]. In a post-hoc analysis of RE(2)SPOND (52 weeks), roflumilast (500 μg q.d.) significantly reduced the rate of moderate or severe exacerbations versus placebo in patients with severe-to-very severe COPD and chronic bronchitis, a history of >3 exacerbations and/or ≥1 hospitalizations in the prior year [109]. Roflumilast is indicated as a maintenance treatment (added on to bronchodilator therapy) in adults with severe COPD associated with chronic bronchitis, and a history of frequent exacerbations [110].
Macrolides in the prevention of exacerbations
Macrolides are antibiotics with antimicrobial, anti-inflammatory, and immunomodulating effects. GOLD 2017 recommends the addition of a macrolide to an ICS/LABA/LAMA regimen in GOLD Group D patients who are former smokers and continue to suffer exacerbations despite triple therapy [2]. In COPD, the best studied macrolide is azithromycin. COLUMBUS (1 year) demonstrated that exacerbation rate was significantly reduced with azithromycin (500 mg three times/week), compared with placebo (odds ratio = 0.58, p = 0.001), in patients with COPD who had received treatment for ≥3 exacerbations in the previous year despite optimal inhalation therapy [111]. Similar findings were reported in a 1-year, randomized, controlled trial in patients with COPD at risk for exacerbations, where azithromycin (250 mg q.d.) significantly delayed median time to first exacerbation (266 versus 174 days; p < 0.001), and significantly reduced the frequency of exacerbations (1.48 versus 1.83; p = 0.01) versus placebo [112]. Similar results have been reported in other, smaller studies comparing erythromycin and placebo [113, 114].
Appropriate use of ICS
Much evidence supports the use of ICS in patients with persistent asthma, yet the role of ICS in preventing exacerbations of COPD is less clear [19, 115]. Various methodological issues in trial design and/or statistical analysis affect results and make subsequent study interpretation difficult [116].
However, data are emerging to suggest that raised blood or sputum eosinophil levels could predict a positive response (i.e. a reduction in exacerbations) to ICS/LABA versus LABA monotherapy, or predict any deleterious effects ICS withdrawal may have [117–121].
The potential association between this 'eosinophilic phenotype' and a positive response to ICS requires further investigation, as the effect has not been consistent across studies within the same analysis [118], and may only be present in patients with a history of ≥2 exacerbations in addition to raised eosinophil levels [121]. Prospective analysis of FLAME (which excluded patients with a previous diagnosis of asthma and/or a blood eosinophil count >600/mm3), demonstrated that IND/GLY was superior to SFC in reducing the rate of moderate-to-severe exacerbations, regardless of baseline eosinophil levels [29]. Thus, further studies are needed before any recommendations can be made regarding the potential use of ICS in specific sub-populations.
Proposed Treatment Paradigm
Figure
1
shows a proposed treatment paradigm for exacerbation prevention based on the evidence presented and centered on optimal use of bronchodilation, which has previously been published [
122
–
124
].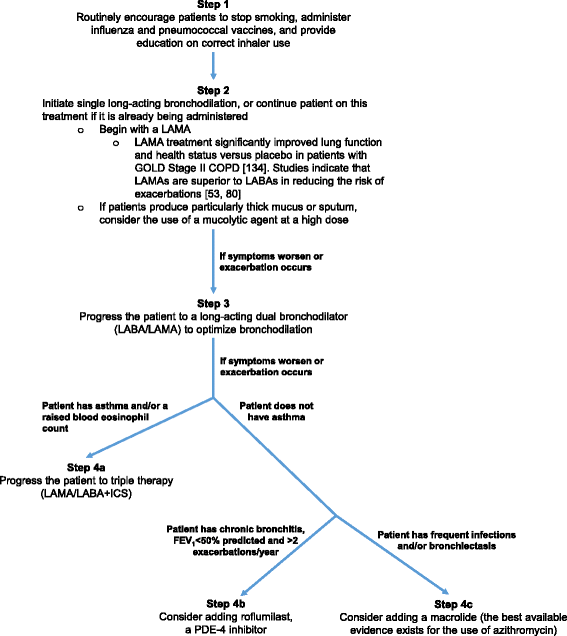 Conclusions
Not only do COPD exacerbations negatively impact the underlying disease course, but they also have a detrimental effect on patients' lives, resulting in lung function decline, increased risk of mortality and poor health status. While there has been a tendency to recommend the use of ICS for patients at high risk of exacerbations, ICS are associated with a myriad of side effects such as pneumonia. However, (and as recognized in the updated GOLD strategy document) evidence is emerging that suggests there may be more appropriate treatment strategies for many at risk patients, including a LABA/LAMA combination.
The proposed treatment paradigm for exacerbation prevention is centered on optimizing bronchodilation as an initial pharmacological step, first with a LAMA, and subsequently with a dual LABA/LAMA should symptoms worsen or exacerbation occur. Only if patients continue to suffer exacerbations do we suggest the addition of an ICS or a PDE-4 inhibitor, depending on patient profile/phenotype. It is possible that a subgroup of patients with COPD who have raised blood or sputum eosinophils may respond better than others to ICS, although current data are still preliminary and somewhat contradictory. Future studies are warranted to better define the groups who may benefit from ICS, and to identify the mechanisms by which bronchodilation reduces exacerbations.
Abbreviations
A/F:

Aclidinium/formoterol
b.i.d.:

Twice daily
BDP/FF/GB:

Beclomethasone dipropionate/formoterol fumarate/glycopyrronium bromide
CAMP:

Cyclic adenosine monophosphate
COPD:

Chronic obstructive pulmonary disease
EXACT:

EXAcerbations of Chronic obstructive pulmonary disease Tool
FEV1 :

Forced expiratory volume in 1 second
FF/VI:

Fluticasone furoate/vilanterol
GLY/F:

Glycopyrronium/formoterol
GOLD:

Global Initiative for Chronic Obstructive Lung Disease
HR:

Hazard ratio
HRU:

Healthcare resource utilization
ICS:

Inhaled corticosteroids
IMPACT:

InforMing the PAthway of COPD Treatment
IND/GLY:

Indacaterol/Glycopyrronium
LABA:

Long-acting β2-agonist
LAMA:

Long-acting muscarinic antagonist
NAC:

N-acteylcysteine
OR:

Odds ratio
PDE-4:

Phosphodiesterase-4
PR:

Pulmonary rehabilitation
q.d.:

Once daily
RR:

Rate ratio
SCMC-Lys:

Carbocysteine lysine salt monohydrate
SFC:

Salmeterol/Fluticasone propionate combination
TIO/OLO:

Tiotropium/Olodaterol
UMEC/VI:

Umeclidinium/Vilanterol
Declarations
Acknowledgements
The authors were assisted in the preparation of the manuscript by David McMinn, a professional medical writer at CircleScience, an Ashfield company, part of UDG Healthcare plc.
Funding
Medical writing support was funded by Novartis Pharma AG (Basel, Switzerland).
Availability of data and materials
Not applicable.
Authors' contributions
Authors discussed and agreed to the scope of the manuscript and contributed to the development of the manuscript at all stages. All authors read and approved the final manuscript.
Competing interests
Marc Miravitlles has received speaker fees from Almirall, Boehringer Ingelheim, AstraZeneca, Chiesi, GlaxoSmithKline, Menarini, Teva, Grifols and Novartis, and consulting fees from Almirall, Bayer Schering, Boehringer Ingelheim, GlaxoSmithKline, Gebro Pharma, CLS Behring, Cipla, MediImmune, Teva, Takeda, Novartis and Grifols.
Antonio Anzueto has received consultant fees from Boehringer Ingelheim, AstraZeneca, GlaxoSmithKline, and Novartis.
José R. Jardim has received speaker fees from, Boehringer Ingelheim, AstraZeneca, Chiesi, Teva, ACHE, Grifols, Zambon CLS Behring and Novartis, and consulting fees from Boehringer Ingelheim, Zambon, CLS Behring, Teva, EMS, ACHE, Novartis, Chiesi Farmoquimica and Grifols.
Consent for publication
Not applicable.
Ethics approval and consent to participate
Not applicable.
Publisher's Note
Springer Nature remains neutral with regard to jurisdictional claims in published maps and institutional affiliations.
Open AccessThis article is distributed under the terms of the Creative Commons Attribution 4.0 International License (http://creativecommons.org/licenses/by/4.0/), which permits unrestricted use, distribution, and reproduction in any medium, provided you give appropriate credit to the original author(s) and the source, provide a link to the Creative Commons license, and indicate if changes were made. The Creative Commons Public Domain Dedication waiver (http://creativecommons.org/publicdomain/zero/1.0/) applies to the data made available in this article, unless otherwise stated.
Authors' Affiliations
(1)
Pneumology Department, Hospital Universitari Vall d'Hebron. CIBER de Enfermedades Respiratorias (CIBERES), Barcelona, Spain
(2)
University of Texas Health Science Center, and South Texas Veterans Health Care System, San Antonio, USA
(3)
Respiratory Division, Escola Paulista de Medicina / Federal University de São Paulo, São Paulo, Brazil