Infection-mediated asthma: etiology, mechanisms and treatment options, with focus on Chlamydia pneumoniae and macrolides
Respiratory Research
2017
18:98
Received: 3 February 2017
Accepted: 15 May 2017
Published: 19 May 2017
Abstract
Asthma is a chronic respiratory disease characterized by reversible airway obstruction and airway hyperresponsiveness to non-specific bronchoconstriction agonists as the primary underlying pathophysiology. The worldwide incidence of asthma has increased dramatically in the last 40 years. According to World Health Organization (WHO) estimates, over 300 million children and adults worldwide currently suffer from this incurable disease and 255,000 die from the disease each year. It is now well accepted that asthma is a heterogeneous syndrome and many clinical subtypes have been described. Viral infections such as respiratory syncytial virus (RSV) and human rhinovirus (hRV) have been implicated in asthma exacerbation in children because of their ability to cause severe airway inflammation and wheezing. Infections with atypical bacteria also appear to play a role in the induction and exacerbation of asthma in both children and adults. Recent studies confirm the existence of an infectious asthma etiology mediated by Chlamydia pneumoniae (CP) and possibly by other viral, bacterial and fungal microbes. It is also likely that early-life infections with microbes such as CP could lead to alterations in the lung microbiome that significantly affect asthma risk and treatment outcomes. These infectious microbes may exacerbate the symptoms of established chronic asthma and may even contribute to the initial development of the clinical onset of the disease. It is now becoming more widely accepted that patterns of airway inflammation differ based on the trigger responsible for asthma initiation and exacerbation. Therefore, a better understanding of asthma subtypes is now being explored more aggressively, not only to decipher pathophysiologic mechanisms but also to select treatment and guide prognoses. This review will explore infection-mediated asthma with special emphasis on the protean manifestations of CP lung infection, clinical characteristics of infection-mediated asthma, mechanisms involved and antibiotic treatment outcomes.
Keywords
Asthma Chlamydia pneumoniae InfectionAzithromycinHyperresponsiveExacerbationPathogenesis
Asthma subtypes and infection
The concept that asthma is a syndrome with different underlying etiologies is well accepted. The use of the word "phenotype" to describe asthma subtypes based primarily on the inflammatory composition of respiratory secretions and/or peripheral blood is more problematic. The original definition of "phenotype" referred to relatively stable somatic manifestations of underlying genetics (such as eye color) whereas current asthma inflammatory "phenotyping" is based on cross sectional sampling of a dynamic physiologic process (host inflammatory response) and does not account for the fact that inflammatory composition is not necessary a fixed characteristic [66]. In the context of a review that focuses on chlamydial infection we are reluctant to place too much emphasis on asthma phenotypes based on inflammatory cell compositions because well described host responses to acute, sub-acute and chronic chlamydial infections involve a wide array of inflammatory cells (including eosinophils, neutrophils and monocytes) the composition of which varies significantly at different temporal stages of the infection [67]. We have commented on some fairly well defined asthma categories but even these can change over time (e.g., mild asthma can become severe, stable asthma can become uncontrolled). The dynamic and often unpredictable nature of asthma symptomatology is one of the factors that make asthma research so challenging.
Atopic/non-atopic asthma
Historically asthma was categorized as either allergic or non-allergic but this distinction was put into question as early as the 1980s [68]. An early report of the association between CP and asthma did find independent associations of CP biomarkers, clinical allergy and asthma [40] yet in the clinical setting there is overlap between atopy and CP infection [69]. The animal models described earlier indicate that CP can promote both asthma and atopy, thus an absolute distinction between these two categories as indicators of differing underlying etiologies may not be warranted. Macrolide treatment trials that examine subgroup responses are one approach to examining the predictive value of this and other subgroups.
Eosinophilic/neutrophilic asthma
Asthma has also been characterized as either "eosinophilic" or "neutrophilic" based on the cellular composition of respiratory secretions or bronchoalveolar lavage fluid (BALF) [70]. Simpson et al. [71] performed an RCT of a macrolide (clarithromycin) in severe refractory asthma in adults and reported no overall benefit in the group as a whole. However, there was a positive effect in the pre-specified subgroup of patients with "neutrophilic" asthma as defined by sputum IL-8 and neutrophil numbers. The predictive power of these findings is limited since it is unclear whether sputum composition is stable over time in severe refractory asthma (or any asthma, for that matter).
Treatment
The majority of people with asthma can be well controlled with conventional guideline-based anti-inflammatory treatments (mainly inhaled steroids, sometimes in combination with an inhaled long-acting bronchodilator) [72]. Nevertheless, a significant minority of people with asthma is not well controlled by guideline treatments [73, 74]. The proportion of all people with "refractory" asthma (asthma that is not responsive to guideline therapies) has been estimated at between 5 and 15% but the contribution of refractory asthma to asthma morbidity and mortality is considerably greater, as the most severe 20% of asthma cases account for 80% of asthma morbidity and health care costs [3]. If patients with the "overlap syndrome" (asthma and COPD) are included, the numbers of people with refractory disease increases significantly [75]. Of the various novel therapies under consideration for refractory asthma [76], macrolides appear to be one of the most promising. A 2013 meta-analysis of 12 randomized, controlled trials (RCTs) of macrolides for the long term management of asthma in both adults and children found positive effects on peak expiratory flow rate (PEFR – a measure of pulmonary function), asthma symptoms, asthma quality of life (AQL), and airway hyper responsiveness (AHR), but not on forced expiratory flow rate in 1 s (FEV1) [77]. The updated 2015 Cochrane review of 18 RCTs [78] reported positive benefits on asthma symptoms and FEV1 but not on AQL (AHR and PEFR were not analyzed). A joint European Respiratory Society/American Thoracic Society (ERS/ATS) guideline on severe asthma recommends against the use of macrolides ("conditional recommendation, very low quality evidence") [79]. The ERS/ATS guideline states "this recommendation places a relatively higher value on prevention of development of resistance to macrolide antibiotics, and relatively lower value on uncertain clinical benefits." The inconsistent findings of the meta-analyses, along with the uncertainties surrounding the clinical benefits of macrolides, underscore the need for higher quality evidence. This section adds some evidence not included in the meta-analyses, reviews what is known about macrolide side effects (including the clinical consequences of resistance) and suggests research approaches to obtain better evidence. We conclude with some provisional recommendations for clinicians who may be approached by patients with new-onset, uncontrolled and/or refractory asthma who are asking for macrolide treatment.
Current evidence for all asthma treatments is limited due to selection bias initiated by researchers, clinicians, and even asthma patients themselves.
Researcher bias.
The academic literature is replete with asthma efficacy studies lacking in generalizability [
80
]. The efficacy trials on which current asthma treatment guidelines are based systematically exclude >90% of people with asthma encountered in the general clinical population [
81
,
82
]. Only pragmatic effectiveness trials, with minimal exclusions, are able to provide evidence applicable to the general population [
44
].
Clinician bias.
A recent trial of azithromycin for acute exacerbations of asthma (AZALEA) is notable because over 95% of patients with an exacerbation were not eligible for enrollment primarily because they had received an antibiotic from a treating clinician [
83
]. An accompanying editorial speculated that one possible reason for the negative results of AZALEA was that clinicians were somehow able to identify and treat likely candidates, making them ineligible for the research [
84
]. Be that as it may, AZALEA is an example of asthma research made less informative due to non-researcher clinician behavior.
Patient bias.
Hahn et al. [
44
] performed a pragmatic trial of azithromycin for asthma (AZMATICS) in which the likely candidates excluded themselves from randomization. This unanticipated event occurred because AZMATICS was an Internet-based trial; people with severe, refractory asthma identified themselves as likely candidates and contacted the PI for enrollment; but upon learning that they had a 50% chance of receiving placebo, they opted out of randomization in favor of receiving a comparable azithromycin prescription from their personal clinician [
85
]. Rather than lose data on this "open-label" (OL) group, the study protocol was altered to include a third (OL) arm. Randomized results were similar to AZALEA (negative – see Fig.
2
); however, OL subjects exhibited large and unprecedented improvements in symptoms and quality-of-life (QOL) that persisted long after treatment was completed (Figs.
2
&
3
). Because the OL group was not randomized, these results do not appear in any meta-analysis of RCTs; nevertheless they strongly suggest that future macrolide RCTs should focus on the severe end of the asthma spectrum, as also recommended by others [
42
,
71
,
86
], and preferably engage patient populations that are unlikely to want to opt out of randomization.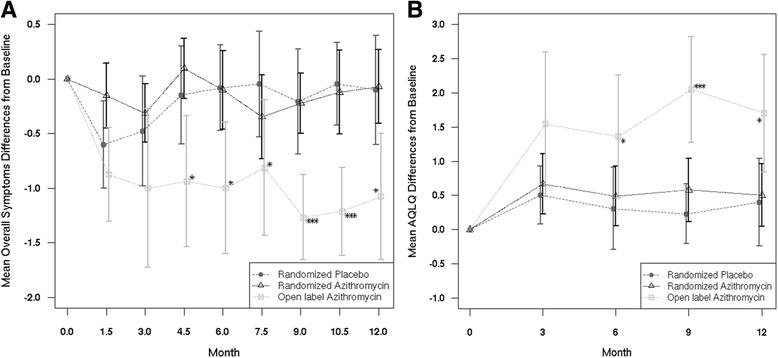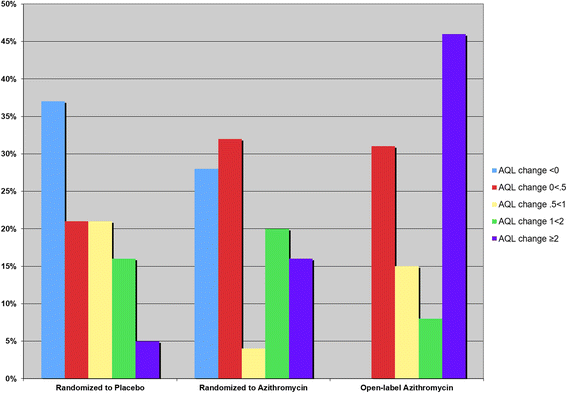 Macrolide mechanisms of action in asthma are thought to be directly anti-inflammatory, indirectly anti-inflammatory (i.e., antimicrobial), or both. It is difficult to invoke direct anti-inflammatory macrolide effects as responsible for large clinical benefits persisting to 9 months after treatment completion. Antimicrobial effects, against specific respiratory pathogens or against the general lung microbiome, remain likely possibilities. Circumstantial evidence suggests that macrolide treatment effects may, at least in part, be attributable to antimicrobial actions against chronic atypical infections [9, 87]. This issue is by no means settled and requires further research that may be challenging given the selection biases noted above coupled with likely low sensitivity of lung sampling leading to false negative diagnosis of, for example, chronic CP lung infection [20].
Azithromycin is generally well tolerated and is widely used for a variety of acute respiratory illnesses. Concerns about adverse effects of azithromycin include development of antibiotic resistance, sudden cardiac death, hearing loss and effects on the host mcrobiome. Development of resistance is a possibility whenever antibiotics are used; azithromycin is no exception. However, there are no reports of patient harm from resistant organisms in any cardiorespiratory trial performed to date [89]. Rather, the only detectable clinical effects of azithromycin in these trials were decreased incidences of sinusitis, acute bronchitis and pneumonia, and less use of other antibiotics [88, 89]. Sudden cardiac death attributable to azithromycin (1 in 4000 prescriptions in high cardiac risk patients) was plausibly documented in an epidemiologic study of a Medicaid population in Tennessee [91]. The same risk was also present for a quinolone (levofloxacin). Subsequent population-based studies in average risk populations showed no increased risk of sudden death [92, 93]. Mild hearing loss was reported in an excess of <1% of heart disease subjects randomized to 600 mg azithromycin once weekly for 12 months [88, 90]. Hearing test changes leading to discontinuation of azithromycin occurred in 2.8% of 1142 severe COPD subjects randomized to 250 mg azithromycin daily for 1 year [90]. The clinical significance of these hearing test changes is unclear. Notably, it is likely that daily azithromycin dosing is unnecessary [94] and may lead to increased adverse events [91]. The prolonged half-life of azithromycin within cells, including within immune system cells, allows weekly dosing and may be preferable to daily dosing when targeting either immune cells or intracellular pathogens such as CP.
Although largely speculative at this time, it appears that macrolide effects against the lung microbiome may be potentially harmful or helpful in asthma. Segal et. al. reported that an 8 week treatment with azithromycin did not alter bacterial burden but reduced α-diversity [95]. They also observed significant reduction in certain pro-inflammatory cytokines, which might explain the non-specific anti-inflammatory effects proven beneficial in COPD and asthma [95]. Published findings from Slater et al. that specifically evaluated azithromycin effects on the lung microbiome revealed a significant reduction in bacterial richness in the airway microbiota [96]. Importantly, reductions were most significant in three pathogenic genera: Pseudomonas, Haemophilus and Staphylococcus [96]. Overall, available data suggest that azithromycin treatment of severe asthma, while controversial, may benefit those with confirmed atypical bacterial infection [97]. Resistance, adverse events including sudden death, hearing loss and changes in host microbiome should be monitored in future pragmatic trials.
Protean manifestations of chronic CP infection, that may include asthma, chronic bronchitis, COPD, and the "overlap syndrome" (asthma and COPD) argue in favor of pragmatic trials with broad inclusion criteria that include patients with lung multi-morbidity. At least nine domains distinguish
pragmatic
(or effectiveness) trials from
explanatory
(efficacy) trials (Table
1
) [
98
]. In the context of future RCTs of macrolides for asthma, we propose that the most important pragmatic domains are (1) broad eligibility to account for the protean clinical manifestations of both chronic reactive/obstructive lung disease and CP infections as discussed previously and (2) a comprehensive patient-centered primary outcome. Asthma exacerbations are a current popular choice as a primary outcome because they are clinically relevant [
99
]. However, exacerbations are only one of many outcomes that are important to asthma patients [
100
]. Compared to exacerbations, asthma quality-of-life (QOL) more comprehensively measures patient-important outcomes. QOL includes, but is not limited to, the adverse effects of exacerbations on patient well-being [
100
] and QOL has proven robust in the sole pragmatic macrolide-asthma trial performed to date [
44
] (Figs.
2
and
3
). Many patients in this pragmatic trial [
44
] had significantly decreased asthma QOL at study entry and large important improvements in QOL after azithromycin, but did not experience exacerbations. This significant subgroup would have been either possibly ineligible for inclusion or not counted as successes in a trial using exacerbations as the primary outcome.
Table 1
Proposed design for a randomized trial of azithromycin for the long-term management of asthma. Seven of nine PRECIS-2 [98] domains are recommended as pragmatic and two as explanatory
| DOMAIN | Pragmatic or Explanatory?a | COMMENTS |
| --- | --- | --- |
| Eligibility. Who is selected to participate in the trial? | Pragmatic | Exclusions only for safety; comorbidities included. |
| Recruitment. How are participants recruited into the trial? | Pragmatic | Recruited from practice sites (emergency rooms, clinics). |
| Setting. Where is the trial being done? | Pragmatic | Performed at the practice site. |
| Organization. What expertise and resources are needed to deliver the intervention? | Pragmatic | No extraordinary expertize required. |
| Flexibility: delivery. How should the intervention be delivered? | Pragmatic | Total weekly oral dose can be administered on any schedule desired. |
| Flexibility: adherence. What measures are in place to make sure participants adhere to the intervention? | Explanatory | Adherence encouraged by frequent contacts by the research team and monitored by patient report and pill count. |
| Follow-up. How closely are the participants followed-up? | Explanatory | 3-monthly study visits to collect non-routine information (e.g., spirometry, biomarkers, QOL) |
| Primary outcome. How relevant is it to participants? | Pragmatic | Outcome is patient-centered (see text for discussion). |
| Primary analysis. To what extent are all data included? | Pragmatic | Intention-to-treat. |
Pragmatic trials primarily ask Does this treatment work? Explanatory trials primarily ask What is the mechanism? Addressing target groups/mechanisms in pragmatic trials of macrolides is desirable and possible as secondary aims by specifying a priori hypotheses coupled with subgroup analyses. We recommend studying a wide array of biomarkers using this approach. It is notable that RCTs of macrolides have been performed and/or macrolides are being recommended in the treatment of many chronic lung conditions (diffuse pan-bronchiolitis, cystic fibrosis, bronchiectasis, COPD, post-transplant bronchiolitis obliterans) [101, 102]. A planned trial will test the effectiveness of azithromycin in patients with the "overlap syndrome" (asthma-COPD) [103]. It is time to add asthma to the growing list of chronic respiratory conditions that are being evaluated by robust macrolide RCTs that are pragmatic in nature.
In the meantime, patients with severely uncontrolled and/or refractory asthma, or new-onset asthma are increasingly searching the Internet for new information and are sometimes better informed than their doctor about current evidence regarding macrolides for asthma (Hahn: personal observations). Pending more robust data from asthma RCTs that have yet to be performed, how should practicing clinicians respond when such patients request macrolide treatment? As stated above, the ERS/ATS guidelines on severe asthma recommend against the use of macrolides, albeit with caveats that the evidence for this recommendation is weak and provisional [
79
]. Informal guidelines from a pulmonology research group state that they recommend macrolide treatment only for confirmed diagnoses of atypical lung infection [
104
]. From a practical standpoint, their recommendation limits treatment only to those who have undergone bronchoscopy; even then the diagnostic sensitivity is likely to be less than perfect due to sampling issues discussed earlier. Both these recommendations have met resistance from patients who have read and understood the evidence (Hahn: personal communication). We offer a third alternative recommendation, repeated word for word from the conclusion of the sole practice-based pragmatic trial of azithromycin for asthma conducted to date [
44
]:
"Pending further randomized trials, given the relative safety of azithromycin and the significant disease burden from severe refractory asthma, prescribing prolonged azithromycin therapy to patients with uncontrolled asthma may be considered by managing clinicians, particularly for patients who have failed to respond to conventional treatment and as an alternative to instituting immunomodulatory agents".
Interested clinicians and others wishing more information on patient experiences, scientific evidence and treatment alternatives are referred to a book on the subject [69].
Conclusions
Evidence supports a complex interaction between host genetics/immune response and environmental factors (e.g., viral infections, microbiome) in the development, exacerbation and severity of asthma. Emerging evidence from animal models and human studies points to Chlamydia pneumoniae (CP) as a key player in this complex scenario. Future research is required to unravel the quantitative contribution of CP to asthma pathogenesis, and pragmatic treatment trials are recommended to investigate therapeutic implications.
Abbreviations
AAD:

Allergic airway disease
AHR:

Airway hyper responsiveness
AOA:

Adult-onset asthma
AQL:

Asthma quality of life
AZALEA:

Azithromycin for acute exacerbations of asthma
AZMATICS:

AZithroMycin/Asthma: trial in community settings
BMDC:

Bone marrow-derived dendritic cells
cHSP60:

Chlamydia heat shock protein 60
COA:

Childhood-onset asthma
COPD:

Chronic obstructive pulmonary disease
Cp:

Chlamydia pneumoniae
ERS/ATS:

European Respiratory Society/American Thoracic Society
FEV1:

Forced expiratory flow rate in 1 second
HRV:

Human rhinovirus
IFN-γ:

Interferon gamma
IL:

Interleukin
LPS:

Lipopolysaccharides
MP:

Mycoplasma pneumoniae
OL:

Open label
PCR:

Polymerase chain reaction
PEF:

Peak expiratory flow
PEFR:

Peak expiratory flow rate
QOL:

Quality-of-life
RCTs:

Randomized control trials
RSV:

Respiratory syncytial virus
TNF-α:

Tumor necrosis factor alpha
Declarations
Acknowledgements
Not applicable.
Availability of data and materials
Data sharing is not applicable to this article as no datasets were generated or analyzed during the current study.
Authors' contributions
WW initiated the writing of the manuscript and contributed to the sections highlighting basic research and animal models. DH contributed to sections dealing mainly with clinical analyses, treatment and clinical trials. However, both authors contributed to its multiple revisions and formatting. Both authors read and approved the final manuscript.
Authors' information
DLH is a family physician and Director of the Wisconsin Research and Education Network (WREN), in the department of Family Medicine at the University of Wisconsin School of Medicine and Public Health. He holds a Masters degree in Epidemiology/Preventive Medicine and advanced research training in medical microbiology & immunology and clinical trial design. DLH has decades of experience treating patients with refractory asthma, including many with C. pneumoniae infection.
WW is an Associate Professor of Microbiology at the University of Massachusetts Amherst and Director of the PreMed/PreHealth Advising Center. He was the first to show a direct link between cultivable C. pneumoniae in the lower airway and pediatric asthma severity. WW has carried out animal model studies confirming a link between early life airway infection with C. pneumoniae and reactive airway disease.
Competing interests
The authors declare that they have no competing interests.
Consent for publication
Figures 2 and 3 were reproduced by permission of the American Board of Family Medicine.
Ethics approval and consent to participate
Not applicable.
Publisher's Note
Springer Nature remains neutral with regard to jurisdictional claims in published maps and institutional affiliations.
Open AccessThis article is distributed under the terms of the Creative Commons Attribution 4.0 International License (http://creativecommons.org/licenses/by/4.0/), which permits unrestricted use, distribution, and reproduction in any medium, provided you give appropriate credit to the original author(s) and the source, provide a link to the Creative Commons license, and indicate if changes were made. The Creative Commons Public Domain Dedication waiver (http://creativecommons.org/publicdomain/zero/1.0/) applies to the data made available in this article, unless otherwise stated.
Authors' Affiliations
(1)
University of Massachusetts Amherst, Amherst, USA
(2)
University of Wisconsin School of Medicine and Public Health, Madison, USA