Nanotechnology in respiratory medicine
Respiratory Research
2015
16:64
Received: 27 January 2015
Accepted: 20 May 2015
Published: 29 May 2015
Abstract
Like two sides of the same coin, nanotechnology can be both boon and bane for respiratory medicine. Nanomaterials open new ways in diagnostics and treatment of lung diseases. Nanoparticle based drug delivery systems can help against diseases such as lung cancer, tuberculosis, and pulmonary fibrosis. Moreover, nanoparticles can be loaded with DNA and act as vectors for gene therapy in diseases like cystic fibrosis. Even lung diagnostics with computer tomography (CT) or magnetic resonance imaging (MRI) profits from new nanoparticle based contrast agents. However, the risks of nanotechnology also have to be taken into consideration as engineered nanomaterials resemble natural fine dusts and fibers, which are known to be harmful for the respiratory system in many cases. Recent studies have shown that nanoparticles in the respiratory tract can influence the immune system, can create oxidative stress and even cause genotoxicity. Another important aspect to assess the safety of nanotechnology based products is the absorption of nanoparticles. It was demonstrated that the amount of pulmonary nanoparticle uptake not only depends on physical and chemical nanoparticle characteristics but also on the health status of the organism. The huge diversity in nanotechnology could revolutionize medicine but makes safety assessment a challenging task.
Keywords
NanoparticlesLungAirwaysNanotoxicologyBiodistributionNanomedicine
Introduction
Over the past years nanomaterials have found their way into more and more areas of life. Examples are new coatings and pigments, electronic devices as well as cosmetic products like sunscreens and toothpastes. On top of that, much effort is done to adopt nanotechnology for the treatment of human diseases. The term "Nano" refers to structures in the range of 1 to 100 nm. In contrast to nanoparticles, which have to measure between 1 and 100 nm in all dimensions, nanomaterials may consist of elements bigger than 100 nm but need to be structured in the nanoscale and exhibit characteristic features associated with their nanostructure [
1
]. In this context, the International Organization for Standardization defined the term nano-object as a material with one, two or three external dimensions in the nanoscale [
2
] (Fig.
1
). Nanomaterials have an extremely high surface area to volume ratio. Therefore, some of them are very reactive or catalytically active. Moreover, in the nanoworld quantum effects become visible and lead to some of the unique properties of nanoparticles. Like viruses and cellular structures, some nanoparticles are able to self-assemble to more complex structures [
3
]. This makes them interesting candidates for novel drugs. On the other hand it is necessary to redefine toxicology because of nanotechnology. Unlike classical toxicology, where dose and composition matter, in nanotoxicology the focus has to be set on properties like morphology, size, size distribution, surface charge, and agglomeration state as well. Nanotechnology is important for respiratory medicine for several reasons. Firstly, it offers new approaches to treat diseases of the respiratory tract. However, as nanotechnology usage in consumer products, cosmetics, and medicine is continuously increasing, it is also pivotal to understand potentially adverse effects of nanomaterials on the respiratory system. Additionally, studying respiratory effects of manufactured nanomaterials helps to understand the impact of combustion exhaust and ultra-fine dusts on human health. On top of that, the lung is probably the most important gateway of nanoparticles to the human organism. For the assessment of safety in nanotechnology it is therefore also important to elucidate which nanoparticle properties determine pulmonary resorption and biodistribution (Fig.
2
).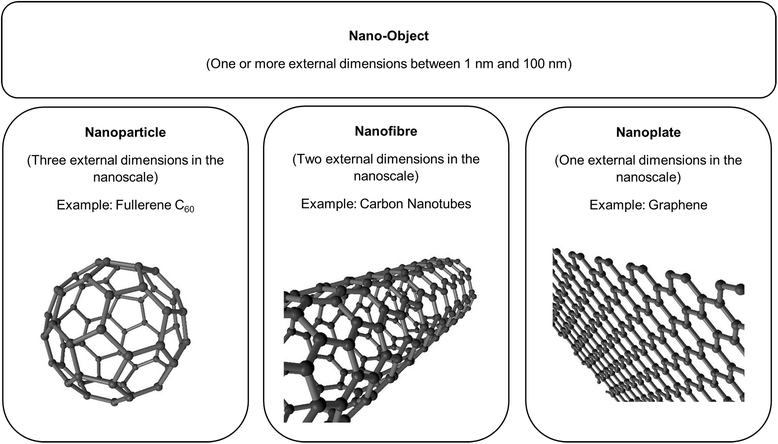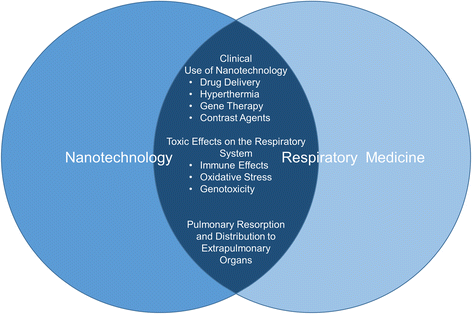 Applications of nanotechnology in therapeutics and diagnostics
Although clinical application of nanotechnology in therapeutics and diagnostics is still rare, there are multiple promising candidates for future use in the field of respiratory medicine.
Toxicological aspects of nanomaterials
Toxic effects of nanoparticles are a major concern in pulmonary medicine. Especially ultrafine particles of low soluble, low toxic materials like titanium dioxide, carbon black, and polystyrene are overall more toxic and inflammatory than fine particles of the same material. This applies to both synthesized nanoparticles and natural dusts [25]. For nano related toxicity multiple mechanisms seem to be important. In the following, the interaction with the immune system, the creation of oxidative stress, and toxic effects on the genome are taken a closer look at. In order to correlate toxic effects with nanoparticle properties, it is necessary to thoroughly characterize the selected nanoparticles prior to administration.
Biodistribution
Nanoparticle detection
Research on the biodistribution of nanoparticles requires tracking of the applied nanoparticles in the test animal. Conventional light microscopy is not able to detect nanoparticles because of Abbe's law. Therefore, electron microscopic imaging is often required. However, light microscopy can be used to describe the nanoparticle induced changes in the cell morphology without being able to see the nanoparticles themselves. Additionally, nanoparticles can be indirectly made detectable in light microscopy by a method called autometallography. This is a silver staining that can be used to increase the size of several types of nanoparticles like gold, silver, and some metal sulfides and selenides in the histological section [42]. This technique was used to detect silver nanoparticles in the olfactory bulb and lateral brain ventricles of mice that had been intranasally treated with 25 nm silver nanoparticles [43].
Particle deposition and resorption in the respiratory tract
Most research about biodistribution of nanoparticles in organisms focuses on intravenous injection. However, nanoparticles were shown to be able to pass the blood air barrier of the lung. Whether or not nanoparticles can travel through the lung into the body seems to be size dependent. This was evaluated by injecting neutron activated radioactive gold nanoparticles of 1.4 nm and 18 nm intratracheally to rats. The bigger nanoparticles almost completely retained in the lung while significant amounts of the smaller 1.4 nm particles were found in blood, liver, skin and carcass 24 h after instillation [
44
]. Choi H. S. et al. applied nanoparticles of different size and charge to mice. The nanoparticles were tracked in different organs through fluorescence labeling. It was demonstrated that nanoparticles rapidly translocated to the mediastinal lymph nodes if they possess a hydrodynamic diameter of 34 nm or less and a neutral or anionic surface. Bigger and positively charged nanoparticles exhibited no significant uptake [
45
] (Fig.
6
). In addition to physical parameters of the applied nanoparticles the health status of the exposed organism also seems to play an important role. A recent study showed that the distribution of oropharyngeal instilled 40 nm gold nanoparticles is influenced by additional LPS treatment. The gold content of organs was measured with inductively coupled plasma mass spectroscopy. BALB/C mice that had been oropharyngeal treated with LPS 24 h prior to the nanoparticle administration exhibited less gold content in their lungs than untreated mice. In both groups gold was detected in different organs. High concentrations were found in heart and thymus in the non LPS group, while the LPS treated mice accumulated most of the gold in the spleen. The author concluded that nanoparticle uptake may depend on medical preconditions [
46
].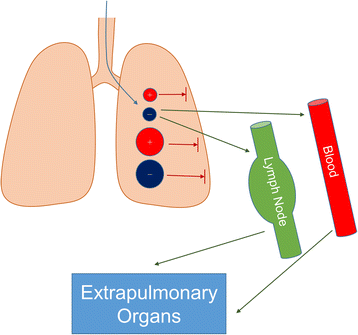 Conclusions
Over the last decade, major breakthroughs in nanotechnology have been achieved. It is only a matter of time before new nano based drugs reach respiratory medicine. Especially the fields of targeted drug delivery, gene therapy, and hyperthermia offer great potential for modern drugs. On the other hand the increased use of nanomaterials in all fields of life also bears the risk of exposure through inhalation. It is therefore essential to understand pulmonary toxicology of nanomaterials in all its facets. However, it is still very unclear why the toxic effects of nanoparticles in the respiratory tract are so inhomogeneous and not well predictable. In this context, not only local reactions of lung and airways but also nanoparticle uptake and distribution in the organism are important factors and therefore fields of current research. As only few nanoparticle compositions have been tested, it is questionable whether those results can be easily adapted to other nanoparticles. Because of the continuously increasing diversity of engineered nanoparticles, toxicology can hardly keep pace with the safety assessment of future products. Therefore, more attention should be set on this wide field of research.
Abbreviations
CHI3L1:

Chitinase-3-like protein 1
cSCK:

Cationic shell-cross-linked knedel-like
CT:

Computer tompgraphy
DC:

Dendritic cell
DLS:

Dynamic light scattering
EGFR:

Epidermal growth factor receptor
EPR:

Enhanced permeability and retention
LPS:

Lipopolysaccharide
MRI:

Magnetic resonance imaging
NSCLC:

Non-small-cell lung carcinoma
OVA:

Ovalbumin
PEG:

Polyethylene glycol
PLA:

Polylactic acid
PLGA:

Poly(lactic-co-glycolic acid)
PSMA:

Prostate-specific membrane antigen
ROS:

Reactive oxygen species
TEM:

Transmission electron microscopy
TNF-α:

Tumor necrosis factor alpha
XRD:

X-ray diffraction
Declarations
Acknowledgments
This work was supported by the foundation "Stiftung Bergmannshilfswerks Luisenthal" to Prof. Q.T. Dinh.
Authors' Affiliations
(1)
Department of Experimental Pneumology and Allergology, Saarland University Hospital and Saarland University Faculty of Medicine, Homburg/Saar, Germany
(2)
Department of Pharmaceutical Sciences, School of Pharmacy and Pharmaceutical Sciences, SUNY Buffalo, New York, USA
(3)
Department of Internal Medicine V, Pneumology, Allergology and Respiratory Critical Care Medicine, Saarland University Faculty of Medicine, Homburg/Saar, Germany
Copyright
© Omlor et al. 2015
This is an Open Access article distributed under the terms of the Creative Commons Attribution License (http://creativecommons.org/licenses/by/4.0), which permits unrestricted use, distribution, and reproduction in any medium, provided the original work is properly credited. The Creative Commons Public Domain Dedication waiver (http://creativecommons.org/publicdomain/zero/1.0/) applies to the data made available in this article, unless otherwise stated.