Role of epidermal growth factor receptor activation in regulating mucin synthesis
Respiratory Research
2001
2:85
Received: 10 January 2001
Accepted: 2 February 2001
Published: 21 February 2001
Abstract
Healthy individuals have few goblet cells in their airways, but in patients with hypersecretory diseases goblet-cell upregulation results in mucus hypersecretion, airway plugging, and death. Multiple stimuli produce hypersecretion via epidermal growth factor receptor (EGFR) expression and activation, causing goblet-cell metaplasia from Clara cells by a process of cell differentiation. These cells are also believed to be the cells of origin of non-small-cell lung cancer, but this occurs via cell multiplication. The mechanisms that determine which pathway is chosen are critical but largely unknown. Although no effective therapy exists for hypersecretion at present, the EGFR cascade suggests methods for effective therapeutic intervention.
Keywords
activated neutrophilsairway goblet cellasthmachronic intubationcigarette smokenasal polypoxygen free radicaltumor necrosis factor-α
Introduction
Epidermal growth factor (EGF) was discovered by Cohen, and he and his colleagues subsequently extended our knowledge of the mechanisms of action of EGF and its receptor EGFR [1]. EGFR is a 170 kDa membrane glycoprotein, which is activated by ligands such as EGF, transforming growth factor (TGF)-α, heparin-binding EGF, amphiregulin, betacellulin, and epiregulin. These proteins are synthesized as transmembrane precursors and are cleaved proteolytically by metalloproteases to release the mature growth factor, which can interact with EGFR and cause its activation.
Epidermal growth factor expression and activation causes goblet-cell metaplasia in airways
The discovery that a human epidermoid (A-431) cancer cell line contains high concentrations of EGFR led to extensive investigation into the role of the EGFR cascade in epithelial cell multiplication (cancer). Although growth factors can act as transforming proteins, it was recently hypothesized that EGFR activation may also be involved in epithelial differentiation into mucin-containing goblet cells by specific inflammatory mediators. The hypothesis was supported by the following observations. First, mucosubstances can be detected in dysplastic lesions and in foci of carcinoma in situ in human airways, and in tracheal lesions induced by carcinogens in animals [2]. The coexistence of mucin-containing cells and cancer cells suggests the possibility of a common progenitor. Second, Clara cells (also called 'nongranulated secretory cells') are believed to be the progenitor cells for bronchiolar carcinoma [3], and various studies also implicate these cells as precursors of goblet cells [4].
Takeyama
et al
[
4
] hypothesized that EGFR expression and activation would result in mucin expression and goblet-cell metaplasia. First, NCI-H292 cells (an epidermoid carcinoma cell line that expresses EGFR constitutively) were studied. EGFR ligands (EGF, TGF-α) caused expression of the MUC5AC mucin (a predominant airway mucin) gene. Interaction of EGFR with its ligands led to EGFR tyrosine kinase phosphorylation, and a selective EGFR tyrosine kinase inhibitor (BIBX1522) blocked MUC5AC expression induced by EGFR ligands, thereby implicating EGFR activation in mucin production. Second, the airways of pathogen-free rats do not express EGFR constitutively, and contain few goblet cells [
4
]. Instillation of tumor necrosis factor (TNF)-α induced EGFR expression in the airway epithelium, and subsequent instillation of EGFR ligand (TGF-α) induced mucin expression. BIBX1522 prevented this response in a dose-dependent manner, implicating EGFR activation in the goblet-cell response. A diagram of this EGFR cascade that is responsible for mucin production is provided (Fig.
1
).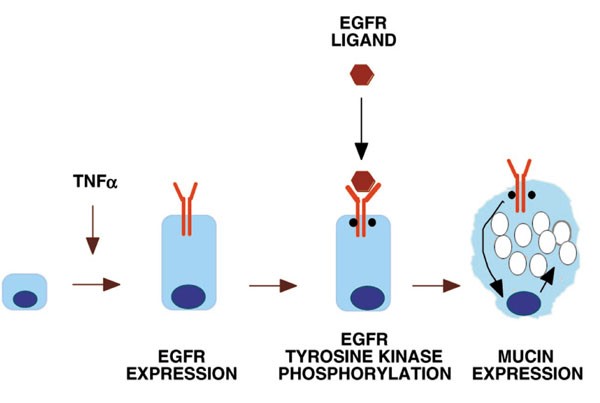 Epithelial cell multiplication versus cell differentiation
In cancer cells, EGFR activation leads to cell multiplication. In normal airway epithelium, however, goblet cells appear to form from precursor (Clara) cells in the epithelium. Thus, in Sendai virus-induced goblet-cell metaplasia in pathogen-free rats, developing mucin-containing cells did not incorporate [3H]thymidine, suggesting that cell mitosis was not involved in synthesis of mucin mRNA [5]. In endotoxin-induced goblet-cell metaplasia in rat nasal septum, pretreatment with colchicine (which causes metaphase blockade) did not inhibit the production of goblet cells [6]. The mitotic rate and the total number of epithelial cells was unchanged, which led Shimizu et al [6] to conclude that the new goblet cells were produced by direct conversion of Clara cells. Finally, EGFR expression and activation causes goblet-cell metaplasia without changing the total number of epithelial cells, indicating that the number of goblet cells increases and the number of Clara cells decreases equivalently, thus implicating a differentiation process in goblet-cell development [4].
Stimuli for mucin synthesis: role of the epidermal growth factor receptor cascade
Many chronic inflammatory diseases of the airway are associated with mucus hypersecretion; this may contribute to asthma mortality [7,8]. Hypersecretion is also associated with nasal polyps [9], and in cystic fibrosis hypersecretion is associated with bacterial infections, especially with Pseudomonas aeruginosa [10]. In addition, cigarette smoking is a major cause of death in chronic obstructive pulmonary disease (COPD) [11], and the airways of smokers contain more goblet cells than do those of nonsmokers [12]. Exposure to cigarette smoke results in hypersecretion in the airways [13]. Orotracheal intubation-induced injury and other types of mechanical damage to the airway epithelium also result in mucus hypersecretion [14,15,16]. Neutrophils and their products are implicated in cystic fibrosis [10], COPD [11], and acute severe asthma [17].
Conclusion
Many chronic inflammatory airway diseases (eg asthma, cystic fibrosis, COPD, and nasal polyps) are associated with mucus hypersecretion. A wide variety of stimuli (eg allergens, bacteria, mechanical injury, cigarette smoke, and cytokines and activated neutrophils) cause the airway epithelium to differentiate into mucin-producing (goblet) cells via activation of an EGFR cascade. Airways of healthy individuals contain few goblet cells, but development of mature goblet cells de novo occurs within 3 days [16] and degranulation occurs within minutes [37]. In peripheral airways, this may lead to mucus plugging [38], which may not cause early symptoms and may be difficult to diagnose, but may progress rapidly to impairment of gas exchange and death. Mucus hypersecretion probably fluctuates with inflammation in disease.
Effective therapy for hypersecretion does not currently exist, but the novel pathway involved in EGFR expression and activation suggests new approaches to therapy for mucus hypersecretion.
Abbreviations
COPD:

chronic obstructive pulmonary disease
EGF(R):

epidermal growth factor (receptor)
MAPK:

mitogen-activated protein kinase
TGF:

transforming growth factor
TNF:

tumor necrosis factor.
Authors' Affiliations
(1)
Cardiovascular Research Institute, Departments of Medicine and Physiology, University of California, Cardiovascular Research Institute, San Francisco, USA
Copyright
© BioMed Central Ltd 2001