Idiopathic pulmonary fibrosis: an epithelial/fibroblastic cross-talk disorder
Respiratory Research
2001
3:3
Received: 26 July 2001
Accepted: 21 August 2001
Published: 11 October 2001
Abstract
Idiopathic pulmonary fibrosis is a chronic and usually progressive lung disorder of unknown etiology. A growing body of evidence suggests that, in contrast to other interstitial lung diseases, IPF is a distinct entity in which inflammation is a secondary and non-relevant pathogenic partner. Evidence includes the presence of similar mild/moderate inflammation either in early or late disease, and the lack of response to potent anti-inflammatory therapy. Additionally, it is clear from experimental models and some human diseases that it is possible to have fibrosis without inflammation. An evolving hypothesis proposes that IPF may result from epithelial micro-injuries and abnormal wound healing.
Keywords
apoptosisepithelial cellsextracellular matrixmyofibroblastspulmonary fibrosis
Introduction
Idiopathic pulmonary fibrosis (IPF), also referred to as cryptogenic fibrosing alveolitis, is a chronic, progressive and usually lethal lung disorder of unknown etiology. The disease occurs predominantly from middle age onwards, with more than two-thirds of patients being over 60 years old at the time of presentation. Men are nearly twice as likely as women to suffer from IPF [1].
Similar to other interstitial lung diseases, IPF has been considered for a long time as the deleterious consequence of an unresolved chronic inflammatory process that follows an unrecognized insult. Examining our knowledge in perspective, however, there is little evidence to sustain this hypothesis.
It is certain that most interstitial lung diseases include an identifiable initial inflammatory response to an unknown (for example, sarcoidosis and desquamative interstitial pneumonia) or known (for example, hypersensitivity pneumonitis and drugs) damaging agent. In all these disorders, lung biopsy in early disease shows pure inflammation and, on follow-up, many of these patients improve or heal with anti-inflammatory therapy. A number of these disorders may naturally evolve to fibrosis and thus can often be difficult to differentiate from an IPF lung; for example, patients in the late stages of chronic hypersensitivity pneumonitis also present severe fibrosis and honeycombing [2].
By contrast, no one (or almost no one) seems to have seen an early phase of a true IPF, and the histology of patients presenting with IPF, both at 6 months and at 2 years after the beginning of symptoms, shows variable degrees of fibrosis and honeycombing with mild to moderate inflammation. In other words, there is no evidence that IPF starts with an inflammatory process and, most importantly, there is no evidence, other than parallelisms with other interstitial lung disorders, to support the concept that inflammation is more prominent in the early stages of IPF. In addition, most patients with IPF do not respond to anti-inflammatory drugs, and the use of corticosteroids with or without immunosuppressive drugs only helps in a few cases, and then only produces a transient improvement without beneficial effects in the long term. In fact, survival curves for IPF are worse than for many cancers, with a median survival of 3–4 years after diagnosis [3,4].
It has been suggested that IPF is characterized by a sequence of events that start with alveolar epithelial micro-injuries followed by the formation of fibroblastic foci and result in an exaggerated deposition of extracellular matrix, which drives the destruction of the lung parenchyma architecture [5,6].
In this context, we propose that there are two routes (at least) for developing diffuse pulmonary fibrosis. One of these is the 'inflammatory route', which is represented by almost all the non-IPF interstitial lung diseases where there is an early, clearly distinguishable phase of alveolitis and a late fibrotic phase. The other is the 'epithelial/fibroblastic route', which is represented by IPF.
It is important to emphasize here that the bleomycin model, the most used experimental model of lung fibrosis, is a paradigm of the inflammatory route. Animals sacrificed at early stages (i.e., 3 days post-instillation) show virtually inflammation only, but after a time (i.e., 14–21 days post-instillation) they show both inflammation and fibrosis. Furthermore, it has been reported recently that in the chronic stages, at least in rats, the model does not behave as a restrictive syndrome and the main histological features consist of focal peribronchiolar inflammation and fibrosis associated with paracicatricial emphysematous changes [7].
Accordingly, there are no appropriate experimental models of IPF, not only because we do not know its etiology, but also because all the traditional models start with an inflammatory reaction.
Some light emerging from the new histopathological classification of idiopathic interstitial pneumonias
During the past decade, it became increasingly evident that the term 'idiopathic pulmonary fibrosis' was imprecisely applied to a heterogeneous group of several distinct forms of idiopathic interstitial pneumonias, including usual interstitial pneumonia (UIP), desquamative interstitial pneumonia, cryptogenic organizing pneumonia, and acute interstitial pneumonia. Moreover, it was also clear that the histopathological findings in a number of patients with idiopathic interstitial pneumonias did not fit into any defined pattern, and in 1994, Katzenstein and Fiorelli [6] introduced the concept of nonspecific interstitial pneumonia for such lung biopsies.
Now it is widely accepted that the definite diagnosis of IPF requires a compatible clinical history and a surgical lung biopsy showing histological features of UIP. The latter is essential because we know that while other idiopathic interstitial pneumonias may improve or even heal after treatment, IPF/UIP is habitually progressive. As mentioned for chronic hypersensitivity pneumonitis, however, patients with a fibrotic or mixed cellular/fibrotic pattern of nonspecific interstitial pneumonia may also display a poor outcome [8].
An important concept regarding the possible role of alveolitis in the pathogenesis of IPF arises from this new classification. A careful review of the UIP lung has demonstrated that the inflammatory component is usually mild, occurs mainly in areas of collagen deposition or honeycomb change, and rarely involves otherwise unaltered alveolar septa [9]. There is little evidence to support the concept that inflammation is a prominent feature at any stage of the disease and moreover, severe inflammation should lead the clinician/pathologist to consider a diagnosis other than UIP.
In this sense, it is remarkable that we have been unable to clearly define the early changes in IPF/UIP. Actually, early and late IPF/UIP histology is the same, with a temporal heterogeneous combination of normal alveoli, some inflammation, fibroblastic foci, extracellular matrix accumulation and honeycombing. It is likely that this characteristic variegated temporal appearance of UIP reflects the repetitive occurrence over time of microscopic foci of lung injury and repair. In addition, a recent review of the Denver experience demonstrated that neither inflammation nor fibrosis correlates with survival. Interestingly enough, the only pathological data that showed a significant correlation with mortality were numbers of areas with fibroblastic foci [10].
An unsolved question in IPF/UIP is when alveolitis shows up during the development of the disease; our contention is that inflammation may appear only after the formation of fibroblastic foci.
Is it possible to have a fibrotic response in non-inflammatory processes?
Explants of mouse lungs cultured in a free-blood environment at various stages after hyperoxic injury have demonstrated that as alveolar damage, particularly of type 1 pneumocytes, increases, epithelial cell proliferation slackens while fibroblast growth becomes predominant [11]. In these explants, an increase in collagen synthesis and deposition was also noticed. Importantly, when the hyperoxic injury involved only the endothelial cells, no association with fibrosis was observed. We can learn two lessons from this model. First, as the fibrotic changes occurred in the presence of few macrophages, and in the absence of inflammatory cells from the systemic circulation, these findings clearly suggest that it is possible to have a fibrotic reaction without inflammation. Second, epithelial cell damage and perturbation of epithelial-fibroblast interactions is sufficient to promote the development of a fibrotic process.
A non-inflammatory fibrotic response in humans is provoked by chronic overuse of tendons. The lesion is frequently called tendinitis. A common example is the tennis elbow or lateral epicondylitis. Histopathological studies have shown, however, that this lesion contains few inflammatory cells [12], and suggest that chronic refractory lateral epicondylitis is a degenerative rather than an inflammatory condition. This may account for its lack of response to anti-inflammatory medication. By contrast, tendonitis, which usually occurs after acute tendon injuries, is characterized by the presence of an increased number of lymphocytes and neutrophils. In this context, it has recently been proposed that tennis elbow lesion represents a fibroblastic and vascular response (angiofibroblastic degeneration) to repetitive microtrauma and is now more commonly known as tendinosis [13]. The histopathological features represent a non-inflammatory, degenerative process associated with fibroblastic hyperplasia and the accumulation of disorganized and immature collagen.
What is IPF if not an inflammatory disorder?
We propose that IPF is, from the earliest stage, an epithelial-fibroblastic disease, that is, a fibroproliferative disorder preceded by alveolar epithelial cell activation. It is becoming apparent that the primary sites of ongoing injury and repair are the regions of fibroblastic proliferation, so-called fibroblastic foci [
9
,
14
]. These small aggregates of actively proliferating fibroblasts/myofibroblasts constitute multiple, microscopic sites of ongoing alveolar epithelial injury and activation associated with evolving fibrosis (Fig.
1
). In other words, we postulate that in IPF, an initial epithelial cell injury and activation induces fibroblast migration/proliferation and fibroblast phenotypic change (myofibroblasts). Subsequently, myofibroblasts may provoke basement membrane disruption and alveolar epithelial cell apoptosis, perpetuating the damage and avoiding appropriate re-epithelialization. The final result is the excessive deposition of extracellular matrix with the destruction of the alveolar-capillary units and the formation of cystic fibrotic spaces or honeycombing (Fig.
2
).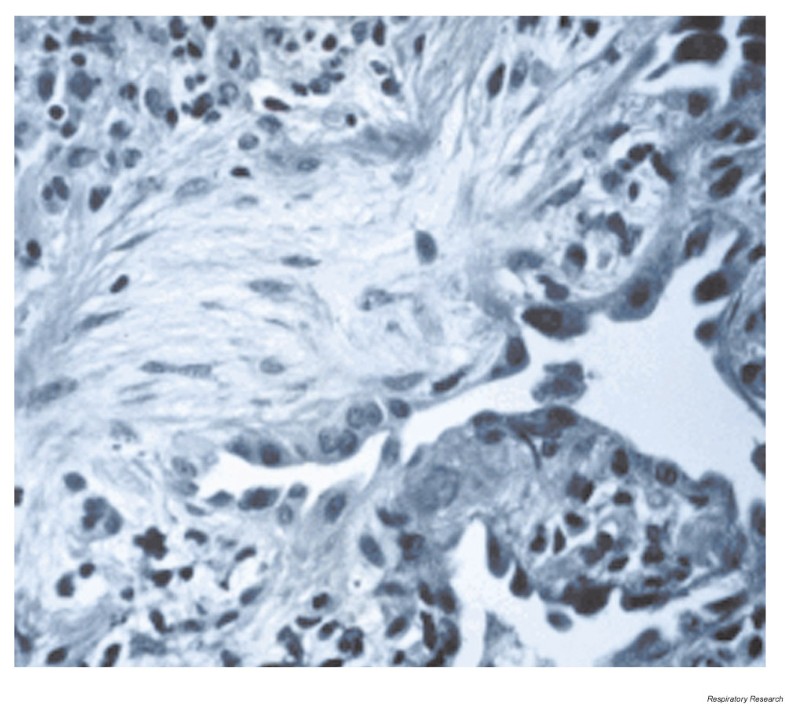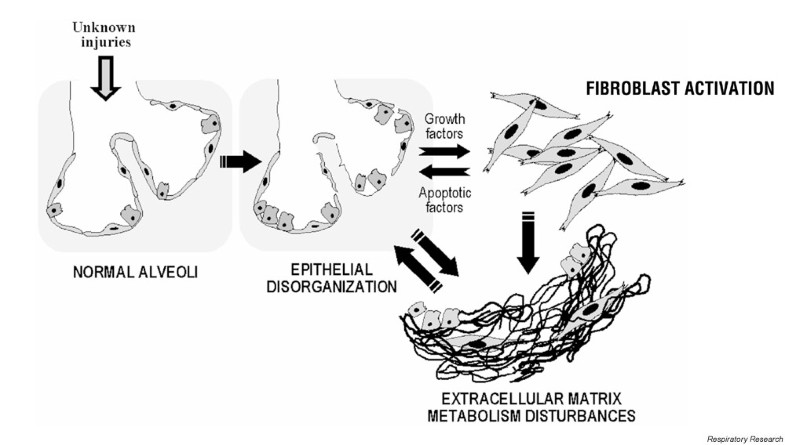 Conclusion
The prevailing dogma regarding the pathogenesis of the fibrotic lung disorders take as a fact that there is an initial lung injury that is followed by an inflammatory process and then by fibroblast proliferation and fibrosis. This notion assumes that inflammation precedes and drives the fibrotic response and that it plays a major role in lung fibrogenesis.
This hypothetical concept appears to explain the pathogenesis of most interstitial lung diseases but not IPF/UIP, which seems to be an epithelial fibroblastic disease. Distinguishing fibrosis driven by inflammation from fibrosis originating as an epithelial/fibroblastic disorder is important not just for intellectual accuracy. Appropriate therapy relies on the correct understanding of the nature of the response to injury.
Abbreviations
IPF:

idiopathic pulmonary fibrosis
MMP:

matrix metalloproteinases
PAI:

plasminogen activator inhibitor
TGF:

transforming growth factor
TIMP:

tissue inhibitor of metalloproteinases
UIP:

usual interstitial pneumonia.
Declarations
Acknowledgement
Programa Universitario de Investigación en Salud.
Authors' Affiliations
(1)
Instituto Nacional de Enfermedades Respiratorias & Facultad de Ciencias, UNAM, México DF, México
Copyright
© BioMed Central Ltd 2001