Growth factors in idiopathic pulmonary fibrosis: relative roles
Respiratory Research
2001
3:13
Received: 5 September 2001
Accepted: 24 September 2001
Published: 28 November 2001
Abstract
Treatment of idiopathic pulmonary fibrosis patients has evolved very slowly; the fundamental approach of corticosteroids alone or in combination with other immunosuppressive agents has had little impact on long-term survival. The continued use of corticosteroids is justified because of the lack of a more effective alternative. Current research indicates that the mechanisms driving idiopathic pulmonary fibrosis reflect abnormal, dysregulated wound healing within the lung, involving increased activity and possibly exaggerated responses by a spectrum of profibrogenic growth factors. An understanding of the roles of these growth factors, and the way in which they modulate events at cellular level, could lead to more targeted therapeutic strategies, improving patients' quality of life and survival.
Keywords
alveolar epithelial cellapoptosisgrowth factoridiopathic pulmonary fibrosismyofibroblast
Introduction
Idiopathic pulmonary fibrosis (IPF) is clinically a restrictive lung disease that characteristically progresses relentlessly to death from respiratory failure. Median survival of newly diagnosed patients with IPF is about 3 years, similar to that of clinical stage 1b non-small cell lung cancer. The quality of life for IPF patients is also poor. Despite this, there has been remarkably little progress in development and/or assessment of therapeutic strategies for IPF.
High dose corticosteriods alone or in combination with other immunosuppressive agents continue to be prescribed, although there is no clinical evidence of their efficacy [1]. Recent data indicate that, following such treatment, less than 30% of IPF patients show objective evidence of improvement, including better survival, while there is a high incidence of drug-related adverse effects. Furthermore, it remains unclear whether a positive response can be attributed to the treatment itself or to the patients having a less aggressive form of the disease [2,3]. For significant improvements to occur in the survival of patients with IPF, there needs to be development of novel and more precisely targeted therapies. Selection of future appropriate regimes must be critically dependent on improved characterisation of the molecular pathways driving pathogenesis of IPF [4].
The focus of research efforts in a number of laboratories, including our own, has thus been directed towards establishing the relative roles of molecules that may determine the outcome of associated profibrogenic processes. Accordingly, such efforts could lead to potential candidate molecules being exploited for therapeutic manipulation. Support for this strategy is echoed in the recent consensus statement issued jointly by the American Thoracic Society and the European Respiratory Society, in which the roles of "various cytokines and growth factors" are described as "critical" to the process of fibrosis [1].
Growth factors: multiple profibrogenic functions
Individual growth factors involved in the development of pulmonary fibrosis invariably regulate other cell functions, as well as cell proliferation. They may originate from a variety of sources including immune cells, endothelial cells, epithelial cells, fibroblasts, platelets and smooth muscle cells. However, in the context of IPF pathogenesis, it is now suggested that IPF is an 'epithelial-fibroblastic disease' (see Pathogenesis of IPF: new concepts – is inflammation relevant?). It is therefore the interactions of growth factors with these epithelial and fibroblast cell types that are most critical in determining whether the ultimate outcome of wound-healing responses to lung injury is IPF.
Growth factors have predominantly been described in fibroblasts, which are recognised key players in wound healing. It is becoming increasingly apparent, however, that 'injured' and 'activated' alveolar epithelial cells (AECs) both secrete and respond to growth factors themselves, particularly in IPF, thereby contributing to the outcome of the profibrogenic processes. Functions regulated in fibroblasts that directly influence fibrogenesis include enhancing or inhibiting extracellular matrix (ECM) protein synthesis, chemotaxis, production of metalloproteinases and their inhibitors, expression of adhesion molecules, and angiogenesis. Much less is known about how growth factors regulate AEC function to modulate fibrogenesis but, in AECs obtained from IPF patients, growth factors are potentially responsible for secretion of metalloproteinases and, paradoxically, inhibit proliferation through enhancement of apoptosis.
It also seems probable from familial studies that there is a genetic predisposition to development of IPF [5]. Although the nature of any genetic component is at present unknown, polymorphic genes for a number of fibrogenic growth factors have been found [6,7,8]. Cellular phenotype may thus be an important determinant of growth factor response and, hence, of increased susceptibility to development of IPF.
This review focuses on those growth factors for which there is compelling data for their involvement in the molecular pathways controlling fibrogenesis. Within the constraints of this forum, it will not be possible to fully consider all aspects of this involvement. Intentionally, we will update, rather than simply repeat, what is already widely known regarding these mediators. We specifically highlight new important findings, with implications for novel targeted therapeutic approaches in IPF.
Pathogenesis of IPF: new concepts – is inflammation relevant?
Recent developments strongly challenge the current concept of IPF pathogenesis. The widely held view has been that the distinct histopathological subsets of IPF (usual interstitial pneumonia [UIP], desquamative interstitial pneumonia, non-specific interstitial pneumonia, and acute interstitial pneumonia) share common pathogenetic features, regardless of the initiating agent (where known).
A hypothesis of persistent interstitial inflammation leading to, and modulating development of, fibrosis has therefore developed. Underpinning this hypothesis are many studies that have highlighted the critical importance, in determining the outcome of pathogenic events, of polypeptide mediators released both from resident and immune cells. Indeed, this paradigm appears to be sustained in a number of potentially fibrotic lung diseases that have a prominent inflammatory process during their early stages and that exhibit a favourable response to steroid-based anti-inflammatory therapies, particularly if therapy begins during the inflammatory phase (e.g. desquamative interstitial pneumonia, non-specific interstitial pneumonia, hypersensitivity pneumonitis, and sarcoidosis).
Recent investigations, however, have shown that consideration of the constituent histological patterns of IPF as separate pathological entities correlates much better with clinical outcome, those with UIP tending to have the worst prognosis. Anti-inflammatory therapies, even in combination with potent immunosuppressives, fail to improve the disease outcome. Such a distinction in clinical course has led to a redefinition of IPF diagnostic criteria by the American Thoracic Society and the European Respiratory Society, and a requirement for the histopathological presence of UIP [1]. Furthermore, there is very little evidence to support the presence of any prominent inflammation in the early stages of UIP. In fact, inflammation appears not to be required for the development of the fibrotic response [9,10], which may account for the observed therapeutic failures.
The documented inflammation found in UIP is usually mild, and is associated with areas of ongoing fibrosis rather than prefibrotic alveolar septa [
9
]. Selman
et al
. [
10
] have advanced a new hypothesis in which they propose that UIP (IPF) represents a model of abnormal wound healing (Fig.
1
), resulting from multiple, microscopic sites of ongoing AEC injury and activation, with release of fibrogenic mediators. These mediators lead to areas of fibroblast-myofibroblast foci (sites of injury and abnormal repair characterised by fibroblast-myofibroblast migration and proliferation), to decreased myofibroblast apoptosis, and to enhanced release of, and response to, fibrogenic growth factors. These foci evolve and coalesce into more widespread fibrosis.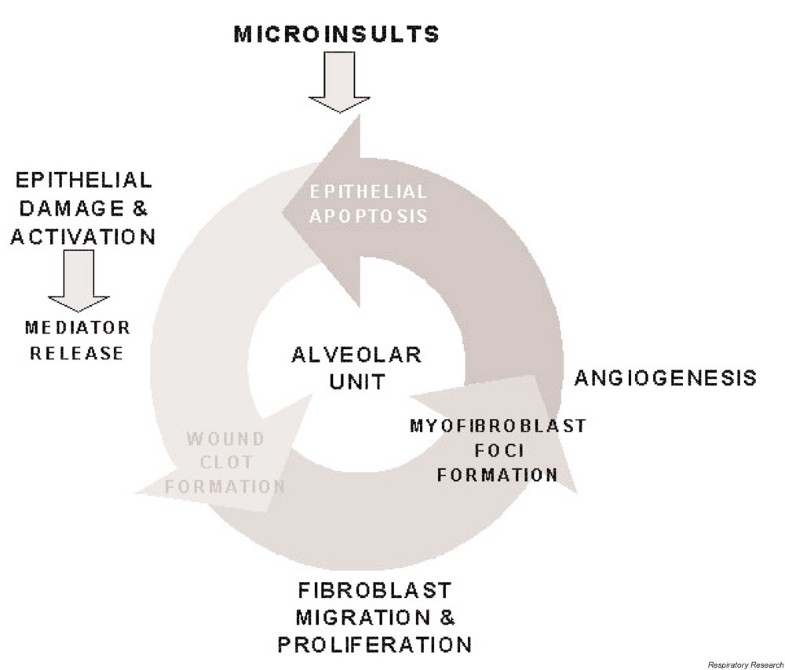 Associated with abnormal repair are aberrant processes of re-epithelialisation and ECM remodelling, leading to basement membrane disruption, angiogenesis, and fibrosis. Following injury, rapid re-epithelialisation is essential to restoration of barrier integrity and requires epithelial cell migration, proliferation and differentiation of type II AECs into type I AECs. In IPF, the ability of type II AECs to carry out this migration, proliferation and differentiation appears seriously compromised [11]. A number of profibrogenic mediators seem to be implicated in this deficiency. Impairment of this normal wound-healing response could occur through the observed excessive loss of AECs by apoptosis that seems to be a feature of IPF. In parallel, proliferating fibroblasts emerging during the normal repair process are able to self-regulate their production of matrix synthesis and degradation components and mitogens, through autocrine mechanisms that, in established fibrosis, may be dysregulated in increased numbers of cells displaying an altered profibrotic myofibroblast-like phenotype.
Growth factors implicated in IPF pathogenesis
Conclusion
Considerable progress has been made in recent years towards our understanding of the pathogenesis of IPF. The critical role of a number of interacting growth factors in the initiation and maintenance of fibrogenesis has been highlighted. However, clinical progress to an effective therapy for IPF has not been achieved, in spite of promising results from novel antifibrotic therapies in animal models. This suggests that more targeted approaches must be developed, while at the same time more caution should be exerted in extrapolating data from animal studies to human IPF. The key must lie in dissecting the crucial, intricate molecular mechanisms that control fibrogenesis.
Recent findings point to possible genetic predisposition and the interactions of a limited number of key growth factors with pathways regulating processes such as apoptosis in AECs and myofibroblasts. Since it appears probable that only a few of these pathways are crucial in IPF, precise targeting of any one of these pathways, via single or several growth factors, could yield potential benefits (Fig.
3
). By directing future studies toward dissecting the regulatory pathways of growth factor expression in these cells, we can thus develop subtle approaches for targeting the processes they control and therefore attempt to halt the downward clinical progression of human IPF.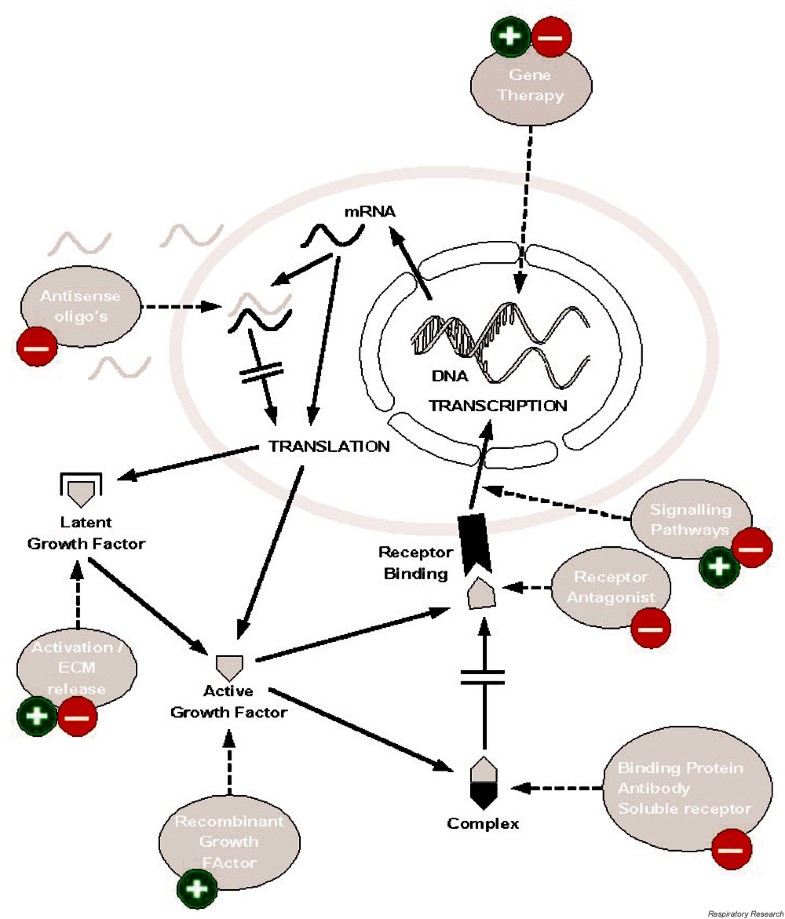 Abbreviations
AEC:

alveolar epithelial cell
AM:

alveolar macrophage
BALC:

bronchoalveolar lavage cells
CTGF:

connective tissue growth factor
ECE-1:

endothelin-converting enzyme-1
ECM:

extracellular matrix
ET-1:

endothelin-1
IGF-1:

insulin-like growth factor-1
IGFBP:

insulin-like growth factor-binding protein
IFN:

interferon
IL:

interleukin
IP-10:

interferon-inducing protein-10
IPF:

idiopathic pulmonary fibrosis
PDGF:

platelet-derived growth factor
PDGF-R:

platelet-derived growth factor receptor
PGE2:

prostaglandin E2
Th:

T-cell helper
TGF-β:

transforming growth factor-beta
TNF-α:

tumour necrosis factor-alpha
UIP:

usual interstitial pneumonia
VEGF:

vascular endothelial growth factor.
Authors' Affiliations
(1)
Centre for Cell and Molecular Medicine, Keele University School of Medicine, North Staffordshire Hospital, Hartshill, UK
Copyright
© BioMed Central Ltd 2002