The genetics of chronic obstructive pulmonary disease
Respiratory Research
2006
7:130
Received: 22 September 2006
Accepted: 20 October 2006
Published: 20 October 2006
Abstract
Chronic obstructive pulmonary disease (COPD) is a heterogeneous disease caused by the interaction of genetic susceptibility and environmental influences. There is increasing evidence that genes link to disease pathogenesis and heterogeneity by causing variation in protease anti-protease systems, defence against oxidative stress and inflammation. The main methods of genomic research for complex disease traits are described, together with the genes implicated in COPD thus far, their roles in disease causation and the future for this area of investigation.
Keywords
Chronic Obstructive Pulmonary Disease
Chronic Obstructive Pulmonary Disease Patient
Neutrophil Elastase
Airflow Obstruction
Severe Chronic Obstructive Pulmonary Disease
Background
Chronic obstructive pulmonary disease (COPD) is characterised by airflow limitation that is not fully reversible, which usually progresses, together with an abnormal inflammatory response to noxious particles or gases [1]. Patients may have chronic bronchitis [2], emphysema[3], small airways disease or a combination of these, with or without systemic manifestations of the disease [4]. This results in great variety within the patient population. It is not yet clear what the significance of each disease component is in terms of cause, or effect on management, though research into genetics and pathogenesis is starting to clarify this.
Although cigarette smoking is the main environmental risk factor for developing COPD, only about 15% of smokers develop clinically significant disease [5], suggesting that there are other influences on disease expression. Previous studies estimated that smoking contributes 15% to the variability of lung function[6], whilst genetic factors account for a further 40%[7]. Family based studies support this: they have shown ancestral aggregation of spirometric measures in groups unselected for respiratory disease [8, 9], and higher rates of airflow obstruction in first-degree relatives of patients with COPD[10]. Moreover, the observation of differences in rate of decline of lung function between smokers[11] suggests an interaction between genetic and environmental influences.
A genotype-environment interaction is defined by a non-additive contribution of gene and environment to the clinical phenotype[12]. Thus the two influences together confer a different level of risk than that expected by simply adding them. In a complex disease such as COPD there are likely to be many genes contributing to the overall phenotype, which may have additive or synergistic effects; these are known as epistatic interactions. When interpreting the results of genetic studies in complex diseases it is important to take such effects into account, lest a disease causing locus be missed. There are a variety of statistical methods that can allow for, detect or control for the presence of epistasis [13, 14].
There are three main themes within the pathogenesis of COPD. The protease-anti-protease theory suggests that there is an imbalance between proteases that digest elastin, together with other components of the extra-cellular matrix, and anti-proteases that protect against this[15, 16]. The origin of this theory was the observation that patients with α1-antitrypsin (an anti-protease) deficiency (AATD) develop early onset emphysema [17] implicating a role for its target enzymes (neutrophil elastase and proteinase 3), which can induce many of the features of COPD in animal models[18]. Subsequent work has suggested other important proteases, such as the matrix metalloproteinases (MMP's) [16], cathepsin B and collagenases [19] may also play a role, perhaps as part of a protease/anti-protease cascade.
The oxidant-antioxidant theory states that disparity between levels of harmful oxidants and protective antioxidants leads to oxidative stress, which in turn influences the actions of anti-proteases, and expression of proinflammatory mediators[
20
]. Both of these theories link to the third observation: the importance of inflammation in the pathogenesis of COPD[
21
]. These concepts are illustrated in Figure
1
.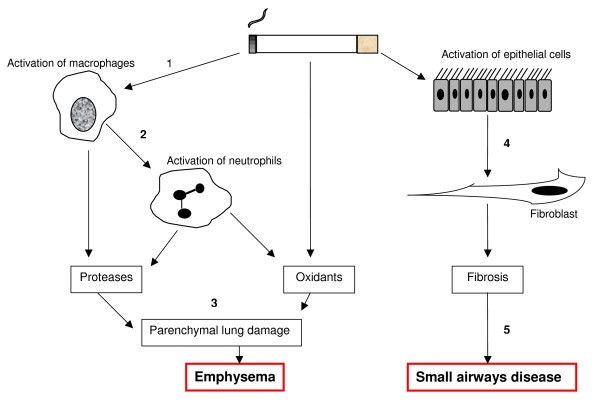 Polymorphisms in genes relating to proteases, antioxidants and inflammation have been found that relate to the presence of features of COPD, suggesting reasons for the heterogeneity of the observed clinical phenotype. This review will describe some of the methods that have identified candidate genes and summarise the evidence for a genetic basis to COPD (see Table
2
).
Table 2
Some genetic polymorphisms relevant in COPD
| Gene/Protein | Polymorphism ID | Gene ID | Role | Function |
| --- | --- | --- | --- | --- |
| MMP9 | CR994492* | 4318 | C-1562T | Increases promoter activity |
| MMP1 | rs1799750 | 4312 | G-1607GG | Increases transcription |
| MMP12 | | 4321 | Asn357Ser | |
| TIMP2 | rs2277698 | 7077 | G853A | |
| | | | G-418C | |
| SERPINA3 | rs4934 | 12 | Ala-15Thr | Alters signal peptide |
| | rs17473 | | Pro227Ala | Reduces enzyme level |
| | rs1800463 | | Leu55Pro | Reduces enzyme level |
| GSTP1 | rs947894 | 2950 | Ile105Val | Increased enzyme activity |
| GSTM1 | CG931302* | 2944 | Null | No enzyme activity |
| SOD3 | CM941295* | 6649 | Arg213Gly | Increases enzyme level |
| EPHX1 | rs1051740 | 2052 | Tyr213His | Reduces enzyme activity |
| | rs2234922 | | His139Arg | Increases enzyme activity |
| HMOX1 | CE000297* | 3162 | (GT)n | Alters transcription |
| TNFα | rs1800629 | 7124 | A-308G | Increases TNFα level |
| TGFβ | rs1800469 | 7040 | C-509T | Increases TGFβ level |
| | rs1982073 | | C613T | Increases TGFβ level |
| GC | rs4588 | 2638 | Thr436Lys | Decreases conversion to MAF |
| | rs7041 | | Asp432Glu | |
| IL13 | | 3596 | C-1055T | Increases IL13 production |
| SFTPB | rs1130866 | 6439 | Thr131Ile | |
| SFTPB | D2S388** | | (CA)n | |
Authors' Affiliations
(1)
Department of Medical Sciences, University of Birmingham, Birmingham, UK
(2)
Lung Investigation Unit, University Hospitals Birmingham, Birmingham, UK
Copyright
© Wood and Stockley. 2006
This article is published under license to BioMed Central Ltd. This is an Open Access article distributed under the terms of the Creative Commons Attribution License (http://creativecommons.org/licenses/by/2.0), which permits unrestricted use, distribution, and reproduction in any medium, provided the original work is properly cited.