Respiratory mechanics and ventilatory control in overlap syndrome and obesity hypoventilation
Respiratory Research
2013
14:132
Received: 14 June 2013
Accepted: 15 November 2013
Published: 20 November 2013
Abstract
The overlap syndrome of obstructive sleep apnoea (OSA) and chronic obstructive pulmonary disease (COPD), in addition to obesity hypoventilation syndrome, represents growing health concerns, owing to the worldwide COPD and obesity epidemics and related co-morbidities. These disorders constitute the end points of a spectrum with distinct yet interrelated mechanisms that lead to a considerable health burden. The coexistence OSA and COPD seems to occur by chance, but the combination can contribute to worsened symptoms and oxygen desaturation at night, leading to disrupted sleep architecture and decreased sleep quality. Alveolar hypoventilation, ventilation-perfusion mismatch and intermittent hypercapnic events resulting from apneas and hypopneas contribute to the final clinical picture, which is quite different from the "usual" COPD. Obesity hypoventilation has emerged as a relatively common cause of chronic hypercapnic respiratory failure. Its pathophysiology results from complex interactions, among which are respiratory mechanics, ventilatory control, sleep-disordered breathing and neurohormonal disturbances, such as leptin resistance, each of which contributes to varying degrees in individual patients to the development of obesity hypoventilation. This respiratory embarrassment takes place when compensatory mechanisms like increased drive cannot be maintained or become overwhelmed.
Although a unifying concept for the pathogenesis of both disorders is lacking, it seems that these patients are in a vicious cycle. This review outlines the major pathophysiological mechanisms believed to contribute to the development of these specific clinical entities. Knowledge of shared mechanisms in the overlap syndrome and obesity hypoventilation may help to identify these patients and guide therapy.
Keywords
Respiratory mechanics
Ventilatory control
COPD
Apnea
OHS
Respiratory drive
Neurohormonal
Introduction
Over recent decades, our understanding of the mechanisms leading to sleep disordered breathing has steadily improved, with most studies focussing on ventilatory control mechanisms and upper airway patency during sleep. Instability of the breathing pattern can go along with an increase in upper airway resistance, increased collapsibility of the upper airway and poor coordination of local reflex mechanisms, which can result in obstructive apneas [
1
]. Interaction between obstructive sleep apnea (OSA), and a number of different distinct clinical categories, like COPD, chronic heart failure, neuromuscular disorders and obesity, can lead to more complex disorders, with complications sharing common pathways [
1
–
3
]. In obese subjects, respiratory system mechanics can become disturbed, in isolation or in association with upper airway pathology, and obesity hypoventilation syndrome (OHS) may develop as a result [
4
–
6
]. According to the International Classification of Functioning, OHS is a chronic condition associated with respiratory, metabolic, hormonal and cardiovascular impairments, leading to a decrease in daily life activities, a lack of social participation and a high risk of hospitalisation and death (Figure
1
) [
7
]. OSA and COPD are both prevalent disorders [
8
–
10
], which are gaining more importance, due to the obesity epidemic in Western countries [
11
,
12
] in addition to smoking behaviour over previous decades [
13
]. The World Health Organisation (WHO) predicts that around 10% of the global population will be obese by 2015 [
11
,
12
]. Patients who share both disorders have inspiratory flow limitation on the one hand (OSA), and expiratory flow limitation on the other hand (COPD) [
3
,
14
]. This coincidence of complicated breathing will compromise sleep more than in stand alone disorders, with an accumulation of health risks and complications [
15
–
17
].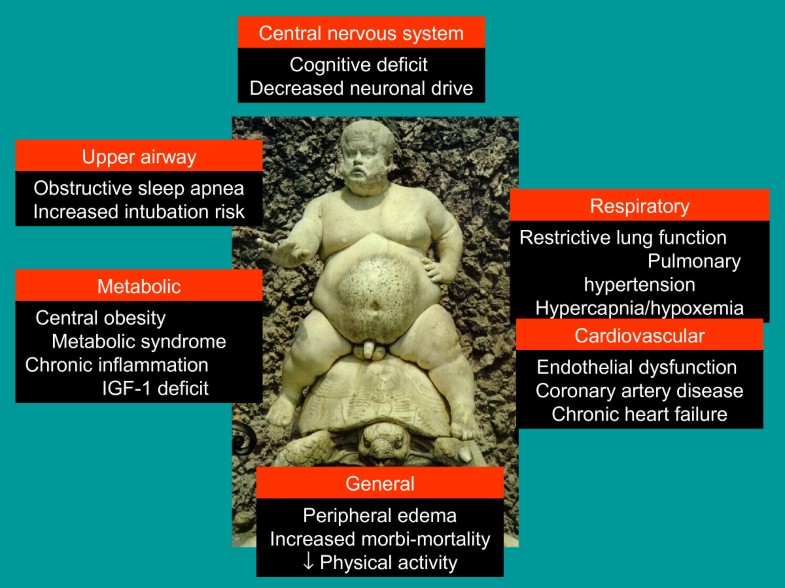 In this review we would like to address the pathophysiological interactions between COPD, sleep and OSA in the overlap syndrome as well as the mechanisms involved in the pathogenesis of OHS. Both OSA and OHS, besides central sleep apnea, take part of the spectrum of sleep-disordered breathing [18, 19], with preserved or enhanced chemical drive on the one hand, and blunted chemical drives on the other hand. The majority of these patients presents with obesity. However, they are also quite distinct from each other in a sense that obesity is not always present in overlap syndrome, and chemical drive can be preserved, while OSA is not always present in obesity hypoventilation, and COPD is an exclusion criterion in the definition of OHS. Therefore, it was preferred to discuss them separately.
Overlap syndrome
Extent of the problem
Obstructive sleep apnea syndrome and chronic obstructive pulmonary disease (COPD) are two diseases that often coexist within an individual. This coexistence is referred to as the overlap syndrome and is the result of chance rather than a pathophysiological link. Previous studies have suggested that the prevalence of OSA in patients with COPD, and COPD in patients with OSA, was high, sometimes unexpectedly high [20–23]. It has been believed that the presence of COPD could predispose to the development of OSA, since the two conditions share some etiologic factors such as tobacco smoking. This remained an unresolved question up to very recent years. In 2003 the Sleep Heart Health Study provided solid epidemiologic data about the coexistence of COPD and OSA [24]. Participants with obstructive airway disease had significantly lower mean and median RDI than those without obstructive airway disease. However, after stratification by BMI quartile, RDI values were similar in the participants with and without obstructive airway disease.
We presently know that the prevalence of COPD is over 10% in adults 40 years of age or older, and may exceed 20% [9, 10, 25]. Accordingly, it does not appear that the prevalence of COPD is increased in patients with OSA, when compared with the general population.
If COPD is present in about 10% of the adult population 40 years of age or older, and if the prevalence of OSA in the same population is in the range of 5 to 10%, overlap syndrome can be expected to be present in 0.5 to 1% of the general population over 40 years of age, which represents a relatively prevalence [3]. The prevalence of COPD Gold stage III and IV, wherein chronic or intermittent hypoxemia and hypercapnia are more common, is in the range of 3% to 4% and likely represents the segment of the COPD population that can develop severe cardiopulmonary complications if coincidence with OSA [14, 26].
Pathophysiology of overlap syndrome
Overlap patients present sleep-disordered breathing associated to upper and lower airway obstruction and a reduction in respiratory drive. These patients present unique characteristics, which set them apart from either COPD or OSA patients. The overlap population tends to be older than the simple OSA population, with more frequent hypoxemia and hypercapnia, higher mean pulmonary artery pressures, but similar BMI [2]. Resta et al. showed that overlap patients had higher PaCO2, as well as similar AHI compared to OSA patients without COPD [27]. O'Brien and Whitman found that overlap patients were older and less obese than isolated OSA controls [28].
Pathophysiological consequences
Data about the complications of overlap syndrome are scarce, particularly for those patients who have less severe COPD. Currently, it is unclear if patients who have mild COPD are at risk for the same early complications as those who have more severe disease. Similarly, the significance of mild versus severe OSA is unknown as it relates to complications, course, and prognosis of the disease. Research in this area suffers from the so-called "iceberg phenomenon", a metaphor emphasising that for virtually every health problem the number of known cases of disease is outweighed by those that remain undiscovered. Close to this is the "clinician fallacy", in which an inaccurate view of the nature and causes of a disease results from studying the minority of cases of the disease that are seen in clinical treatment settings [55].
Obesity hypoventilation syndrome
At the end of the spectrum of sleep-disordered breathing, which starts with simple snoring and evolves into OSA (eventually in association with COPD), OHS can be found. OHS is commonly defined as a combination of obesity (BMI ≥ 30 kg/mc) and awake arterial hypercapnia (PaCO2 > 45 mmHg) in the absence of other known causes of hypoventilation [4]. Patients are characterized by a spectrum of findings: episodes of obstruction, hypoventilation or sustained obstructive hypoventilation due to partial upper airway obstruction [5]. We don't exactly know why some obese patients develop OHS, while others do not, nor do we fully understand the etiology of OHS, although it is almost certainly multifactorial in nature [6]. Patients may complain of fatigue or daytime sleepiness, but many remain asymptomatic with no sleep-related complaints. Sleep hypoventilation alone does not define OHS unless daytime hypercapnia is also present. It was hypothesized that obese patients with hypoventilation during sleep without awake hypercapnia have a "prodromal" form of OHS and will later develop chronic hypercapnia [81, 82]. Some authors suggest that OHS is a mixed disorder of "can't breathe"(unable to overcome impediments to breathing resulting from derangements in lung function, the performance of the respiratory muscles, and/or the mass loading effect of truncal obesity) and "won't breathe" (decreased ventilatory drive disorder) [83–85]. Abnormal load responsiveness, ventilatory muscle dysfunction, increased respiratory work and CO2 production, impaired central respiratory drive and repeated airway obstruction during sleep are all possible pathophysiological components in this entity, but the precise contribution of each remains to be fully elucidated [5, 6, 86, 87]. Different responses to CPAP, BPAP or NIV might reflect an intriguing possibility: the weight of the different pathophysiological mechanisms may vary in individuals with OHS. It seems that in some patients, severe OSA might be a major contributor to OHS pathophysiology, with respiratory system mechanics playing only a minor role. These patients could be successfully treated with long-term CPAP. On the other hand, other patients might stand out as having moderate or severe restrictive pulmonary defects and considerable nocturnal oxygen desaturation with low AHI values. These patients would require long-term NIV or BPAP ST/T. Controlled pressure support/control is necessary if CPAP fails [6, 88–92].
The incidence of OHS increases significantly as obesity increases, with a reported prevalence of around 10 to 20% in outpatients presenting to sleep clinics [54, 93–95] to almost 50% of hospitalized patients with a BMI greater than 50 kg/m2[96]. Current estimates suggest that around 0.15 to 0.4% of the population may have OHS [97, 98].
Development of obesity hypoventilation
There are clearly specific differences between obese individuals which determine that only some morbidly obese subjects develop awake hypoventilation. The mechanisms underlying the selective development of awake hypoventilation is a major subject of interest in respiratory sleep medicine. Various compensatory mechanisms are adopted by morbidly obese subjects to maintain eucapnia, despite chronically loaded breathing [
82
], but are impaired or overwhelmed in OHS. The interactions between the cardinal components of obesity and hypoventilation are shown in Figure
3
.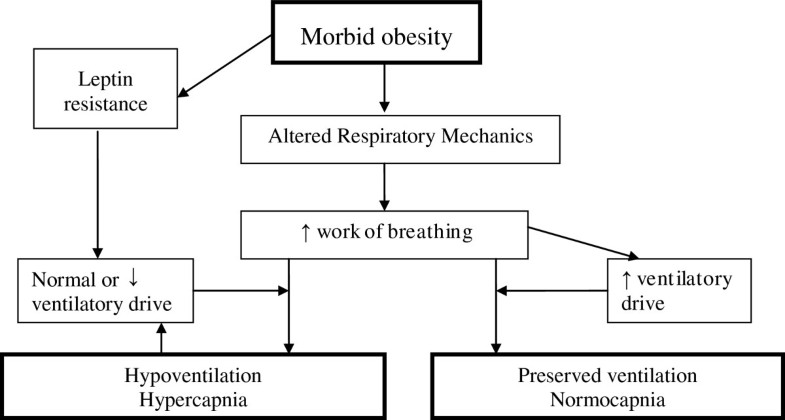 Differences and similarities between overlap syndrome and obesity hypoventilation
Although overlap syndrome and OHS are very different conditions, they share some pathogenetic and clinical aspects [
177
], and represent substantial morbidity and mortality (Table
2
). On the one hand, from the pathophysiologic point of view, the presence of COPD does not favour the occurrence of OSA and vice versa, and hence the occurrence of overlap syndrome is by coincidence [
24
]. In OHS, on the other hand, there is abundant evidence that it is tightly linked with OSA [
4
,
100
], and only a minority has nonobstructive sleep-disordered breathing [
66
,
100
]. However, overlap patients have important sleep-related oxygen desaturation and represent a high risk of developing hypercapnia and pulmonary hypertension, even in the presence of mild to moderate bronchial obstruction. OHS patients will, by definition, present always with respiratory insufficiency, and are therefore more often at risk for morbidity and mortality than the overlap population. Both disorders share complex interactions, among which are increased work of breathing related to (central) obesity, alterations of ventilatory drive, various associated sleep breathing disorders and neurohormonal changes such as leptin resistance. However, those with overlap syndrome do not necessarily present with obesity, and the ventilatory drive can be normal, enhanced or reduced [
50
,
51
] and the presence of hypoventilation is optional.
Table 2
Similarities and differences between overlap syndrome and obesity hypoventilation
Overlap

Obesity hypoventilation syndrome

Coexistent OSA

No causal relationship

Causal relationship in 90% of the cases

Hypoventilation (PaCO 2  ≥ 45 mmHg)

Occasionally

Always (by definition)

Obesity (BMI ≥ 30 kg/m 2 )

Often (but not obligatory)

Always (by definition)

Coexistent COPD

Always (by definition)

Never (exclusion by definition)

Coexistent restrictive pulmonary disease

Occasionally mixed pattern

Often present

FRC

Decreased

Decreased

Chemosensitivity (HCVR)

Normal, enhanced or decreased

Decreased

Leptine resistance

Present

Present

Hypoxemia pattern

Intermittent (intermittent and chronic in severe cases)

Intermittent and chronic (90%), or chronic (10%)

Level of hypoxemia

Absent to very severe disturbance

Moderate to very severe disturbance

Prevalence in general population

1-4%

0.37%

Prevalence in OSA

10%

14%

Pulmonary hypertension

+ to ++

++ to +++

Health care consumption

Increased

Increased

Mortality

80% in 12 years

23% in 1.5 years

90% in 8 years in LTOT
The interindividual differences are intricate, reflecting phenotypic complexity and admixture with various other respiratory diatheses (e.g. smoking). In OHS, pathogenetic factors like obesity related decrease in chest wall compliance do not in general appear to be sufficient to cause OHS as they are present in many non-hypercapnic obese individuals. However, when minute ventilation falls below a range necessary to compensate for the metabolic demands, hypercapnia will result.
These mechanisms can play a role in some obese patients with overlap syndrome as well, but hypoventilation will finally emerge when compensatory mechanisms of CO2 homeostasis fail or become overwhelmed [67, 178, 179]. Both syndromes share a high prevalence, namely 10 to 20% for OHS in patients with OSA [4, 96, 100], while COPD is reported in about 10% of OSA patients, with some studies even reporting higher figures [20–24]. The prevalence of overlap and OHS in the general population is estimated to be 1% and 0.37% respectively [20–23, 96–98]. Both overlap and OHS patients can present with the typical symptoms of OSA, but depending on the complexity of the syndromes, some particularities can be observed. Those with OHS can have characteristic symptoms, on the one hand, due to elevated PaCO2, and consist of cognitive impairment, daytime hypersomnolence and morning headache. Chronic hypoxemia during wakefulness, on the other hand, leads to signs of cor pulmonale, pulmonary hypertension, polycythemia, and respiratory failure. Sleep-disordered breathing is most often present with symptoms of loud snoring, fragmented sleep, gasping, nocturia, fatigue and non-restorative sleep. The clinical manifestations of OHS depend on the degree of obesity, the presence of comorbidity like OSA and, of course, on the degree of hypoventilation. Overlap patients can also present these symptoms, depending on the relative contribution of the two components to the syndrome, and the eventual development of respiratory failure. In OSA patients with advanced stage COPD, dyspnea, orthopnea and peripheral edema are also common and can be the dominant symptoms, while only a minority of overlap patients will develop respiratory insufficiency. Therefore, it can be estimated that these symptoms will be less common than in OHS. In both disorders, also a high prevalence of pulmonary hypertension was reported. Closely related to the most often more severe hypercapnia and hypoxemia during the daytime found in OHS, these patients present with a higher prevalence of pulmonary hypertension [88, 109, 135, 180]. However, thresholds for hypercapnia/hypoxemia severity and duration necessary to give rise to sleep-related symptoms or cardiovascular complications, such as pulmonary hypertension, in individual OHS patients, are unknown. The change in evening to morning PaCO2 has been shown to be highly correlated with severity of sleep hypoventilation, and could be used as a marker [181]. In patients with overlap syndrome, also no cut-off values have been defined that warrant treatment, but an AHI ≥ 15 has been shown in isolated OSA to be clinically relevant [182]. This criterion could be applied in both syndromes [183]. Overlap syndrome as well as OHS also share a higher morbidity [7, 17, 54, 76, 78–80, 135, 170, 181],[182] and mortality [16, 26, 96, 184, 185], decreased quality of life [58, 186], and an increased use of health care resources [187, 188]. OHS is associated with chronic heart failure, angina, arterial hypertension, cor pulmonale and endothelial dysfunction, while overlap syndrome is associated with arterial hypertension, new onset atrial fibrillation and cardiovascular remodelling. Patients with OHS tend to use more antihypertensive drugs, have higher insulin resistance, and are more likely to be treated with antidiabetic agents [16, 135, 164, 187]. Overlap patients also more often present with COPD exacerbations than simple COPD patients (relative risk of 1.70) [16] and show a trend to less prednisolone use after treatment [28]. OHS patients who refused treatment with non-invasive ventilation, had a mortality rate of 46% over an average follow-up period of 50 months [88]. In overlap, reduced survival was reported in those refusing CPAP therapy (relative risk of 1.79) [15, 184]. Chronic daytime hypercapnia would emerge if both the acute ventilatory compensation for transient nocturnal hypercapnia is compromised, as well as the bicarbonate excretion, as might be seen under condition of hypoxia (f.i. chest infection), diuretic therapy, or heart failure [170, 178]. This makes both patient categories more susceptible to acute ventilatory failure [126]. Despite this, the diagnosis of overlap syndrome and of OHS appears to be often overlooked, especially in a clinical setting when dealing with the other illnesses of these patients [189]. The evidence however supports that recognition and treatment of both diseases is imperative.
Conclusion
Overlap syndrome and OHS are not rare conditions, due to the high prevalence of COPD, obesity and OSA. They are both serious medical disorders associated with significant morbidity and mortality. Its diagnosis can have a significant impact on an individual subject and on the health care system as a whole. Both conditions present unique characteristics which set them apart from either COPD, obesity or OSA. They share some common pathways, and hypercapnia will develop when the normal compensatory mechanisms that should normally operate to maintain ventilation despite respiratory system abnormalities are impaired. Obesity is generally believed to be the major etiologic factor responsible for both syndromes in the majority of the patients. The interaction between the components of these two diseases is not completely disentangled, and may reflect phenotypic complexity and admixture with various other respiratory diatheses. Factors that compromise the acute ventilatory compensation for the transient sleep hypercapnia, altered bicarbonate excretion and respiratory mechanics finally determine the development or deterioration of hypoventilation. Recognition of sleep-related disturbances and a better understanding of their interactions in subjects with COPD and in subjects with obesity will allow to optimize management of these patients and their quality of life.
Authors' Affiliations
(1)
Department of Pulmonary Medicine and Multidisciplinary Sleep Disorders Centre, Antwerp University Hospital and University of Antwerp, Edegem, Belgium
(2)
Pulmonary and Sleep Disorders Unit, St. Vincent's University Hospital, Dublin, Ireland
(3)
Conway Institute of Biomolecular and Biomedical Research, University College Dublin, Dublin, Ireland
Copyright
© Verbraecken and McNicholas; licensee BioMed Central Ltd. 2013
This article is published under license to BioMed Central Ltd. This is an open access article distributed under the terms of the Creative Commons Attribution License (http://creativecommons.org/licenses/by/2.0), which permits unrestricted use, distribution, and reproduction in any medium, provided the original work is properly cited.