Improving physical activity in COPD: towards a new paradigm
Respiratory Research
2013
14:115
Received: 29 May 2013
Accepted: 22 August 2013
Published: 30 October 2013
Abstract
Chronic obstructive pulmonary disease (COPD) is a debilitating disease affecting patients in daily life, both physically and emotionally. Symptoms such as dyspnea and muscle fatigue, lead to exercise intolerance, which, together with behavioral issues, trigger physical inactivity, a key feature of COPD. Physical inactivity is associated with adverse clinical outcomes, including hospitalization and all-cause mortality. Increasing activity levels is crucial for effective management strategies and could lead to improved long-term outcomes. In this review we summarize objective and subjective instruments for evaluating physical activity and focus on interventions such as pulmonary rehabilitation or bronchodilators aimed at increasing activity levels. To date, only limited evidence exists to support the effectiveness of these interventions. We suggest that a multimodal approach comprising pulmonary rehabilitation, pharmacotherapy, and counselling programs aimed at addressing emotional and behavioural aspects of COPD may be an effective way to increase physical activity and improve health status in the long term.
Keywords
Physical activity
Bronchodilators
Pulmonary rehabilitation
COPD
Activity monitors
Introduction
Chronic obstructive pulmonary disease (COPD) is a debilitating and progressive disease that primarily affects the respiratory system. In many patients, it also has detrimental extra-pulmonary effects, such as weight loss and skeletal muscle dysfunction/wasting [
1
]. The pulmonary and skeletal muscle abnormalities limit the pulmonary ventilation and enhance the ventilatory requirements during exercise resulting in exercise-associated symptoms such as dyspnea and fatigue. These symptoms make exercise an unpleasant experience, which many patients try to avoid, and along with a depressive mood status (in up to 30% of patients), further accelerates the process, leading to an inactive life-style. Muscle deconditioning, associated with reduced physical activity, contributes to further inactivity and as a result patients get trapped in a vicious cycle of declining physical activity levels and increasing symptoms with exercise (Figure
1
) [
1
–
3
].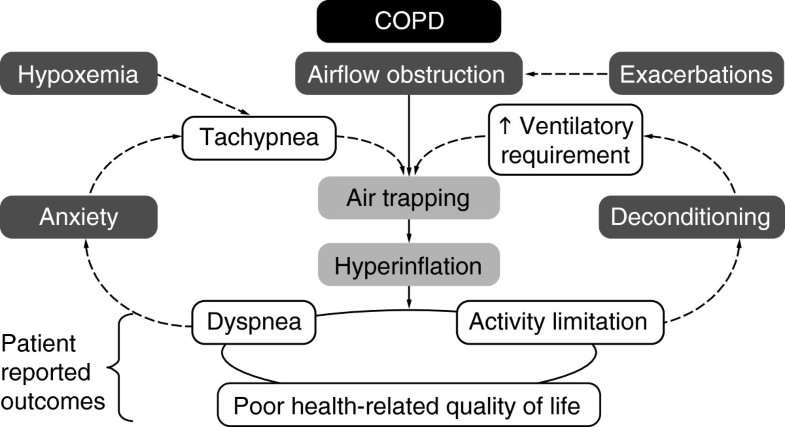 Physical activity levels are remarkably lower in stable outpatients with COPD than in healthy individuals [4–6]; even in patients with early-stages disease [7–9]. At a group level, increasing severity of COPD is associated with decreasing physical activity [9]. Physical activity level is recognized as a predictor of mortality and hospitalization in patients with COPD and contributes to disease progression and poor outcomes [10]. Increasing activity levels may improve long-term outcomes as seen in other chronic conditions such as diabetes [11].
This review will summarize the characteristics of instruments used to assess physical activity in COPD and discuss the important implications of physical inactivity in this context, with a particular focus on interventions aimed at helping patients become more physically active in daily life. The review was based on a literature search of the PubMed database (no date limits) for COPD and terms relating to exercise and physical activity.
Conclusion
Physical activity is reduced in patients with COPD. This is associated with a higher risk of hospital admission and an increased risk of mortality, and also places patients with COPD at risk of developing comorbidities. Importantly, physical activity is a potentially modifiable risk factor. It follows that improving physical activity allows the patients to take a productive part in daily life and may also confer long term health benefits. The assessment of physical activity and the interpretation of results is an area that has garnered considerable interest. Both subjective and objective instruments for evaluating physical activity have advantages and disadvantages. Patient compliance, appropriate assessment period, and accurate interpretation of data are essential for a precise estimation of daily physical activity. There is limited and inconsistent evidence on the effectiveness of interventions (PR and bronchodilators) for improving physical activity. These inconsistencies may be partly due to patient choice and whether they choose to maintain the life style options explained during their pulmonary rehabilitation. A combination of individualized PR programs and pharmacotherapy in conjunction with behavioral modification may be the way forward to help patients adopt a more active lifestyle.
Abbreviations
CDLM:

Capacity of daily living during the morning
COPD:

Chronic obstructive pulmonary disease
FEV1:

Forced expiratory volume in one second
GOLD:

Global initiative for chronic obstructive lung disease
HRQoL:

Health-related quality of life
MLTPAQ:

Minnesota leisure time physical activity questionnaire
MLTPAS:

Minnesota leisure time physical activity survey
PA:

Physical activity
PASE:

Physical activity scale for the elderly
PR:

Pulmonary rehabilitation
PRO:

Patient reported outcomes
QoL:

Quality of life
UPLIFT:

Understanding potential long-term impacts on lung function with tiotropium
WHO:

World health organization
ZPAQ:

Zutphen physical activity questionnaire.
Declarations
Acknowledgements
The authors were assisted in the preparation of this manuscript by Roberta Sottocornola, a professional medical writer from CircleScience (Macclesfield, UK) and Mark J. Fedele from Novartis.
MIP's contribution to this manuscript was supported by the NIHR Respiratory Disease Biomedical Research Unit at the Royal Brompton and Harefield NHS Foundation Trust, who part fund his salary and Imperial College London. Writing support was funded by Novartis Pharma AG.
Authors' Affiliations
(1)
Pulmonary Rehabilitation and Respiratory Division, UZ Gasthuisberg, Leuven, Belgium
(2)
Department of Rehabilitation Sciences, KU Leuven, Leuven, Belgium
(3)
University of Groningen University Medical Center, Groningen, Netherlands
(4)
NIHR Respiratory Biomedical Research Unit, Royal Brompton Hospital, National Heart and Lung Institute (Imperial College), London, UK
(5)
ELEGI Colt Laboratory, Centre for Inflammation Research. The Queen's Medical Research Institute, University of Edinburgh, Scotland, UK
(6)
Department of Physical Education & Sport Sciences and 1st Department of Respiratory Medicine, National and Kapodistrian University of Athens, Athens, Greece
(7)
Novartis Pharmaceuticals Corporation, East Hanover, USA
(8)
Novartis Pharma AG, Basel, Switzerland
Copyright
© Troosters et al.; licensee BioMed Central Ltd. 2013
This article is published under license to BioMed Central Ltd. This is an open access article distributed under the terms of the Creative Commons Attribution License (http://creativecommons.org/licenses/by/2.0), which permits unrestricted use, distribution, and reproduction in any medium, provided the original work is properly cited.