The pathogenesis of COPD and IPF: Distinct horns of the same devil?
Respiratory Research
2012
13:3
Received: 8 November 2011
Accepted: 11 January 2012
Published: 11 January 2012
Abstract
New paradigms have been recently proposed in the pathogenesis of both chronic obstructive pulmonary disease (COPD) and idiopathic pulmonary fibrosis (IPF), evidencing surprising similarities between these deadly diseases, despite their obvious clinical, radiological and pathologic differences. There is growing evidence supporting a "double hit" pathogenic model where in both COPD and IPF the cumulative action of an accelerated senescence of pulmonary parenchyma (determined by either telomere dysfunction and/or a variety of genetic predisposing factors), and the noxious activity of cigarette smoke-induced oxidative damage are able to severely compromise the regenerative potential of two pulmonary precursor cell compartments (alveolar epithelial precursors in IPF, mesenchymal precursor cells in COPD/emphysema). The consequent divergent derangement of signalling pathways involved in lung tissue renewal (mainly Wnt and Notch), can eventually lead to the distinct abnormal tissue remodelling and functional impairment that characterise the alveolar parenchyma in these diseases (irreversible fibrosis and bronchiolar honeycombing in IPF, emphysema and airway chronic inflammation in COPD).
Keywords
COPD
IPF
precursor cell senescence
telomere dysfunction
Wnt
Notch
Caveolin-1
Introduction
Chronic obstructive pulmonary disease (COPD) and idiopathic pulmonary fibrosis (IPF) are two severe multifactorial pulmonary disorders characterised by quite distinct clinical and pathological features. COPD is characterised by a poorly reversible and progressive airflow limitation that is determined by the concurrence of airways inflammation and emphysema (from now on both included in the acronym COPD)[1, 2], whereas in IPF a restrictive pattern of lung volume abnormality is associated with impaired diffusion capacity [3]. At imaging and pathological examinations COPD and IPF exhibit different appearances, as far as the involved pulmonary regions (upper lobes versus lower lobes), and the occurring parenchymal modifications are concerned (alveolar emphysematous dilation and bronchiolar inflammation in COPD, versus interstitial fibrosis and honeycombing in IPF)[1–3]. Finally, the incidence and prevalence of the two diseases are quite different, since IPF is considered a rare condition (although incidence and prevalence are both rising due to improved diagnostic tools), whereas the COPD prevalence is very high, although variable in different risk populations [4, 5].
Nevertheless, a number of similarities can be recognised between the two disorders. Firstly, both COPD and IPF are chronic and progressive diseases of elderly people (with male predominance), that severely affect the lung function, and both are related to long term inhalation of external noxious agents (mainly tobacco smoking)[3, 4, 6, 7]. Secondly, in both diseases a progressive loss of alveolar parenchyma takes place leading to severe impairment of respiratory function. Variants of pulmonary fibrosis associated with emphysema have been described, and these cases have been grouped in a newly defined syndrome of combined pulmonary fibrosis and emphysema (CPFE)[8]. In CPFE, lung volumes are commonly within normal limits due to the opposing effects of hyperinflation and fibrosis. The CPFE syndrome is more frequent in male smokers, and pulmonary hypertension can complicate all these disorders [8, 9]. Finally, both IPF and COPD are associated with an increased risk of cancer development, and several lines of evidence suggest that this increase is independent from the effect of cigarette smoking [10, 11].
Despite the great deal of research, effective treatments are lacking for both COPD and IPF. This can be a consequence, at least in part, of the limited understanding of their pathogenesis, despite the overwhelming plethora of studies and theories proposed so far. Interestingly, for both diseases a gradual shift from "inflammatory-based" pathogenic theories to more complex approaches occurred in recent years [12, 13]. In this evolving scenario, a variety of concurrent underlying pathogenic mechanisms have been proposed for these diseases, including oxidative stress, protease/anti-protease imbalance, abnormal healing after damage, deranged remodelling, enhanced apoptosis, and others [14–18].
Conclusions
In summary, in both COPD and IPF a common pathogenic scheme can be traced where an accelerated cellular senescence determined by the "two hits" paradigm (genetic predisposition to cell senescence with the concurrence of tobacco smoke), determines an impaired regeneration of the lung parenchyma after damage. The divergence in two horns in this model is provided by the affected precursor cells (mesenchymal in COPD and emphysema, epithelial in IPF), the relevance of genetic background, as well as by the basic signalling pathways involved in the development of either emphysema or fibrosis (Wnt-, Notch-, etc.)(Figure
2
). Both mechanisms could be involved in the cases with combined pulmonary fibrosis and emphysema [
8
,
9
].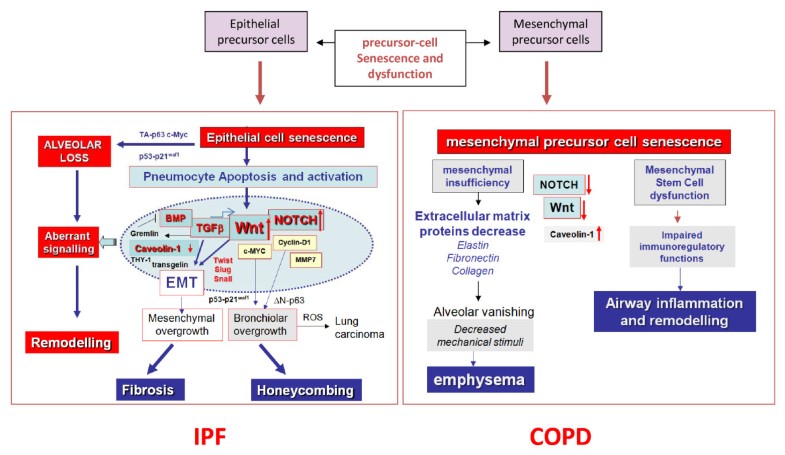 The complexity of this network is difficult to be completely deciphered in both IPF and COPD, since beyond precursor cell senescence, as here described, other genetic predisposing factors and molecular mechanisms are likely involved in both diseases, including micro-RNA regulation [128–133]. Interestingly, perturbation of micro-RNAs can also affect TGF-beta, a potent profibrotic effector, that plays a relevant role in early lung development, has significant interconnections with the Wnt-pathway, and is involved in the pathogenesis of both IPF and COPD [129, 133–136]. Another player in this complex scenario is likely represented by caveolin-1, the member of a protein family involved in the formation of cellular caveolae, that plays divergent roles in the development of IPF and emphysema, respectively [137–141].
These evolving concepts open new options to better understand the pathogenesis of both IPF and COPD, as far as the involvement of both parenchymal and small airway components are concerned [142, 143], and also new perspectives for alternative treatment options, including drugs specifically addressing some of the mechanisms described in this review. The high relevance of the type of cell precursor involved in the two diseases is emphasised, since future efforts should be focused on their pharmacological protection or specific replacement [144–149].
Declarations
Acknowledgements
MC was supported by the European Union FP7 Health Research Grant number HEALTH-F4-2008-202047
Authors' Affiliations
(1)
Department of Pathology, University of Verona, Italy
(2)
Department of Diseases of the Thorax, Morgagni Hospital, Forlì, Italy
(3)
Pulmonary Division, Verona General Hospital, Italy
Copyright
© Chilosi et al; licensee BioMed Central Ltd. 2012
This article is published under license to BioMed Central Ltd. This is an Open Access article distributed under the terms of the Creative Commons Attribution License (http://creativecommons.org/licenses/by/2.0), which permits unrestricted use, distribution, and reproduction in any medium, provided the original work is properly cited.