The role of vitamin D in pulmonary disease: COPD, asthma, infection, and cancer
Respiratory Research
2011
12:31
Received: 3 May 2010
Accepted: 18 March 2011
Published: 1 December 2011
Abstract
The role of vitamin D (VitD) in calcium and bone homeostasis is well described. In the last years, it has been recognized that in addition to this classical function, VitD modulates a variety of processes and regulatory systems including host defense, inflammation, immunity, and repair. VitD deficiency appears to be frequent in industrialized countries. Especially patients with lung diseases have often low VitD serum levels. Epidemiological data indicate that low levels of serum VitD is associated with impaired pulmonary function, increased incidence of inflammatory, infectious or neoplastic diseases. Several lung diseases, all inflammatory in nature, may be related to activities of VitD including asthma, COPD and cancer. The exact mechanisms underlying these data are unknown, however, VitD appears to impact on the function of inflammatory and structural cells, including dendritic cells, lymphocytes, monocytes, and epithelial cells. This review summarizes the knowledge on the classical and newly discovered functions of VitD, the molecular and cellular mechanism of action and the available data on the relationship between lung disease and VitD status.
Keywords
Vitamin D
mortality
asthma
COPD
respiratory tract infection
immunity
VitD supplementation appears to be correlated with decreased total mortality [1]. In the early 1920s a group of scientists independently discovered that irradiating of certain foods with ultraviolet light renders them antirachitic [2, 3] and in 1922 Elmer V. McCollum identified an antirachitic substance in cod liver oil and called it "vitamin D" [4]. While the role of VitD in calcium and bone homeostasis has been well described, its activities on other physiological and pathophysiological processes have been recognized only in the last years. Epidemiological data suggest that several lung diseases, all inflammatory in nature, may be related to activities of VitD. VitD deficiency might have a role in the development of these diseases. The underlying mechanisms how VitD metabolisms could be linked to the pathophysiology of these diseases are often complex and not fully understood. This review summarizes the role of VitD in lung diseases.
Evolutionary aspects
VitD and its receptors are found throughout the animal kingdom and are often linked to bone and calcium metabolisms. The fact that precursors of VitD are found in ancient organisms like krill and phytoplankton that existed unchanged for at least 750 million years [5] highlights its importance in physiologic and homeostatic processes.
Variants of VitD and its receptors have been identified in higher terrestrial vertebrates like humans [6], rodents [7], birds [8], amphibia [9], reptiles [10], as well as in zebrafish [11]. These animals possess a calcified skeleton and depend on a functional VitD hormone system for calcium and phosphorus homeostasis. Surprisingly, functional VitD receptors (VDRs) have also been found in lampreys, an ancient vertebrate that lacks a calcified skeleton [12]. VDRs were also identified in animals with a naturally impoverished VitD status like the subterranean mole rat [13] and a frugivorous nocturnal mammal, the Egyptian fruit bat Cavaleros [14]. VitD precursors have been found in ancient organisms like phytoplankton and zooplankton, some of which exist unchanged for at least 750 million years [5, 15]. Functional VitD hydroxylases have also been characterized in bacteria like strains of actinomyces [16, 17] and streptomyces [18, 19]. The precursors of VitD in those organisms may function as a natural sunscreen to protect the host against UV-radiation, since the absorption spectra of pro-vitamin D and their photoproducts overlap with the absorption maxima of DNA, RNA, and proteins [20].
Role of VitD in bone metabolism
VitD, which is photosynthesized in the skin or has been derived from nutrition, is metabolized two times, before it mediates its calcemic effects by binding to the nuclear VitD receptor (VDR) [
21
,
22
](Figure
1
). The metabolizing enzymes belong to a group of cytochrome P450 hydroxylases, which can be found in eukaryotes, bacteria, fungi and plants. In the human liver, the first hydroxylation of VitD on C-25 is performed by mitochondrial 25-hydroxylase enzymes (gene names: CYP27A1 [
23
] and/or CYP2R1 [
24
]) that both belong to the cytochrome P450 family. The inactive 25-(OH)-vitamin D
3
(25-(OH)D
3
) metabolite is further hydroxylated at position 1α by the mitochondrial cytochrome P450 enzyme 25-hydroxyvitamin-D-1α-hydroxylase (gene name: CYP27B1) and converted to the bioactive 1α,25-dihydroxyvitamin D(1,25-(OH)
2
D
3
). This latter step is mainly localized to the proximal kidney tubule [
25
], however, many other cell types, including lung epithelial cells, are capable to perform this reaction [
26
–
29
]. The serum concentration of 25-(OH)D
3
reflects the organism's VitD supply [
30
]. In the blood, VitD and the inactive, relatively stable 25-(OH)D
3
metabolite are bound in 99% to the vitamin D binding protein (DBP) [
31
]. DBP polymorphisms (Gc phenotype) are related to the DBP concentration and VitD status [
32
]. The 1α-hydroxylation of 25-(OH)D
3
is upregulated by parathyroid hormone (PTH), calcitonin, low calcium- and phosphate levels as well as by estrogen, prolactin and growth hormone [
33
]. Calcitonin, cortisol, high phosphate levels and 25-(OH)D
3
suppress the 25-hydroxyvitamin D-1α-hydroxylase activity [
34
]. 1,25-(OH)
2
D
3
itself works as its own negative feedback regulator by induction of the expression of a 24-hydydroxylase (CYP24A1). Further, 1,25-(OH)
2
D
3
decreases the production and secretion of PTH. PTH synthesis and secretion is induced by decreased serum calcium levels, which are detected by the calcium sensing receptor of the parathyroid gland. PTH effects renal tubular reabsorption of calcium, renal production of 1,25-(OH)
2
D
3
and promotes osteoclastogenesis [
35
].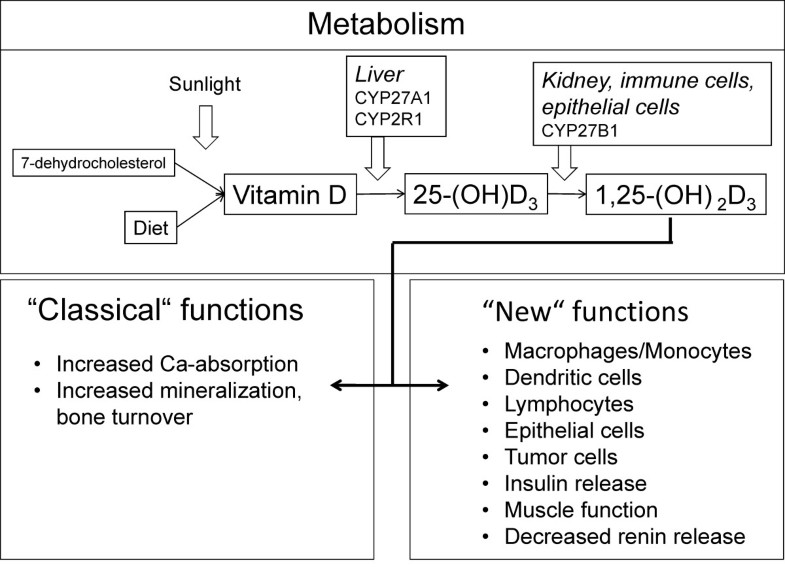 1,25-(OH)2D3 is essential for the development and maintenance of the growth plate, chondrocyte growth, and the mineralised bone [21]. 1,25-(OH)2D3 modulates the osteoclastogenesis by regulation of the receptor activator of nuclear factor kappa B (RANK), RANK ligand (RANKL) and the soluble receptor osteoprotegerin (OPG) [36]. It increases the expression of RANKL on the osteoblast surface, which supports maturation of progenitor and mature osteoclasts, and it inhibits OPG expression, which binds RANKL and prevents RANK mediated osteoclastogenesis [37].
VitD deficiency causes the development of an imbalanced calcium- and phosphate-homeostasis and the occurrence of the bone diseases osteopenia, osteoporosis, rickets, and osteomalacia with a subsequently increased fracture risk [38]. The 25-(OH)D3 serum concentration is directly associated with bone mineral densitys. VitD deficiency has several causes including inadequate sun exposure (and loss of functional capacity of the skin especially in the elderly), limited renal and hepatic function or insufficient intestinal resorption [39]. In VitD deficiency, the feedback on the PTH gene promoter is lacking resulting in parathyroid hyperplasia, hyperparathyroidism, and a mineralization defect of the bone.
1,25-(OH)2D3 regulates many target genes by binding to the VDR: approximately 3% of the mouse and human genome is regulated via the VitD pathway [40]. As non-genomic action of VitD in chondrocytes, it increases the membrane-lipid turnover, prostaglandin production and protease activity, leading to bone matrix modification and calcification. Additionally to the expression of VDR in bone and multiple tissues, the presence of 1α-hydroxylase in cells of several extrarenal tissues such as bone as well as skin, prostate, the respiratory and gastrointestinal tract, strongly suggest that VitD impacts on processes beyond the calcium and bone metabolism.
Role of VitD in immunity and host defense
More than a century ago (1849), the British physician C.J.B. Williams described the use of cod liver oil in the treatment of tuberculosis. He reported that among his tuberculosis patients, 206 out of 234 showed a "marked and unequivocal improvement" after treatment with cod liver oil [41]. Since then manifold functions of VitD have been discovered, indicating that VitD regulates many cellular processes and is potentially involved in the development of many diseases. Since the discovery of VDRs in a variety of cells of the adaptive immune system such as B- and T-lymphocytes [42, 43], there have been numerous reports about the immunomodulatory activities of VitD.
Cellular studies revealed that VitD modulates the activity of various defense and immune cells including monocytes, macrophages, lymphocytes, or epithelial cells:
Roles of VitD in pulmonary diseases
VitD has complex effects on pulmonary cell biology and immunity with impact on inflammation, host defense, wound healing, repair, and other processes. While the knowledge on direct mechanistic links between VitD and lung diseases is limited, a number of epidemiological and experimental are available that highlight the relevance of this connection.
Conclusions
VitD has a number of activities in addition to its effect on calcium and bone homeostasis and influences process such as immune regulation, host defense, inflammation, or cell proliferation. VitD deficiency is potentially involved in a number of lung disease. Several hurdles must be overcome to validate the benefit of VitD-based therapies: 1) Basic mechanisms are not clear and the involved molecular pathways are likely difficult to identify because VitD impacts on a variety of biological processes in parallel. 2) Conclusive data from interventional studies are missing for many disease entities. 3) Since VitD has been used for many years, the pharmaceutical industry might hesitate in starting a development program. Nevertheless, the data available indicate that VitD could be beneficial for the prevention or therapy of important lung diseases.
List of abbreviations
1:

25-(OH)2D3: 1α: 25-dihydroxyvitamin D
25-(OH)D3:

D325-(OH)-vitamin D3
TLR:

toll like receptor
VitD:

vitamin D
Declarations
Acknowledgements
This work was supported by the Deutsche Forschungsgemeinschaft (DFG) to R.B. (Ba 1641/12 and SFB/TR 22 (A8)) and the Kompetenznetz Asthma/COPD (Competence Network for Asthma/COPD funded by the Federal Ministry of Education and research (FKZ 01GI0881-0888 (SP4/12) to RB.
Authors' Affiliations
(1)
Department of Internal Medicine, Division for Pulmonary Diseases, Philipps-Universtät Marburg, Marburg, Germany
(2)
Department of Internal Medicine, Division of Endocrinology & Diabetology, Department of Internal Medicine, University Hospital Marburg, Marburg, Germany
(3)
Department of Pulmonology, University of the Saarland, Homburg Saar, Germany
Copyright
© Herr et al; licensee BioMed Central Ltd. 2011
This article is published under license to BioMed Central Ltd. This is an Open Access article distributed under the terms of the Creative Commons Attribution License (http://creativecommons.org/licenses/by/2.0), which permits unrestricted use, distribution, and reproduction in any medium, provided the original work is properly cited.