The role of pleiotrophin and β-catenin in fetal lung development
Respiratory Research
2010
11:80
Received: 20 January 2010
Accepted: 18 June 2010
Published: 18 June 2010
Abstract
Mammalian lung development is a complex biological process, which is temporally and spatially regulated by growth factors, hormones, and extracellular matrix proteins. Abnormal changes of these molecules often lead to impaired lung development, and thus pulmonary diseases. Epithelial-mesenchymal interactions are crucial for fetal lung development. This paper reviews two interconnected pathways, pleiotrophin and Wnt/β-catenin, which are involved in fibroblast and epithelial cell communication during fetal lung development.
Keywords
Idiopathic Pulmonary FibrosisAnaplastic Lymphoma KinaseAlveolar Epithelial CellLung DevelopmentEpithelial Cell Differentiation
1. Fetal lung development
1.1 Stages of fetal lung development
Fetal lung development is a complex biological process which involves temporal and spatial regulation of multiple factors such as growth factors, transcriptional factors, and extracellular matrix (ECM). The development of the intimate relationship between airways and blood vessels is crucial for the normal lung function. Morphologically, mouse lung development can be divided into 5 stages: (i) Embryonic Stage (E9 to E11.5), in which lung buds originate as an outgrowth from the ventral wall of the foregut where lobar division occurs; (ii) Pseudoglandular Stage (E11.5 to E16.5), in which conducting epithelial tubes surrounded by thick mesenchyme are formed, distinguished by extensive airway branching; (iii) Canalicular stage (E16.5 to E17.5), in which bronchioles are produced, characterized by an increasing number of capillaries in close contact with cuboidal epithelium and the beginning of alveolar epithelium development; (iv) Saccular Stage (E17.5 to PN5), in which alveolar ducts and air sacs are developed; and (v) Alveolar Stage (PN5 to PN28), in which secondary septation occurs, defined by a marked increase of the number and size of capillaries and alveoli [1].
Recently, a new model of lung branching programming has been proposed, in which three branching modes govern the program of lung branching [2]. Domain branching generates daughter branches in rows along a parent branch. Planar bifurcation forms tertiary and later-generation branches with the division of a branch tip into two. Orthogonal bifurcation is composed of two cycles of plannar bifurcations with a 90° rotation between the two. These branching modes are regulated by genetically encoded subroutines, which are controlled by a master branch generator.
1.2 Alveolar epithelial cell differentiation
Alveolar epithelium is composed of two types of cells: alveolar epithelial type I cells (AEC I) and alveolar epithelial type II cells. In the pseudoglandular stage, columnar epithelial cells differentiate into ciliated cells with the expression of β-tubulin IV, [3] and shorter columnar cells containing large intracellular glycogen pools [4]. The latter remain undifferentiated until the canalicular stage, when some of these cells become more cuboidal AEC II and begin to synthesize and secrete surfactant. AEC II have less glycogen pools and are characterized by the appearance of lamellar bodies [5]. Some AEC II can be differentiated into AEC I.
Many transcription factors, including thyroid transcription factor-1 (TTF-1), hepatocyte nuclear factor (HNF)-3β and HNF-3/forkhead homologue-4 (HFH-4) have indispensable roles in the proliferation and differentiation of alveolar epithelial cells.
TTF-1, also known as Nkx2.1, is detected as early as E8 in mouse endodermal cells and is identified as the earliest marker of the lung. TTF-1 regulates the expression of all the surfactant protein genes, including SP-A, B, C and D. Mice deficient of TTF-1 have abnormal lungs, which fail to express all the surfactant proteins and have significantly reduced collagen type IV and integrins [6].
HNF-3β is highly expressed in ciliated and columnar bronchial epithelial cells and AEC II during development. HNF-3β induces the expression of various epithelially restricted genes in the lung, including TTF-1 [7], SP-B [8] and CCSP [9, 10], in association with the differentiation of lung epithelial cells such as AEC II and Clara cells.
HFH-4 is expressed in the epithelium during fetal lung development, and in basal and ciliated epithelial cells in the adult lung [11]. HFH-4 induces the expression of β-tubulin IV in the pseudoglandular stage, and promotes the differentiation of ciliated epithelial cells.
Other transcription factors, such as GATA-5, GATA-6, and Fox, are also important for the differentiation of epithelial cells in the lung [1]. The expression of these transcription factors decreases with the progression of development and is only restricted in subsets of Clara cells and AEC II at the late stage of development.
1.3 Epithelial-mesenchymal interactions
The interactive signaling between epithelial and mesenchymal cells plays an important role in morphogenesis and cell differentiation in the developing lung. Removing the mesenchyme from the embryonic lung rudiment impairs the branching morphogenesis [12]. Lung mesenchyme has the ability to induce branching morphogenesis in non-lung epithelium such as the salivary gland [13] and embryonic trachea, in which mesenchyme has been removed [14, 15]. However, non-lung mesenchyme was only able to induce a bud in gut endoderm and these buds had no further branching [14]. Besides its function in determining the epithelial patterning, mesenchyme can also dictate the differentiated phenotype of the epithelium [16].
The communication between mesenchyme and epithelium is mediated by many growth factors. These growth factors are precisely regulated in a temporal and spatial manner during fetal lung development. Fibroblast growth factors (FGFs) and their receptors are among the best characterized growth factors. FGF10 is located in the mesenchyme around distal lung epithelial tips. It binds to the FGFR2b on the epithelial cells and transmits a signal to induce the initiation of the lung bud [17–22]. Recombinant FGF10 alone can induce budding in the lung epithelial explants whose mesenchyme has been removed [18]. Mice deficient of FGF10 or FGFR2b expression have severe abnormalities in lung development [22, 23]. The expression of FGF10 and bud formation is regulated by retinoid acid because an antagonist of retinoid acid completely prevents the formation of lung buds from foregut explants [24]. Retinoid acid accelerates the development of the alveolar tree and promotes the expression of surfactant proteins and enzymes for the synthesis of surfactant lipids [25].
On the other hand, pulmonary epithelial cells also influence the proliferation and differentiation of mesenchymal and vascular cells [3]. The epithelial cells secrete vascular endothelial growth factors (VEGF), which binds to its receptors, flk and flt, in the progenitor cells of mesenchyme, and at least in part, regulates pulmonary vasculogenesis [26]. Similarly, Platelet-Derived Growth Factor (PDGF), which is expressed in the epithelial cells, stimulates the differentiation and proliferation of myofibroblasts in the developing lung [27]. Sonic Hedgehog (Shh) is a growth factor expressed in the developing epithelium, most abundantly in terminal buds. Its receptor Patched-1 (Ptc) is located in the mesenchymal cells. The interaction between Shh and Ptc is required for lung bud formation [28–30]. The overexpression of Shh in AEC II with a SP-C promoter disturbs the formation of alveoli by increasing the proliferation of mesenchymal cells, but not epithelial cells [28].
Other growth factors, such as transforming growth factors (TGF-β) and epidermal growth factor (EGF) are also involved in the epithelial-mesenchymal interactions and play essential roles in lung development [31].
2. Pleiotrophin
Pleiotrophin (PTN) is an 18 kDa heparin-binding cytokine and shares 50% sequence homology with midkine [32]. PTN has two beta-sheet domains that bind to heparin and extracellular matrix with high affinity [33]. The amino acid sequence of PTN is highly conserved among different organisms.
PTN was first identified as a growth factor in the bovine uterus [33] and as a neurite outgrowth promoting factor in the neonatal rat brain [34]. In comparison with midkine, which is regulated by retinoid acid [35], PTN does not respond to retinoid acid but can be up-regulated by PDGF in primary hepatic stellate cells [36]. The mRNA expression of PTN is significantly up-regulated in some organs in midkine deficient mice, suggesting that PTN and midkine have functional redundancy [37]. In fact, PTN and midkine do share multiple functions. They both regulate the neurite outgrowth, modulate cancer development, enhance cell proliferation and migration, inhibit apoptosis, and have important roles in epithelial-mesenchymal interactions during organogenesis [38, 39].
3. Wnt signaling pathway
Wnt is a family of growth factors, which play important roles cell fate determination during lung development. Wnt has at least 19 isoforms, which bind to frizzleds and trigger three intracellular signaling pathways: the canonical Wnt/β-catenin signaling pathway, the non-canonical Wnt/Ca2+ pathway, and the WNT/Planar Cell Polarity (PCP) pathway. The most important pathway of Wnt signaling is the canonical signaling pathway through β-catenin. The binding of Wnt to frizzleds inhibits the activity of glycogen synthase kinase 3β (GSK-3β) and thus stabilizes β-catenin in the cytoplasm. β-catenin accumulates in the cytoplasm and translocates into the nucleus, where it binds to TCF/LEF transcription factors to stimulate the transcription of its downstream genes, such as N-myc, bone morphogenetic protein 4 (Bmp4), and FGF, etc [90].
4. Summary
Defects in pulmonary development normally lead to numerous lung diseases. PTN is a growth factor differentially expressed during fetal lung development. Wnt/β-catenin pathway is involved in epithelial-mesenchymal interactions during lung development. PTN and Wnt signaling pathways are partially overlapped and linked to Notch pathway via Dlk1. Although several signaling pathways have been identified to regulate normal lung development, less is known about the cross-talking among these signaling pathways. Several downstream genes of the Wnt signaling have been identified including Dlk1, TTF-1, BMP4, c-myc, and Axin II. How these genes are properly turned on/off to regulate lung development is not fully understood. The elucidation of roles of PTN and Wnt signaling in fetal lung development and its regulatory pathway may offer opportunities in the development of new therapeutic strategies and drugs to resolve the disorders associated with fetal lung development.
Finally, we propose the following model for PTN signaling and its cross-talk with Wnt signaling (Fig.
1
). (
A
) PTN is secreted by fibroblasts and binds to the receptor protein tyrosine phosphatase β/ζ (RPTP β/ζ). This action inactivates RPTP β/ζ, which results in an increase of the phosphorylation of β-catenin on its tyrosine residues (Tyr-Pi) and the release of β-catenin from cadherins. (
B
) In the absence of Wnt ligands, β-catenin is marked for destruction by proteasomal degradation via its serine/threonine phosphorylation (Ser/Thr-Pi) by glycogen synthase kinase 3β (GSK-3β). The activation of Wnt signaling leads to a decrease in Ser/Thr-Pi, preventing the degradation of β-catenin. (
C
) The binding of nuclear β-catenin with T cell factor/lymphoid enhancer factor (TCF/LEF) transcription factors depresses
Dlk1
, resulting in the inactivation of Notch signaling in a neighboring cell (either an undifferentiated columnar cell or a type I cell). The future directions (dashed lines) include: which Wnt(s) secreted by fibroblasts and/or type II cells activates the Wnt pathway? What are other target genes of TCF/LEF (either depressed or activated)? What signaling does Dlk1 initiate? Further investigations will answer these questions in the near future.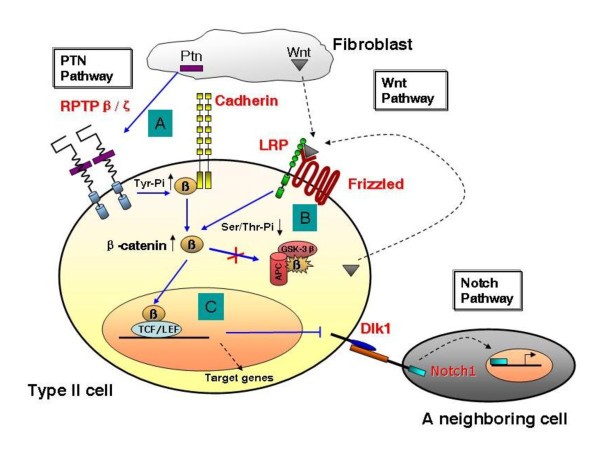 Declarations
Acknowledgements
This work was supported by NIH grants R01 HL-052146, R01 HL-071628 and R01 HL-083188 (LL). TTW was supported by a pre-doctoral fellowship from the American Heart Association (0610143Z). We thank Dr. Heidi Sticker for the drawing in Fig. 1 and Ms.Tazia Cook for editorial assistance.
Authors' Affiliations
(1)
Lundberg-Kienlen Lung Biology and Toxicology Laboratory, Department of Physiological Sciences, Oklahoma State University, Stillwater, USA
Copyright
© The Author(s) 2010
This article is published under license to BioMed Central Ltd. This is an Open Access article distributed under the terms of the Creative Commons Attribution License (http://creativecommons.org/licenses/by/2.0), which permits unrestricted use, distribution, and reproduction in any medium, provided the original work is properly cited.