Outcome measures in chronic obstructive pulmonary disease (COPD): strengths and limitations
Respiratory Research
2010
11:79
Received: 23 December 2009
Accepted: 17 June 2010
Published: 17 June 2010
Abstract
Current methods for assessing clinical outcomes in COPD mainly rely on physiological tests combined with the use of questionnaires. The present review considers commonly used outcome measures such as lung function, health status, exercise capacity and physical activity, dyspnoea, exacerbations, the multi-dimensional BODE score, and mortality. Based on current published data, we provide a concise overview of the principles, strengths and weaknesses, and discuss open questions related to each methodology. Reviewed is the current set of markers for measuring clinically relevant outcomes with particular emphasis on their limitations and opportunities that should be recognized when assessing and interpreting their use in clinical trials of COPD.
Keywords
Chronic Obstructive Pulmonary DiseaseChronic Obstructive Pulmonary Disease PatientExercise CapacityFunctional Residual CapacitySevere Chronic Obstructive Pulmonary Disease
Introduction
Chronic obstructive pulmonary disease (COPD) is a heterogeneous, multi-component disease associated with significant clinical burden. Though the presence of airflow limitation is well recognised as the pathophysiological basis, COPD as a complex disorder requires a multifaceted approach with regard to clinical assessment and response to therapy. This has prompted an intense search for clinical trial endpoints that may adequately reflect the success or failure of treatment. Current methods for assessing COPD progression mainly rely on lung function tests with a particular focus on forced expiratory volume in 1 second (FEV
1
). However, clinical and patient-reported outcome measures such as dyspnoea, exercise capacity, physical activity, exacerbations, health status and mortality have been recognized and applied as an essential part of the clinical assessment of COPD beyond FEV
1
measurements [
1
,
2
] (figure
1
).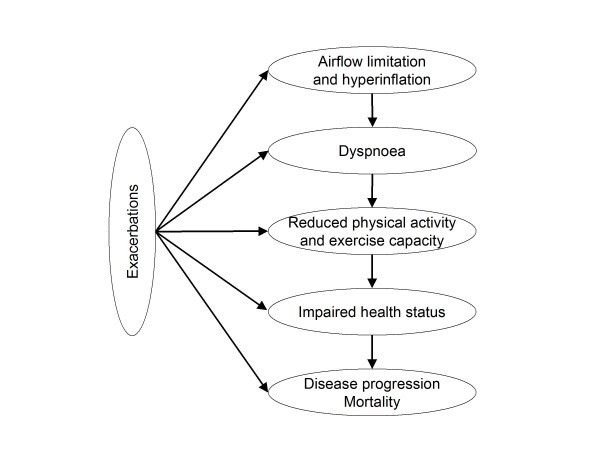 In recent years, a profound analysis of available outcomes and markers has been provided by the scientific community [3, 4]. The objective of this review is to provide a concise overview of the feasibility, strengths and limitations of major outcome measures commonly applied in current COPD trials.
Conclusion
The understanding of the merits and limitations of current methods for assessing physiological and clinical outcomes of COPD is crucial for the interpretation and design of clinical trials. Unfortunately, in contrast to monitoring lung function, there is no gold standard for measuring symptoms such as dyspnoea, health status, exercise capacity, physical activity, or exacerbations, since none of the available methods is optimal in all regards. Accordingly, no single outcome measure can be recommended for the assessment of treatment response in COPD. More research is needed to improve and simplify questionnaire-based markers or technologies to assess outcomes such as physical activity or health status in order to enable wider use in clinical trials as well as in primary care. A further step in that direction may be the recent development of a COPD assessment test [92].
Implementation of MIDs may also help to assess which changes of outcome markers can be considered clinically relevant. However, MIDs hardly reflect the heterogeneity, variability, and severity of COPD, as well as the numerous confounding factors contributing to the clinical presentation of the disease.
Further, no biomarkers have been established yet to reflect the inflammatory and destructive process in the lung or to indicate responsiveness to treatment. However, further research in this area is important as pulmonary biomarkers - whether physiological or biochemical - are urgently needed if clinical trials are to be shorter and more discriminating than at present.
Finally, comorbid conditions such as cardiovascular disease, anxiety and depressive disorders, lung cancer and osteoporosis are often observed in COPD patients and are likely to affect COPD outcomes. The impact of these conditions together with the influences of concomitant medication on COPD are variable and for many of them still uncertain; nevertheless, they may alter COPD phenotype, disease progression and survival, and responses to treatment. A systematic evaluation of comorbidities and co-medication should be considered as part of COPD management as they may influence the results of clinical outcome measures.
Authors' Affiliations
(1)
Pulmonary Department, University Hospital, Johannes Gutenberg-University, Mainz, Germany
(2)
Department of Pneumology, University Hospital Giessen and Marburg, Marburg, Germany
Copyright
© The Author(s) 2010
This article is published under license to BioMed Central Ltd. This is an Open Access article distributed under the terms of the Creative Commons Attribution License (http://creativecommons.org/licenses/by/2.0), which permits unrestricted use, distribution, and reproduction in any medium, provided the original work is properly cited.