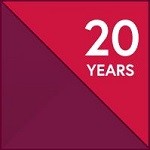 In 2000, Respiratory Research published its first articles under the editorship of Prof Peter Barnes and Prof Ken Brigham as an online open access journal freely available to all.
In the past 20 years, the journal has been devoted to furthering the understanding of how advances in pulmonology, immunology and allergy continue to reshape respiratory medicine by discussing, distributing and promoting the latest research.
To mark the occasion, we are looking back at the journal's milestone achievements and highlighting some of the best content from the past 20 years.